The number of hate groups in the United States rose for the second straight year in 2016, with a sharp spike in those spreading anti-Muslim messages, according to a civil rights group.
In its annual census of hate groups and extremist organizations, the Southern Poverty Law Center (SPLC) said the overall number of hate groups grew from 892 in 2015 to 917 in 2016.
But the number of anti-Muslim groups nearly tripled — from 34 in 2015 to 101 last year.
The SPLC said the tenor of the presidential campaign energized certain sectors of the hate movement.
Donald Trump won the backing of white supremacist David Duke, a former Ku Klux Klan grand wizard. Trump accused Mexican immigrants of being "rapists" and "criminals" and a controversial executive order temporarily barred entry to the U.S. for citizens of seven Muslim-majority nations.
"There is no question that the organizations that aligned themselves with the Trump campaign saw their ranks grow, their prominence grow and their online readership grow," said Heidi Beirich, director of the SPLC's Intelligence Project.
Beirich told NBC News that the number of hate groups has grown over the past two years since dropping to an 11-year low in 2014.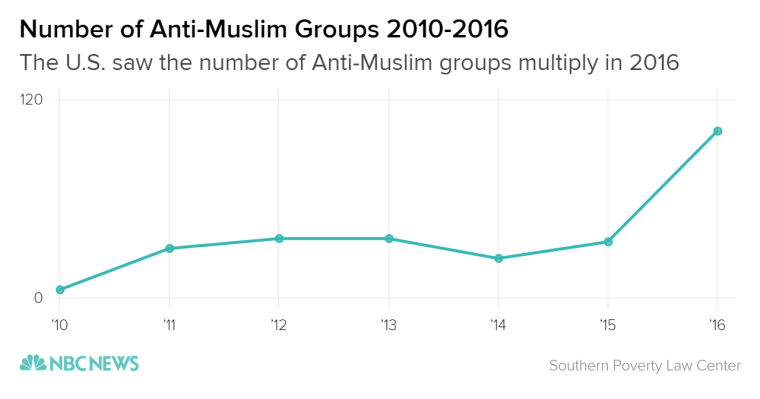 To maintain its annual count, the SPLC assigns people to watch different hate groups to see whether they develop or fall apart.
The groups are not difficult to identify, because they are actively trying to spread their message, according to Beirich.
"Hate groups are becoming less organized, decentralized and web-based," she added. "To see these organizations affiliated with Trump grow really says something, particularly because they're in the real world. Our hate group list is about real-world activity, not web activity."
However, the SPLC found that organizations like the Ku Klux Klan had become less popular.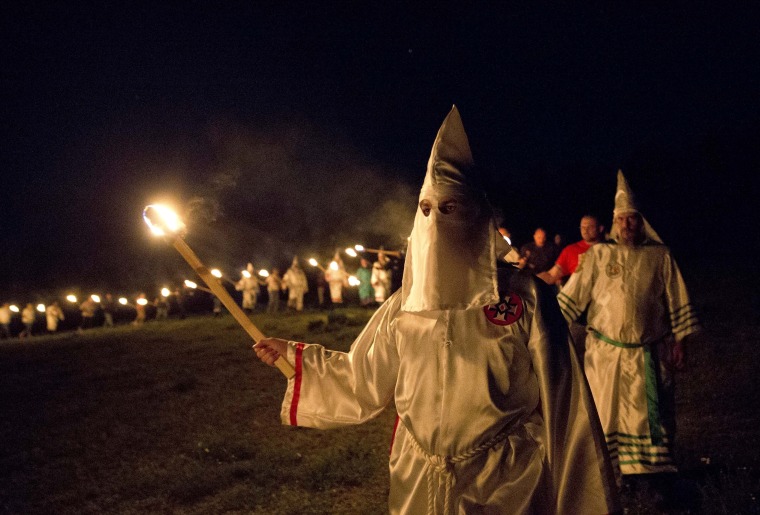 "Not every sector of the movement did well this year," Beirich said. "Klan groups fell by a bit of a chunk, but most of the groups that we consider white nationalist that are Trump-aligned for the most part held steady."
The SPLC interviewed 10,000 educators after the election. Eighty percent said fear and anxiety grew among students after Election Day, especially among students who were immigrants, Muslims or African Americans.
The annual census, which was released Wednesday, found that most of the groups created to bolster those messages in 2016 were specifically anti-Muslim.
The SPLC alleged Trump's rhetoric during the campaign encouraged the creation of anti-Muslim organizations and legitimized them. He pledged to create a database tracking Muslims in the U.S. and falsely claimed that thousands of American Muslims celebrated the terrorist attacks of Sept. 11, 2001.
According to a Pew Research Center Poll published Wednesday, nearly a third of Americans do not feel an affinity toward Muslims.
Ibrahim Hooper, national communications director Council on American-Islamic Relations (CAIR) said that Trump's immigration ban — which has been suspended due to a court order — suggested that "what used to be a fringe, extremist ideology of anti-Muslim ideology has now moved from the fringe of society to the center of powers in the White House."
Hooper noted the controversial affiliations of members of Trump's inner circle in the White House.
Former national security adviser Michael Flynn is a board member of ACT for America, which the SPLC categorizes as an "extremist group."
Senior White House strategist Steve Bannon invited SPLC-identified anti-Muslim figures — such as Frank Gaffney and Pamela Geller — on his radio show when he was executive chairman of Breitbart News. And White House counselor Kellyanne Conway worked as a pollster for Gaffney's Center for Security Policy, which the SPLC calls a hate group.
Related: Muslims and Jews Band Together Against Hate
"There's a tremendous level of apprehension and tension in the American Muslim community at a level not seen since 9/11," Hooper added. "People are really wondering where we're going as a nation and what their role and place will be in that nation."
Trump has not directly addressed the spike in hate crimes.
When asked Wednesday about the spike in anti-Semitic incidents across the United States, Trump first cited his electoral victory and the support he had received during the election before addressing the issue.
"I will say that we are going to have peace in this country," the president said. "We are going to stop crime in this country. We are going to do everything within our power to stop long-simmering racism and every other thing that's going on."