Twelve-year-old Kevin Reese was just a baby when his father was sent to prison in Minnesota. If it wasn't for their phone calls, he says, "I don't know if I would even know him."
But many times in Kevin's young life, he's been told that he wouldn't be able to talk to his dad — because the family just couldn't afford the high calling rates for inmates.
That's about to change.
Federal regulators took new steps on Thursday to slash the cost of calls in prison, which they said can run as high as $14 a minute.
The move by the Federal Communications Commission was described as a "huge step forward" by one reform group and denounced as "wrong-headed" by a phone service provider that vowed to lead an industry challenge.
The FCC's decision eliminates or limits fees commonly tacked on by providers. It also caps the maximum cost of a 15-minute in-state or local call at $1.65 and lowers the per-minute rate.
The new rules affect inmates in federal and state prisons, including immigrant detention centers. They also apply to local jails, though rates are higher in smaller facilities.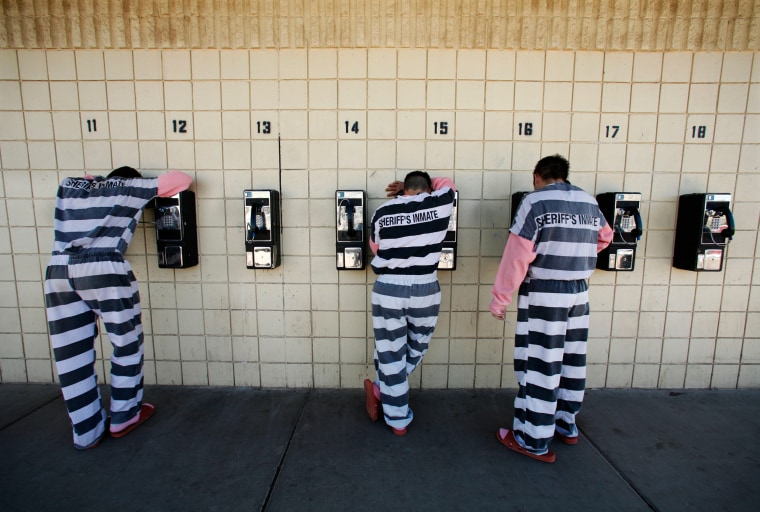 "Calls that used to cost a dollar a minute now could be as low as 11 cents," said Aleks Kajstura, legal director at the Prison Policy Initiative, which has been pushing to make prison calls more affordable.
She said the new rates will benefit society as a whole, not just those serving time.
"Studies show keeping communication in between families members and incarcerated loved ones reduces recidivism, and that helps us all," she said.
The FCC began tackling the high cost of calls in 2013, heeding the call of a Washington, D.C., grandmother, Martha Wright, who said she was paying $1,000 a year to talk to her grandson, Ulandis Forte, who was serving a 20-year sentence for a homicide.
Wright died last year, but Forte said those calls from her were a lifeline that made it possible for him transition to life on the outside. He was released in 2012 and is now married with a child and working two jobs.
"It kept me grounded," he said of their conversations. "But as time went on the phone rates got so high — to the point that some months she had to choose between paying the phone bill and being able to talk to me and paying for her medication, which she needed to survive."
The lawyer who represented her pro bono, Lee Petro, said the FCC's move will "lead to immediate relief to millions of families and specially the 2.7 million children who have at least one parent in jail and want to stay in touch."
Service providers have argued that the rates are high because the systems must contain features to record or monitor calls. One company, Securus Technologies, said Thursday that it may sue in an effort to overturn the FCC decision.
"Today, the FCC made a colossal error in judgment, law, and public safety and policy," CEO Richard Smith said in a statement, adding that its costs are higher than the rate caps just instituted.