Hillary Clinton's longtime aide Huma Abedin will separate from her husband, disgraced former New York congressman Anthony Weiner, following a report in the New York Post suggesting he had fallen back into his sexting habit.
"After long and painful consideration and work on my marriage, I have made the decision to separate from my husband," Abedin said in a statement. "Anthony and I remain devoted to doing what is best for our son, who is the light of our life. During this difficult time, I ask for respect for our privacy."
The report in The Post, which included conversations and photos that the paper said Weiner swapped with a 40-something Trump supporter while his wife, Abedin, was on the campaign trail, was published Sunday. And on Monday morning, Weiner's public Twitter profile was gone.
NBC News has not verified the reporting in The Post.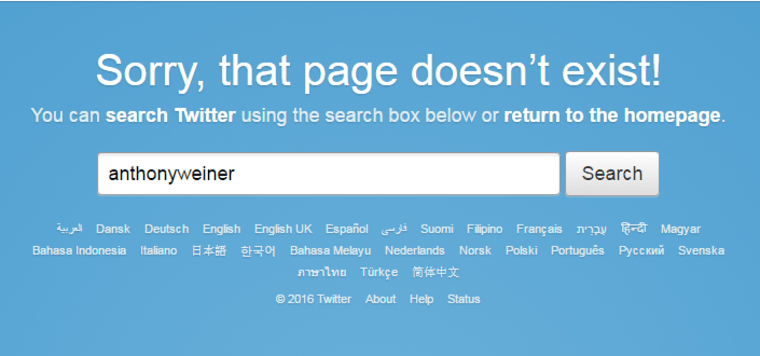 The Post report said that after Weiner sent a picture that included his son, wrapped up in a blanket next to him in bed, he briefly panicked that he had posted the picture publicly. "Ooooooh ... I was scared. For half a second I thought I posted something," Weiner reportedly wrote to the woman.
The city's Administration for Children's Services would not comment on any possible investigation.
The woman handed over the conversations and photos to The Post under the condition that she not be identified, according to the report. She told the paper that she started chatting with Weiner over the internet in January 2015.
Weiner told The Post that he and the woman "have been friends for some time."
"She has asked me not to comment except to say that our conversations were private, often included pictures of her nieces and nephews and my son and were always appropriate," Weiner told the paper.
But many of the pictures published by The Post showed the ex-pol shirtless or focused below his waist, and he often tried to steer the conversation toward sex, according to The Post.
When the woman once said she was headed to bed, Weiner reportedly replied, "Sleeping alone? Asking for a friend?"
On Monday, the Post's tabloid rival, The New York Daily News, said it had dropped Weiner as an occasional columnist. The NY1 television station, where Weiner appeared regularly on the show "Wise Guys," said it had put him on indefinite leave.
Weiner resigned from Congress in 2011 after an initial sexting scandal, but after claiming he had undergone therapy, he ran for mayor of New York City in 2013. New Yorkers seemed to be ready to give him the "second chance" he had asked for until it was revealed that he had continued sexting under the pseudonym "Carlos Danger." The fallout from both scandals was documented in the recently released film "Weiner."
Weiner was handily beaten in the mayoral primary, but the loss didn't seem to strip him of his confidence. In conversations with another woman he has been sexting lately, Weiner invites the woman to meet up, writing: "Lets get together. I'm a big wheel in this town," according to the paper.
Abedin is widely considered to be Clinton's closest aide, virtually always by the candidate's side on the trail. She is known as an influential voice on policy decisions and an intensely private person.
It didn't take Republican presidential nominee Donald Trump long to weigh in on the split. "Huma is making a very wise decision. I know Anthony Weiner well, and she will be far better off without him," Trump said in a statement.
He added: "I only worry for the country in that Hillary Clinton was careless and negligent in allowing Weiner to have such close proximity to highly classified information. ... It's just another example of Hillary Clinton's bad judgment. It is possible that our country and its security have been greatly compromised by this."
Clinton and her campaign did not respond to requests for comment on the matter.