MARIANNA, Fla. - Teams of searchers recovered human bones from the sands of Florida Panhandle woodlands on Saturday in a "boot hill" graveyard where juveniles who disappeared from a notorious reform school more than a half-century ago are believed to have been secretly buried.
"We have found evidence of burial hardware - hinges on coffins," said Dr. Christian Wells, an anthropologist from the University of South Florida, in a briefing about a mile from the closed excavation site near the former Arthur G. Dozier School for Boys.
"There appear to be a few pieces associated with burial shrouds, and there are pins consistent with the 1920s and 1930s, - based on the style of the pins - and they appear to be brass," he said.
Some "large-bone fragments" were found on the first day of digging, Wells said. They were human bones, he added, but it was impossible to know if they came from any of the teenaged boys who were housed at Dozier during its infamous 111-year existence. The school was closed in mid-2011.
The bones will be examined in laboratories at the University of South Florida and the University of North Texas, as part of a program funded by the U.S. Department of Justice and state of Florida.
After forensic investigators, using ground-piercing radar and old public records, detected 31 spots showing possible human remains, researchers planted crude white crosses on a nearby hillside to commemorate the unaccounted-for boys.
Some former residents of Dozier, now in their 60s and 70s, have told of brutal beatings and boys - mostly black juveniles - disappearing without explanation more than 50 years ago. Blood relatives of some of the boys have given DNA samples, to be matched against evidence taken from the skeletal remains.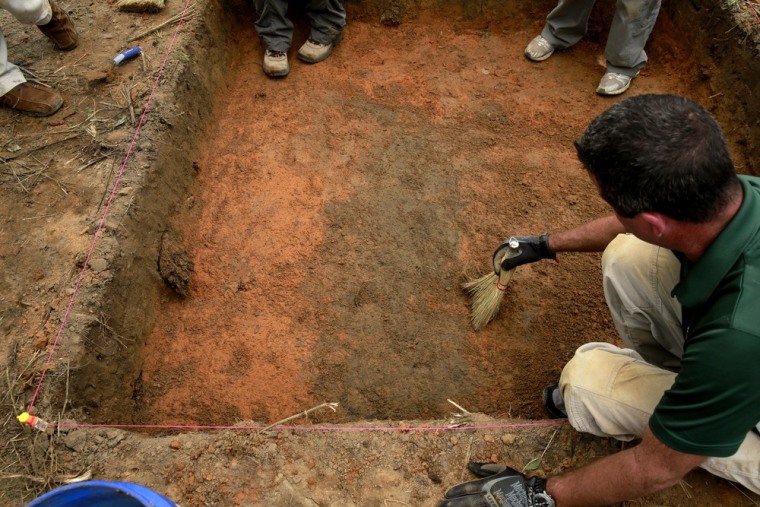 Earlier on Saturday, Dr. Erin Kimmerle, a forensic anthropologist from USF, met with some family members and survivors.
"We're approaching it much like you would an archeological excavation," Kimmerle said. "It's all done carefully and by hand."
'Never had a chance'
Tananarive Due, who came to the dig with some family members, said her great-uncle, Robert Stephens, died at the school in 1937.
"The story was ... he tried to run away at one point," she said. "The official cause of death was a stabbing by another inmate, that's what it was listed as. But with so many of these boys, who knows how they died? Their families never had a chance to say 'good-bye' to their loved ones."
Johnny Lee Gaddy, 67, said he was locked up from 1957 to 1961 for truancy. He said he was severely beaten, but in his teens became a good farm worker, hoping to get released.
Gaddy said he had heard of teens disappearing without explanation.
"I know some they said went home, but they hadn't been here long enough to go home," Gaddy said. "They said some others ran away or were transferred to other places. We never saw any bodies or funerals."
John Due, father of Tananarive, said descendants and civil-rights activists who pressed the state for disclosure of what happened to the young men ran into rigid resistance from authorities for decades.
"People didn't want to talk about it, and we found that particularly among black families," he said. "That's what racism does. It beats you down and you think you don't matter, so you won't speak up."
The forensic teams will work through Tuesday. Remains that can be identified will be re-interred at family plots and any unidentified remains will be numbered and buried - with records kept for later return to families, if any come forward.