/ Source: Associated Press
The body of a missing man has been uncovered on a sprawling multi-million dollar Pennsylvania farm along with unidentified human remains, authorities announced Thursday morning.
Dean Finocchiaro, 19, was found deceased on the property of Antonio and Sandra DiNardo, whose son Cosmo, 20, is being held by police as a person of interest in the disappearance of the teen and three others.
After a painstaking search in the dark and muggy heat just outside New Hope, Pennsylvania, cadaver dogs led police to a section of the $5.4 million property, where the remains were found buried 12 ½ feet beneath the earth.
Finocchairo was reported missing on July 7 along with Thomas Meo, 21, and Mark Sturgis, 22. Another 19-year-old, Jimi Patrick, was reported missing on July 5. It is unclear how the four men may have known Cosmo DiNardo.
"We're going to see this investigation through to the end," Bucks County District Attorney Matthew D. Weintraub said at news conference shortly after midnight. "We're going to bring each of these lost boys home to their families, one way or another."
Although Cosmo DiNardo has not been charged with the murder of Finocchairo, he is being held on a $5 million bond.
"This is a homicide; make no mistake about it. We just don't know how many homicides," Weintraub said.
DiNardo was first arrested on Monday for an unrelated gun charge, stemming back to February when he was accused of owning a firearm despite a history of mental illness. Because of an involuntary commitment to a mental institution, DiNardo was not allowed to possess a firearm.
The 20-year-old is schizophrenic, according to his lawyers, who say their client's mental illness is being exploited by prosecutors, Philly.com reported.
He was held on a $1 million bond in relation to that case and released after his parents posted $100,000 for his bail. He was then taken back into custody on Wednesday for allegedly attempting to sell one of the missing men's car for $500.
DiNardo tried to sell Meo's Nissan Maxima to a friend, court records show. Inside the car, police found Meo's diabetic kit, which Meo's parents said their son could not survive without.
The back-to-back arrests bought investigators time as they scoured 90 acres of property and other spots across the county for clues to the men's disappearance, Weintraub said.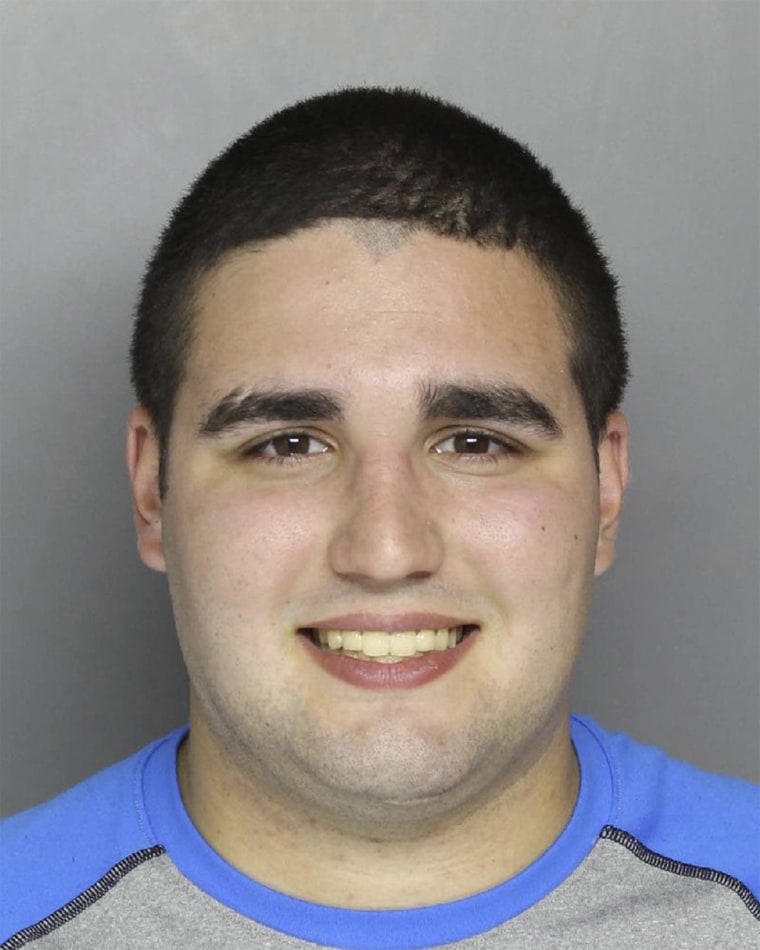 On Thursday morning, Weintraub thanked the tireless efforts of the officers working on the farm in an attempt to uncover any additional evidence relating to the men's disappearance.
Although he has not been charged in relation to the missing men, prosecutors described DiNardo as a flight risk and a "dangerous person."
Officers haven't disclosed why DiNardo is considered a person of interest, or what led them to begin the search on the family's farm.
With DiNardo in custody, the punishing search continued on the family farm, where veteran officers and brand new cadets worked side-by-side to sift through the dirt with backhoes, hands, metal detectors and buckets.
The Pennsylvania FBI and U.S. Marshal as well as local and state police are all working to investigate the case. Officials have suggested the search is the largest in the history of Bucks County.
Before human remains were discovered on the property, a family attorney for the DiNardos released a statement saying they are fully cooperating with law enforcement.
"As parents, Mr. and Mrs. DiNardo sympathize with the parents and families of the missing young men and they are cooperating in every way possible with the investigation being conducted by law enforcement," the statement said.
The DiNardo family earned a fortune off of trucking and concrete, according to NBC News affiliate NBC 10. After buying the farm outside New Hope for $5.4 million in 2005, they purchased a nearby property for $500,000 in late 2008.
DiNardo's grandfather, also named Cosmo DiNardo, owned numerous properties and eventually shared a real estate deal with his son Antonio before handing over the business entirely to him.