MINNEAPOLIS — Stores closed their gates, kiosks were covered and even Santa left his sleigh at the Mall of America shortly before hundreds of protesters began chanting for justice during a Black Lives Matter protest on Wednesday.
The protesters gathered in the mall's central rotunda on one of the busiest shopping days of the year, and then abruptly walked outside. Many chanted "What do we want? Justice! When do we want it? Now!" Police urged onlookers out of the mall's central rotunda, threatening arrest.
Organizers said protesters, who were heading to a nearby light-rail train station, wanted to draw attention to the police shooting last month of Jamar Clark. The 24-year-old black man died the day after he was shot by Minneapolis police responding to a recent assault complaint.
Related: Judge Bars Organizers From 'Black Lives Matter' Mall of America Protest
A similar demonstration last December drew hundreds of demonstrators angry over the absence of charges following the police killings of unarmed black men in New York City and Ferguson, Missouri. Stores in the mall had to close, and dozens of people were arrested.
The privately owned mall said another demonstration would mean lost sales. The massive retail center in the Minneapolis suburb of Bloomington houses an amusement park and more than 500 shops spread across four floors, attracting shoppers from around the globe.
Neither mall officials nor Bloomington police said what security measures they put in place to prepare for the protest, though special event staff members were searching bags and stationed at every mall entrance. Security guards cordoned off parts of the central rotunda, and officers from several cities patrolled inside.
Dozens of stores had closed their gates shortly before the protest started.
The mall sought a court order blocking the planned protest. A judge on Tuesday barred three organizers from attending the demonstration, but said she doesn't have the power to block unidentified protesters associated with Black Lives Matter — or the movement as a whole — from showing up.
Bloomington Police Deputy Chief Denis Otterness confirmed officers would be at the mall, but declined to discuss their plans for handling the protest.
"We're just not releasing that at this point," he said. "Our number one priority is the safety of everybody out at the Mall of America today."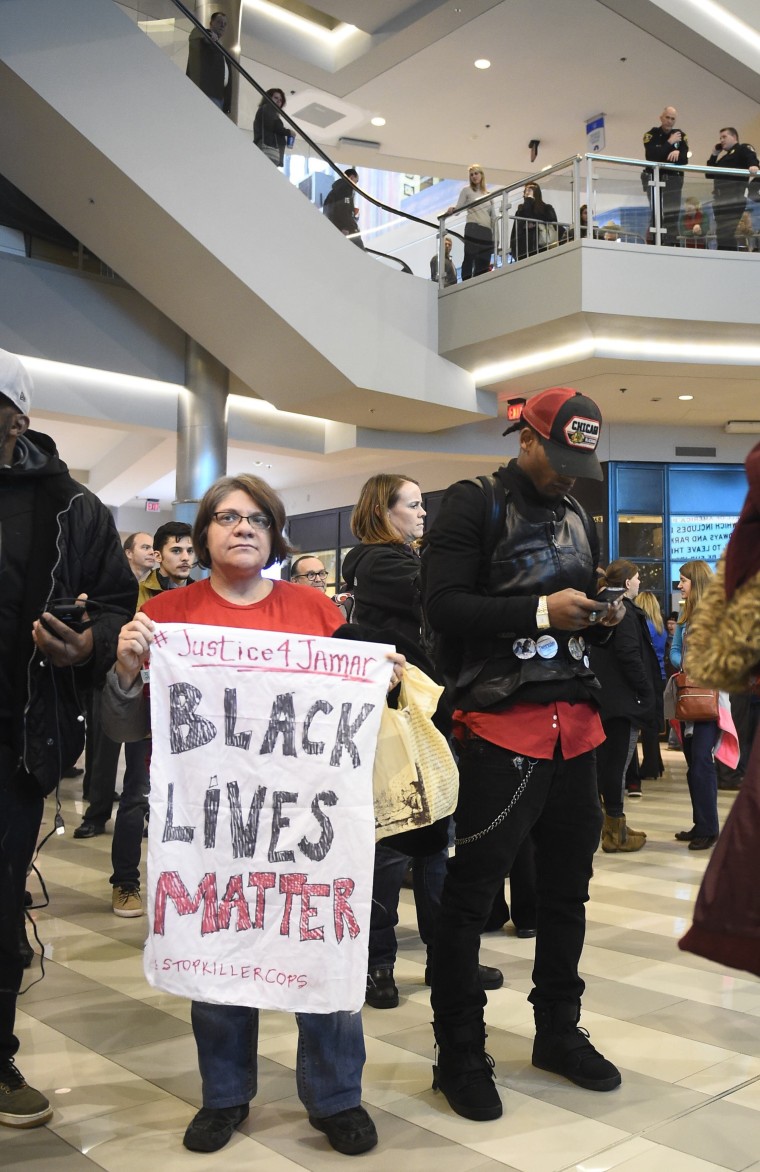 Gov. Mark Dayton also told reporters early Wednesday that 30 Minnesota State Patrol officers will be on scene at the local police department's request. He said he sympathizes with protesters' concerns, but he stressed that the mall is private property.
Kandace Montgomery, one of three organizers barred by the judge's order, said the group isn't deterred by the ban. She declined to say if she or her fellow organizers still planned to go to the mall, but she said she expects at least 700 people to show up — including some who are prepared to be arrested.
On one of the busiest shopping days of the year, Montgomery said the retail mecca is the perfect venue for their demonstration to pressure authorities involved in the investigation of Clark's death to release video footage.
"When you disrupt their flow of capital ... they actually start paying attention," she said. "That's the only way that they'll hear us."
After leaving the mall, the protesters quickly migrated to Minneapolis-St. Paul International Airport, where demonstrators blocked roads and caused significant traffic delays.
Airport officials said access to one of two terminals was blocked temporarily, which also caused backups on nearby roads. Some protesters had taken a light-rail train to the airport.
"The mall was a decoy," said Black Lives Matter organizer Miski Noor, who protested at the airport. "I think it was really effective."
Police said a total of 15 people were arrested at both sites, mostly for trespassing or obstruction of justice. No injuries or property damage were reported.
Black Lives Matter activists planned protests across the country on Wednesday, in what they called "National Day of Action."
In a statement, the San Francisco chapter said, "Today, on one of the busiest days of the holiday season, Black communities across the United States are taking brave actions to impede the flow of goods and commerce with peaceful protests to call for an immediate overhaul of the justice system both locally and nationally that will demand accountability for police, removal of grand juries in cases involving police shootings, an immediate halt to militarized police units and weapons, and extensive review of racialized police practices in Black neighborhoods."
In addition to Minnesota and the San Francisco Bay area, major demonstrations were planned in Chicago, Washington D.C., Chattanooga, and Los Angeles, organizers said.