Tens of thousands of people across the United States are expected to skip work and attend rallies and marches Friday as part of a "general strike" to "get our democracy back."
Strike4Democracy, one of the groups organizing the nationwide event, which is called the "#F17 General Strike," said more than 100 public protests are expected. Event pages on Facebook indicate the potential for high participation: Nearly 20,000 people have responded to the page for a New York City march alone.
It will be the second straight day of national protests, following Thursday's "Day Without Immigrants" campaign, which was aimed at making a point about the economic impact immigrants have on the U.S. labor force.
Foreign-born residents of the United States were asked to stay home from work or school — and to refrain from shopping — in rallies and marches in Washington, D.C., Chicago, Denver and many other cities.
Michelle Rodino-Colocino, a lead organizer for Friday's strike for Strike4Democracy, told NBC News that after the idea of a "general strike" was floated online, it took off on its own — with dozens of organizers working independently to stage events.
Asking who was behind the strike, Rodino-Colocino said, is "like asking where a forest came from."
"There were many seeds," she said.
A crowd-sourced list of events shows rallies and marches scheduled in more than 30 states, as well as one in Jalisco, Mexico.
Rodino-Colocino said the goals are clear: "We're striking to get our democracy back. Since [Donald] Trump's been elected, somehow America has lost its democratic footing."
The Strike4Democracy website says reasons for the strike include an "authoritarian assault on our fundamental, constitutional rights" and attacks on marginalized communities like Muslims and LGBTQ people.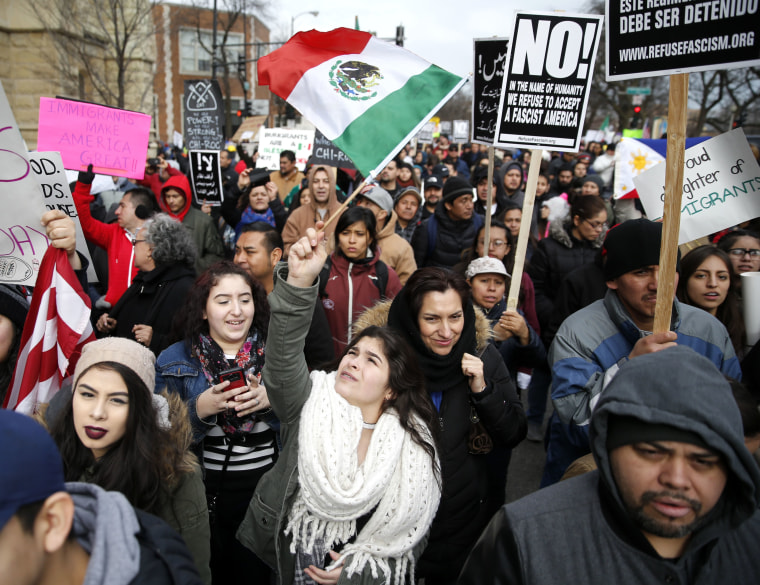 For those who can't take the day off work, Strike4Democracy is encouraging people to use their lunch breaks to participate. Using the #BreakLunch hashtag on Titter and Instagram, the group suggests that people take their lunches to work and donate the money they would have spent to a "cause you believe in."
The sudden, organic growth of the strike is similar to the way the Jan. 21 Women's Marches grew out of a grassroots network of local chapters formed within days of the election.
Some of Friday's events depart from the standard rally-and-march model:
In New York, strikers can join a Critical Mass bike ride or a lunchtime chili-eating party.
Strikers on the outskirts of Philadelphia plan to meet to pick up trash in a cleanup effort.
Students at Occidental College in Los Angeles plan to walk out of class.
And of course, in New Orleans, a marching band will take over Royal Street as part of a "general strike super band."
In Seattle, government employee Asha Mohammed is organizing a protest outside Amazon.com Inc. headquarters. Mohammed told NBC News that Amazon was chosen because of a lawsuit filed in October, in which a Syrian Muslim alleged that he was fired after complaining about religious- and ethnic-based harassment at work.
But Mohammed said the overarching motivation was opposition to the Trump administration.
"With this administration, it has really woken up the fears in me. I know what it's like to live in an authoritarian regime," said Mohammed, who came to the United States as a refugee fleeing Somalia.
Mohammed said she believed Americans have been able to take constitutional freedoms for granted — until recently: "With this administration, we cannot take it for granted anymore."
"American values are refugee values," Mohammed said. "We're not the nation of fear-mongering. When the world gives up hope, America gives hope."