Hundreds of religious leaders have signed a letter urging President Donald Trump not to weaken federal protections for LGBTQ Americans working for government contractors.
The letter is being circulated at the same time as a purported draft of a proposed executive order that would carve out an exemption from anti-discrimination regulations for federal contractors who oppose LGBTQ equality on religious grounds. The regulations were were signed into law in July 2014 by former President Barack Obama.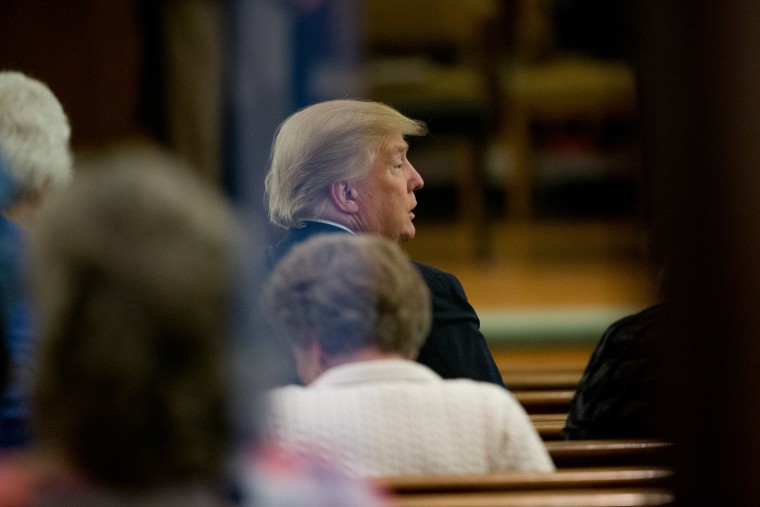 "We urge you not to undermine these important protections against discrimination by adding a religious exemption to the Executive Order," according to the letter, which is signed by more than 400 pastors, imams, rabbis and seminary presidents and executives from scores of religious groups.
The origins and authenticity of the purported draft executive order remain unclear, and the White House said in a statement this week that the 2014 order "will remain intact." But the statement didn't address concerns that the president could alter Obama's order without rescinding it.
Meanwhile, LGBTQ advocacy groups were alarmed last month when all mention of such issues was removed from the White House and State Department websites four days after Trump took office.
Related: Trump Administration Removes LGBTQ Content From Federal Websites
"The White House's statement did not assuage our concerns, nor did it address the concerns at the heart of the letter," said Claire Markham, associate director of the Faith and Progressive Policy Initiative of the Center for American Progress, the nonprofit policy institute that coordinated drafting and circulating the letter.
"Adding an exemption would technically leave the order in place but would render it unenforceable by the federal government," Markham told NBC News. "We can't ignore those intentions because the White House issued a statement."
The letter is signed by at least 48 pastors or officials — well more than a tenth of all signers — who identify themselves as Presbyterian, the faith Trump says he identifies with. At least 13 are specifically associated with the Presbyterian Church (U.S.A.), the nation's largest Presbyterian denomination, into which Trump was baptized as a child.