Hundreds of people protested a speech given by the white nationalist and member of the so-called alt-right, Richard Spencer, at Texas A&M University Tuesday.
The College Station, Texas, university did not invite Spencer to speak and said his views are "in direct conflict with our core values." Spencer was invited to speak by a former student who rented out space on campus.
Law enforcement officers with riot shields were seen pushing protesters from areas inside the Memorial Student Center where Spencer was giving his speech. Several groups also protested the speech outside the building. The video was posted online by the college student newspaper The Battalion. Police said two people were arrested, and neither were students.
Inside, around 400 people turned out to see Spencer, some of whom jeered him, The Associated Press reported. There was at least one physical confrontation when the microphone was taken from a woman who repeatedly asked if Spencer was a racist.
Related: White Nationalist Richard Spencer Denounced by Ex-Classmates, Elite Prep School
Spencer rejects the label "white supremacist" in favor of the more opaque term "alt-right," but the Southern Poverty Law Center has described him as a leading "academic racist," who "takes a quasi-intellectual approach to white separatism."
The so-called "alt-right" is a term used to describe a movement that is a mix of populism and white nationalism.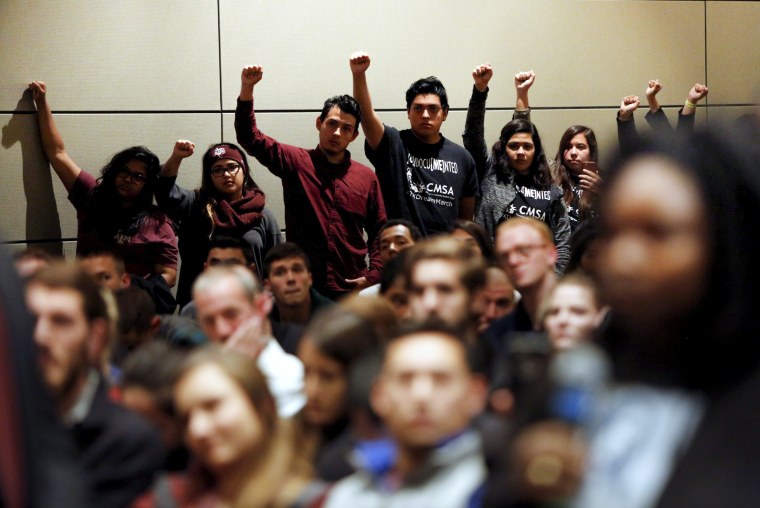 Critics have claimed that Trump's divisive campaign rhetoric and election have thrust the movement to the fore. Trump has said he disavows the support of racists and bigots.
Spencer, in response to a question Tuesday, said that there is no objective way to prove once race better than the other, but that he does support nations segregated by race. He called the idea that America is based on rights "silliness."
Related: Hundreds of Hate Crimes Reported Since Election, Southern Poverty Law Center Says
Spencer made international headlines when he was recorded giving what some called a Nazi-style "hail Trump!" cheer during a conference in Washington, D.C. Spencer later claimed he was being "ironic."
The university held a counter event with music and speeches titled "Aggies United." The event was billed as an opportunity to "stand together unwavering in our conviction that we are strongest when united."
"I don't agree with his comments, obviously, being from a diverse background myself, but at the same time it's his right to say whatever he wants and I think we should respect that also," Victor Calvillo, a first-generation Mexican-American, told NBC Dallas-Fort Worth.
Outside the auditorium where Spencer was speaking, protesters shouted "No love for Nazis," and some held signs like "Aggies against alt-right."