Hundreds of people rallied Saturday in Idaho to call for the safe return of Bowe Bergdahl, the U.S. Army sergeant believed to be held captive by Taliban militants in northwestern Pakistan.
"We are feeling very optimistic this week," Bergdahl's mother, Jani Bergdahl, said Saturday at the event in Hailey. "Bowe, you are not forgotten. You are the reason all of us are here today."
"This country will not leave you on the battlefield. You are not forgotten," said his father, Bob Bergdahl. 
On Thursday, the Taliban said they would return Bergdahl, who has been held captive for nearly four years, in exchange for five prisoners being held at Guantanamo Bay.
Bergdahl's family knows firsthand how fragile such proposals are. The family has pleaded with the U.S. government before to accept a prisoner swap orchestrated by the Taliban. Similar conversations began and stalled in the past, adding to the anguish faced by the Bergdahls, who last saw their son in December 2008.
"We don't have faith in the U.S. government being able to reconcile this," Bob Bergdahl told The New York Times in 2012.
White House press secretary Jay Carney maintained this week that President Obama and the White House are doing everything in their power to bring Bergdahl home and that his rescue remains a top priority.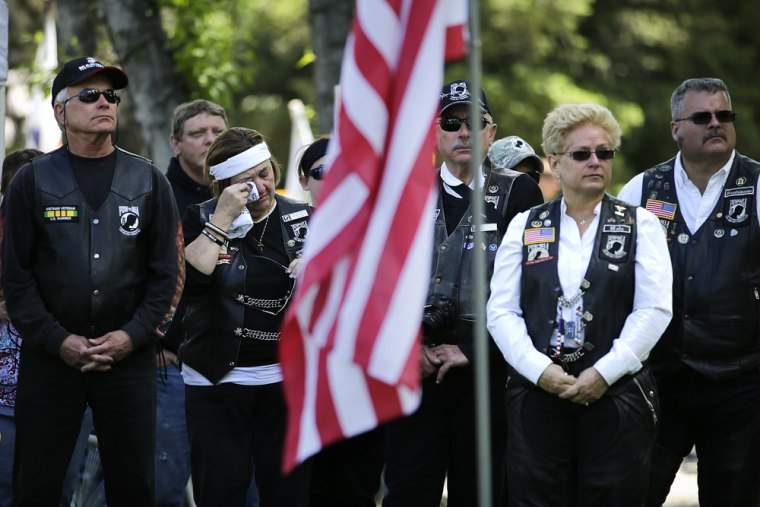 "There should be no doubt that on a daily basis, we are continuing to pursue using our military intelligence and diplomatic tools in the effort to return him safely," he said in a White House briefing.
On June 6, the Bergdahls released a statement saying they had received a letter through the Red Cross that they believe was written to them by their son.
"Our family is greatly relieved and encouraged by this letter, which gives us hope that Bowe is doing as well as can be expected under the circumstances," the family said in the statement. "We hope Bowe's captors will again consider his parents' plea to release him, but in the meantime, we ask that you please continue to keep him in good health and allow him to keep corresponding with us."
Bergdahl joined the Army in 2008 without telling his parents, who were anxious when they found out.
"I just tried to be supportive," Bob Bergdahl told Rolling Stone magazine in a 2012 interview.
Bowe was assigned to the 25th Infantry Division in Fort Richardson, Alaska, and in less than a year was deployed as a machine gunner to a combat outpost in Pakita Province, Afghanistan.
On June 30, 2009, Bergdahl was reported missing after not showing up for morning roll call. It was originally reported that he had walked away from his post in the middle of the night, but later, in videos released by his captors, Bergdahl said he was captured as he lagged behind during patrol.
It is this discrepancy that has caused debates in Washington, with some calling Bergdahl a traitor who deserted his post.
Bob Bergdahl told Rolling Stone that Sen. Saxby Chambliss, R-Ga., insisted the American government should not trade any prisoners for a "deserter."
Other key players in Washington are resistant for different reasons.
In a January 2012 meeting to brief select senators on a possible prisoner exchange for Bergdahl, Sen. John McCain, R-Ariz., resisted any negotiations.
"They're the five biggest murderers in world history!" he said to then-Sen. John Kerry.
"They killed Americans!" he added. "I suppose Sen. Kerry is OK with that?"
On Saturday, Bob Bergdahl said he would always defend his son's character.
"I will defend his character until the day I die," he said. "I do not live here. I live in Afghanistan. I might be standing here, but I am living vicariously through my son," he added. 
Obama has not been vocal about any plans regarding Berdgdahl's release.
"[Obama] has never contacted us," Jani Bergdahl told The New York Times. "We haven't gotten a Hallmark card, we haven't gotten a note signed by an aide, nothing. Is it because he thinks we're not Democrats?"
No date has been set for negotiations between the U.S. government and the Taliban about any possible exchange. 
Reuters contributed to this report. 
Stephanie Zepelin is a reporter for NBC station KTVB of Boise, Idaho.