Hundreds of ID badges that let airport workers roam the nation's busiest hub have been stolen or lost in the last two years, an NBC News investigation has found.
While experts say the missing tags are a source of concern because they could fall into the wrong hands, officials at Hartsfield-Jackson Atlanta International Airport insist they don't pose "a significant security threat."
WATCH: NBC Nightly News for more on this story at 6:30 p.m. ET on Tuesday
The wayward badges came to light when NBC-DFW asked airports across the country to reveal how many of them were unaccounted for. Only one, Atlanta, provided numbers before the Transportation Security Administration blocked the release of more data.
But at that single airport, where almost 60,000 people work, some 1,400 badges that allow employees to access secure areas like runways and boarding gates have gone missing over roughly two years.
"It's very, very serious. Without question," said Larry Wansley, who headed corporate security for American Airlines until 2004 and still consults for airports.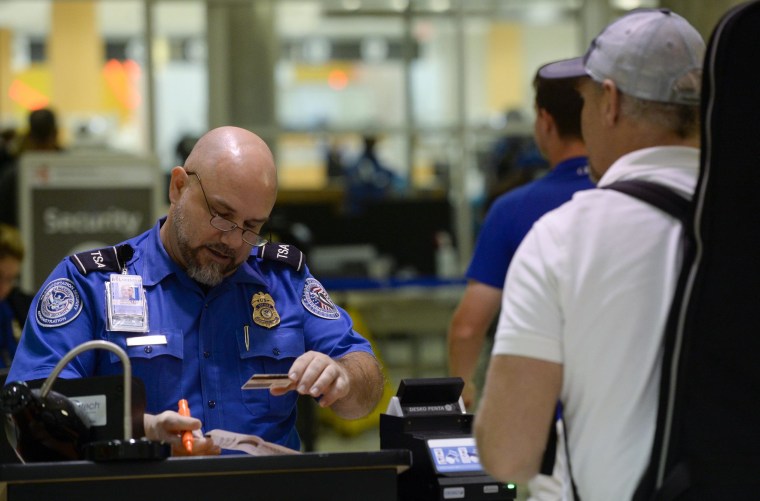 Experts noted that the badge alone would not allow a worker to access areas off limits to the public. Major airports also use biometric screening and PIN numbers at entry points.
"Badges are deactivated as soon as they are reported lost or stolen," the Atlanta airport said in a statement.
"Secured areas of the airport can only be accessed with a valid badge and PIN, and each badge has a photo of the employee on it. Due to these safeguards, we do not believe that lost or stolen badges pose a significant security threat to the airport."
There is no guarantee a lost or stolen security card will be reported immediately. At Dallas-Forth Worth International Airport, one set of lost employee credentials were not deactivated for three days because the worker was "hoping someone would turn them in," according to police reports obtained by NBC-DFW.
Experts say that even without a PIN, a purloined ID card could be a problem because it might give an intruder a better chance of sneaking in an open perimeter gate or blending in on the tarmac.
"Anytime you can acquire uniforms, badges any official sort of indication of authority that's a huge problem, that's a huge threat."
And it's not just the badges that disappear. Airline shirts, a FedEx pilot's uniform, TSA identification have all been reported missing by Dallas airport workers. Even a federal flight deck officer's credentials — which allow a pilot to carry a gun on a plane — had vanished, NBC-DFW found.
"Anytime you can acquire uniforms, badges any official sort of indication of authority that's a huge problem, that's a huge threat," said Jeffrey Price, who teaches Aviation Security at Metropolitan State University in Denver.
Chaim Koppel, a security expert who consults with airports and airlines around the world, pointed to an attack in Pakistan last year where terrorists dressed as security workers laid siege to Jinnah International Airport, killing more than a dozen people.
"These few seconds that people are hesitant to act against them, that's going to be the key to success for them," Koppel said.
Under TSA rules, if more than 5 percent of the badges at one airport are lost or stolen, the entire inventory must be cancelled and reissued.
The agency declined to comment on the lost-ID data from Atlanta, pointing to a statement it released in January that said it's considering additional measures to check IDs and screen workers.
The Department of Homeland Security "has requested the Aviation Security Advisory Committee to conduct an expedient and comprehensive review of the issues related to the security of the sterile areas at airports nationwide in order to identify all viable means for the Department to address any potential vulnerability," the statement said.