RICHFIELD TOWNSHIP, Mich. — Barb Proffer was once a reliable vote for Democrats here in Michigan's Genesee County. So was Wykisha Bullock.
But when it came time for the last presidential election, neither of these women cast ballots for Hillary Clinton, the Democratic candidate.
Proffer crossed party lines to support Donald Trump.
"He speaks in a way that a lot of people don't like but I personally do like," said Proffer, 63, an accountant who said Trump was the first Republican she had ever voted for.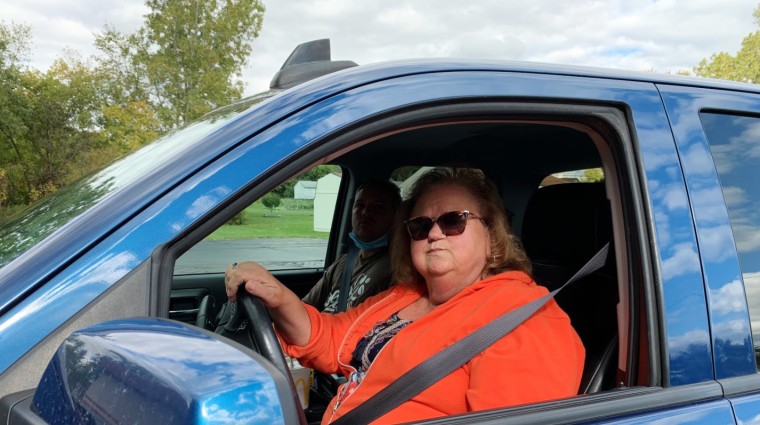 Bullock didn't vote at all.
"I just didn't get to it," said Bullock, 37, of Flint, adding that she'd lost faith in politics and politicians.
Proffer and Bullock were part of a massive drop-off in Democratic votes that paved the way for Clinton's defeat. Clinton won 2.2 million votes in Michigan — nearly 300,000 fewer than Barack Obama won four years previously and more than 600,000 fewer than Obama won in 2008.
The decline in Democratic votes from 2012 to 2016 was nearly 28 times Trump's 10,704-vote margin of victory in the state.
As early voting ramps up in this crucial swing state, these are the voters former Vice President Joe Biden needs to win back.
"He needs to reach out to those voters who did not turn out in 2016, who were perhaps disengaged or turned off by Hillary Clinton, and move them over to his Democratic ticket," said Terri Towner, a political science professor at Oakland University near Detroit.
It's too early to know whether he'll succeed, but in interviews, at least some voters in Genesee County say they're approaching this election differently from the last one.
"I already got my ballot in the mail, and I'm going to send it off," Bullock said. She plans to vote for Biden.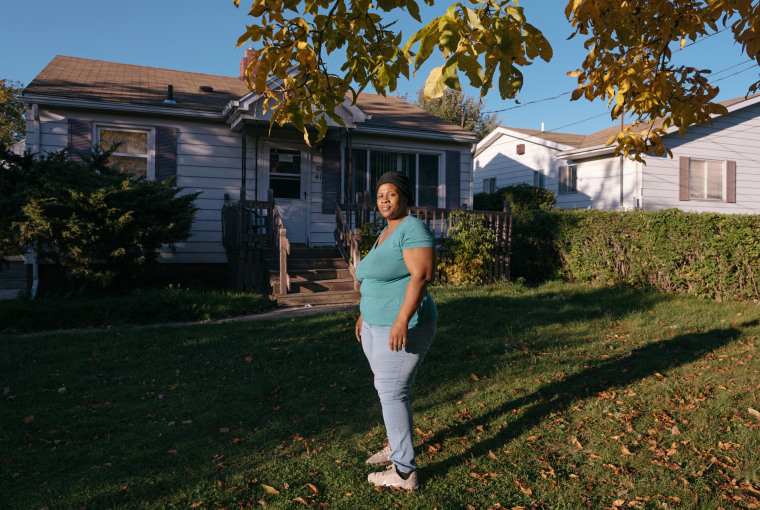 'That independent streak'
The Democratic drop-off in 2016 spanned Michigan, but it was especially pronounced in Genesee County, about an hour's drive north of Detroit.
The county, the state's fifth most populous, with about 400,000 residents, including about 95,000 in Flint, has consistently backed Democrats in presidential elections. Clinton carried the county in 2016 but with 20 percent fewer votes than Obama won in 2012.
Voter turnout was low in Flint, a majority-Black, majority-Democratic city where voters like Bullock said they weren't inspired by Clinton.
And there were voters like Proffer who live in the more politically independent suburban and rural parts of the county, who saw something in Trump that won them over.
Proffer lives in Richfield Township, a community about 20 minutes from downtown Flint where the city and the suburbs give way to small farms, modest houses on large lots and industrial warehouses spaced along a three-lane state highway. Most of the residents — 94 percent — are white. The median household income is $59,000.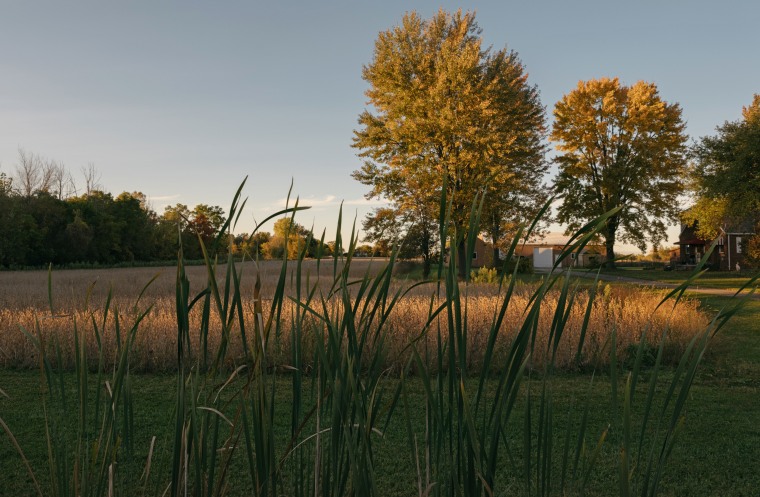 The township, home to generations of autoworkers and others who commute to jobs in Flint or the Detroit suburbs, has the Genesee County precinct that recorded the largest decline in Democratic votes from 2012 to 2016 — a drop of 420.
That precinct — where voters mark ballots at the local firehouse — went for Obama in 2012 and then Trump in 2016, casting 950 votes for him and 701 for Clinton.
"Our district has that independent streak in it," said state Rep. Sheryl Kennedy, a Democrat who represents the area. "It has rural and the skilled trades and college-educated — we're really quite the little microcosm of Midwestern political leanings."
Kennedy believes support is swinging back toward the Democrats. Two years ago, a majority of Richfield voters supported Gretchen Whitmer, a Democrat, in her successful run for governor. They also elected Kennedy and backed a Democratic member of Congress and a Democratic state senator. But on a drive around the area last week, it was clear that support for Trump remains strong.
Many residents don't just have Trump lawn signs. They have Trump billboards — massive signs about 6 feet across that can be seen from a block away. Others have Trump flags or banners.
David Martin, the Republican county commissioner who is running against Kennedy for state representative, said many voters he meets want to know whether he supports the president like they do.
"For so long, their identity, their grandfathers, their fathers, their selves, they were blue-collar labor, and they were voting Democrat," said Martin, who is backing Trump.
"Now there's a shift in voting for values," he said, naming gun rights, property rights, and "traditional marriage," among other issues. "I think they went with Trump because they were a little scared of how fast progressives were moving."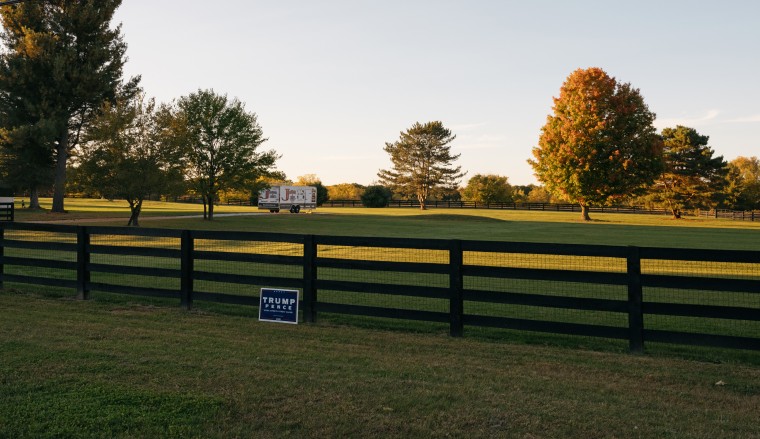 Proffer is one of those Richfield Township voters who comes from generations of Democrats. Her father was named after Woodrow Wilson, she said. "We were a Democratic family."
But as she and her adult son pulled into the parking lot of Richfield Township Hall in search of absentee ballots last week, she said she now views Democrats as "corrupt" and plans to vote only for Republicans from now on.
"I like a man that speaks the truth and doesn't fluff it up," she said.
Other Trump supporters are making a different choice this year.
Gerri Arndt, 56, of nearby Davison, voted for Obama twice before backing Trump in 2016.
"I thought he was a very good businessman and would stand up for what was right," she said.
Since then, however, she's been dismayed by the president's behavior. "His temper tantrums, him doing things to get even with other people, not willing to listen to anybody."
Even though she's not impressed with Biden, she plans to vote for him in hopes that he'll surround himself with smart advisers. "I think he'll listen," she said. "Trump never listened."
David McKarnen, 79, a retired autoworker and committed Democrat who dropped his Biden ballot into a box in front of Township Hall last week, said the people he knows who supported Trump in the last election are evenly split this time.
McKarnen thinks the increase in Trump signs this year doesn't necessarily mean that Trump has more support — just that his backers are now more open.
"Last time, they were afraid to put a Trump sign in their yard, because they didn't want to be ridiculed," McKarnen said. "This time, they feel emboldened, and they think Trump's going to win."
'It wasn't going to matter'
It's a different story on the north side of Flint, where few homes sport political signs but the vast majority of voters consistently back Democrats. Most residents of the north side are Black, and many are poor. The median household income for the city is $28,000.
Many voters here say they think Trump is racist. They think he's mishandled the Covid-19 pandemic, and they're determined to see him lose.
Yvonne Gaither, 78, who takes an exercise class at the Hasselbring Senior Center on Flint's north side, said everybody she knows says they're going to vote Trump out of office.
"After we done got our behinds sorely kicked by the president, they say they're voting for anybody but him," she said.
The senior center is home to the precinct that had the city's biggest drop-off in Democratic votes from 2012 to 2016. Clinton handily won the precinct, where just 15 votes were cast for Trump, but the 835 votes she got was significantly below the 1,101 votes Obama won in 2012.
For more of NBC News' in-depth reporting, download the NBC News app
The eight seniors who joined a Hasselbring exercise class last week all said they voted for Clinton. Most fought for voting rights during the civil rights movement in the 1960s and said they would never miss an election. But they have friends and relatives, mostly from younger generations, who they know stayed home in 2016.
"My grandson and a lot of his friends wanted uncle Bernie," said Geraldine Wilburn, 79, referring to Sen. Bernie Sanders, I-Vt. "I told him that he should vote because that was his duty as a citizen, but he said he couldn't vote for Hillary and wasn't going to vote for Trump."
This year, however, Wilburn's grandson told her he's definitely voting, she said. "Him and all his homies are voting because they don't want four more years of Trump."
Bryant Nolden, a Democratic county commissioner who runs the historic Berston Field House recreation center in Flint, said he's hearing a lot more enthusiasm about voting from people in the community than he did four years ago.
Back then, he heard a lot of cynicism about politicians, especially in the wake of the Flint water crisis.
The city became a national symbol of government neglect in 2015, when residents discovered that their water supply had been tainted with dangerously high lead levels.
"There was a lot of voter distrust of the government," Nolden said. "It was the government that actually poisoned the residents of Flint."
There were other reasons to distrust the government, as well, Bullock said.
She didn't vote in 2016 because she wasn't sure her vote would really be counted — and she doubted that any of the candidates would make much change.
"Sometimes they trick up the vote," said Bullock, who works two jobs as a home health care aide. "They can say a lot of things, but we don't know what's going to happen."
She plans to vote this year because she wants to see Trump lose.
"I don't think he's really fit for running the country," she said. "Sometimes he doesn't know what he's saying."
'We're not taking anything for granted'
Local Democratic officials say Clinton's campaign was doomed in part because she took some voters for granted, assuming the Obama coalition of Black voters, young voters and white suburbanites would come out for her in similar numbers.
"The campaign was very heavily decided out of Brooklyn, with very little Michigan input," said Jim Ananich, the Democratic minority leader of the state Senate, who represents Flint and surrounding areas. "When we were knocking on doors, we were walking by a lot of doors. They had a metric, a computer formula based on certain demographics, and they undertargeted, in my opinion."
Ananich said he's seen a different approach by the Biden campaign, which is doing a better job of listening to local experts. He hopes the results will be different this time, especially because voting in Michigan is easier than it was four years ago.
Thanks to a referendum in 2018, people can now vote absentee for any reason, and they can register to vote on the same day they cast their ballots. That, plus enthusiasm from voters who either love or despise the president, already led to record turnout across the state in March and August primaries despite voters' fears of contracting Covid-19.
"We're not taking anything for granted," Eric Hyers, the state director for the Biden campaign, said as he listed efforts to boost turnout from traditional Democratic voters and to bring back Obama voters who supported Trump in 2016.
"The energy on our side is so different than what people who were here four years ago say it was like," Hyers said.
Republicans say their side is also fired up. Trump campaign spokeswoman Samantha Zager said in a statement that Trump's 2016 victory had "sparked a realignment" of American voters who would come out again for the president.
"We know which voters to contact with the right message to turn them out to vote for President Trump this November," she said.
But in a state where Democrats have long outnumbered Republicans, a win for Biden could come down to turnout in cities like Flint, and party leaders here say they're hopeful that fewer people will stay home.
People in Flint really dislike Trump, Nolden said, and his narrow victory four years ago showed how even a small number of votes can make a big difference.
"People's eyes are wide open now," he said.
Angelette Moore, 57, a retired autoworker from Flint, stayed home in 2016 because she thought her vote "wasn't going to matter," she said.
"They're going to do what they're going to do anyway. Who cares?" she said.
But, this year, Moore said, she has already mailed her absentee ballot.
"Trump's got to go," she said. "He's the devil."