Hurricane Delta is gaining strength and size over the Gulf of Mexico as it takes aim for the Louisiana coast, which is still recovering from a powerful Category 4 storm six weeks ago that ripped houses from their foundations, peeled off roofs and tore trailers in half.
The storm is expected to make landfall along the southwest Louisiana coast Friday afternoon or evening.
On Thursday, Delta regained "major hurricane strength," becoming a Category 3, with maximum sustained winds of 115 mph, the National Hurricane Center said. By Thursday night maximum sustained winds increased to 120 mph. It could strengthen slightly but some weakening is expected as it approaches the U.S. coast.
It will be the 10th hurricane to make landfall on the mainland U.S. this season, setting a new record.
"We just can't seem to get a break from the weather," one Louisiana resident told NBC News.
A video from a reconnaissance flight into the storm by the Air Force Reserve Hurricane Hunters showed dark, stormy skies stretching for miles on Thursday morning.
The storm is churning toward the area around Lake Charles, which still has about 5,600 residents in New Orleans hotels because their homes are too damaged to occupy from Hurricane Laura in late August.
Trees, roofs and other debris left in Laura's wake still sit by roadsides waiting for pickup even as forecasters warned that Delta could be a larger-than-average storm.
The large majority of structures damaged by Laura haven't been permanently repaired, Gov. John Bel Edwards said on Wednesday.
"All that debris could become missiles in really strong wind," said Edwards, who also worried about the "sheer anxiety" the storm could cause residents who are already traumatized.
NBC News correspondent Sam Brock reported Thursday afternoon that Interstate 10 west of Lake Charles was backed up for miles as residents evacuated the area, which is expected to get hit with tropical-storm force winds starting at about noon Friday.
When the hurricane makes landfall later in the day, maximum sustained winds of 100 to 115 mph and life-threatening flooding are forecast.
Forecasters at midday Thursday expanded the zone where a high storm surge is expected. Now, a large stretch of low-lying Louisiana, from Rockefeller Wildlife Refuge to Port Fourchon, including Vermilion Bay, could see coastal waters rise by 7 to 11 feet.
Four million people from coastal Louisiana up through central Mississippi are under flash flood watches.
The storm's slight western shift may have spared the Alabama coast from a direct hit, as that state continues to recover from Hurricane Sally.
Delta first struck Mexico's Yucatan Peninsula on Wednesday as a Category 2 storm, forcing tourists in the area's resorts to hunker down.
It then weakened slightly before moving north over the Gulf of Mexico, where it strengthened again to a Category 2, and then to a Category 3 Thursday.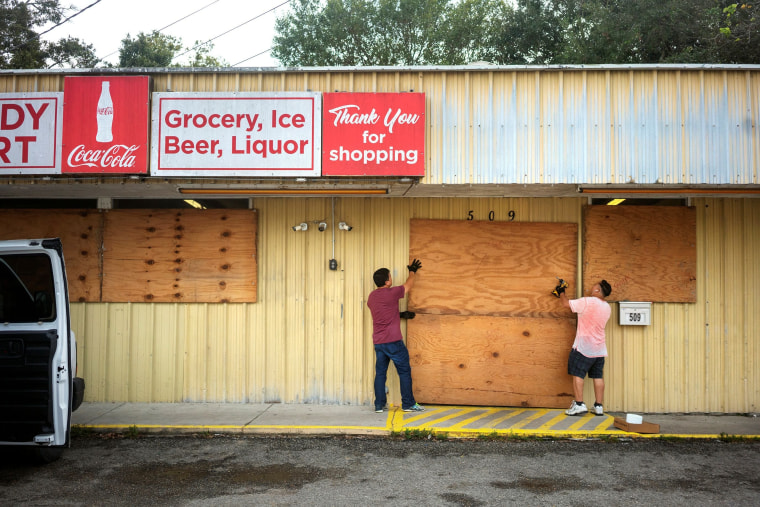 Some weakening is anticipated as the hurricane approaches the U.S. Gulf Coast, forecasters said.
At 10 p.m. local time Thursday (11 p.m. ET), the center of the hurricane was about 285 miles south of Cameron, Louisiana, and was moving north-northwest at 12 mph, the National Hurricane Center said.
A hurricane warning is in effect for a stretch of coast from High Island, Texas, to Morgan City, Louisiana.
Tropical-storm warnings are in effect to the west and east — from Sargent, Texas, to High Island, and from Morgan City, Louisiana, east to the mouth of the Pearl River, including New Orleans and Lake Pontchartrain. Tropical-storm watches are in effect from the Pearl River east to Bay St. Louis in Mississippi.
The governors of Louisiana, Alabama and Mississippi declared states of emergencies, and on Wednesday President Trump approved Louisiana's request for a federal emergency declaration.
In addition to the wind, storm surge and other effects, the hurricane is expected to dump 5 to 10 inches of rain, with isolated totals of up to 15 inches, from southwest to south-central Louisiana, forecasters said. That will cause flash flooding and river flooding, the hurricane center said.
The threat is not limited to the center of the storm. Hurricane-force winds extend around 35 miles from the center. National Hurricane Center Director Ken Graham said everyone in the warning area needs to be prepared.
"A little change in that movement here could bring hurricane-force winds in either direction, because it's not just about that center point," Graham said in a video briefing Thursday afternoon.
Tropical-storm-force winds extended up to 160 miles from the hurricane's center Thursday night. Those winds could be seen near the coast Friday morning. Storm surge could also affect a large stretch of the coast, and those are traditionally some of the most dangerous parts of tropical systems, he said.
"Today's the day to really get ready for this hurricane," Gram said Thursday.