Hurricane Fiona strengthened overnight to a Category 3 storm as it pummeled the Turks and Caicos Islands after hammering Puerto Rico and the Dominican Republic.
In Puerto Rico, the first major hurricane of the season has already caused widespread devastation, with multiple deaths reported after it dumped more than 2 feet of rain on the island and knocked out the U.S. territory's electricity supply after making landfall Sunday.
The National Hurricane Center reported Tuesday afternoon that hurricane warning conditions were in effect for Turks and Caicos Islands, while a tropical storm warning was in effect for the southeastern Bahamas.
A curfew was imposed in the Turks and Caicos on Monday, with residents of Grand Turk, South Caicos and Salt Cay ordered to clear the streets by 5 p.m. and remain indoors.
The storm's eye passed close to Grand Turk, the small British territory's capital island, Tuesday morning. Storm surge could raise water levels there by as much as 5 to 8 feet above normal, according to the U.S. National Hurricane Center.
Late Tuesday morning, the storm was centered about 40 miles north-northwest of that island, with hurricane-force winds extending up to 30 miles from the center.
"Storms are unpredictable," Turks and Caicos Premier Washington Misick warned in a statement Monday from London, where he was attending the funeral of Queen Elizabeth II. "You must therefore take every precaution to ensure your safety." He was scheduled to return home Thursday.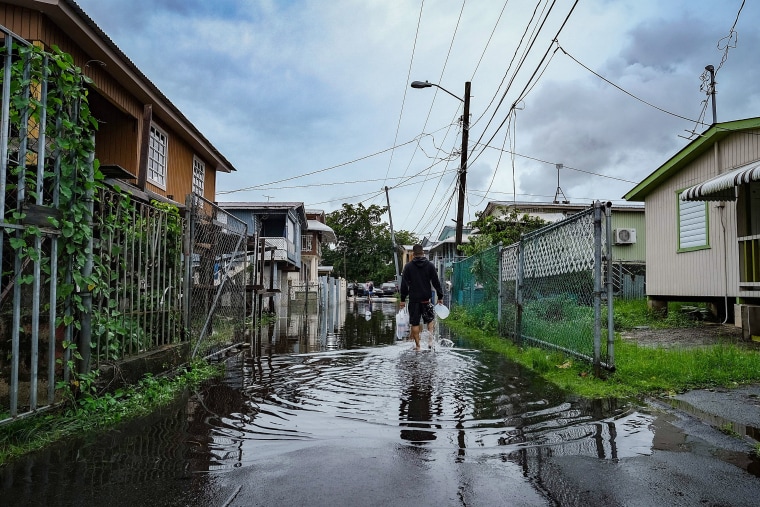 In Puerto Rico, Gov. Pedro Pierluisi said, "The damages that we are seeing are catastrophic."
He said during a news conference Tuesday that more rain increased the likelihood for some areas to see additional flooding and landslides.
He said on average, the island saw 10 to 16 inches of rainfall, with the hardest-hit areas seeing more than 25 inches.
Pierluisi said on Monday he visited the towns of Yabucoa and Maunabo, both in the southeast region of the island, and was able to see devastation firsthand.
The island saw hurricane conditions for 48 hours, and winds reached 100 mph, Pierluisi said.
Power was restored to 300,000 residents, but the majority of the island remained without power Tuesday. Pierluisi said he expected a steady and gradual improvement on power restoration throughout the island Tuesday and into Wednesday, although he did not want to quantify how many islanders he expected to regain power in that time.
As of earlier Tuesday, Luma Energy, the company in charge of power transmission and distribution in Puerto Rico, said that as part of its hurricane response, it had restored power to more than 286,000 customers throughout the U.S. territory, representing more than 19% of customers.
It warned residents to "stay away from downed power lines and to report all electrical emergencies."
Pierluisi said he signed an executive order so residents would have access to food all over the island. Officials said they had 6,000 meals prepared that would feed 10,000 people and were coordinating distribution of 1.7 million pounds of food.
A 58-year-old man was found dead Monday afternoon after being dragged by currents from the river La Plata in the town of Comerío, Telemundo Puerto Rico reported.
Additionally, a 70-year-old man from the town of Arecibo died from fire-related injuries after a generator he was using exploded. Emergency personnel said the man was trying to refuel his generator while it was still on, causing the machine to explode.
Officials said two other people who died in shelters during the storm are believed to have died from natural causes, but they said they were still waiting for the Institute of Forensic Sciences to confirm that.
The devastation and the sweeping power outages brought by Fiona were a chilling reminder of Hurricane Maria, a Category 4 storm that hit Puerto Rico five years ago as the deadliest natural disaster on U.S. territory in a century. Nearly 3,000 deaths were connected with the storm.
They also come on the anniversary of Hurricane Hugo, which hit Puerto Rico 33 years ago as a Category 3 storm.
President Joe Biden declared a federal emergency on the island Sunday, allowing the Federal Emergency Management Agency to assist with the response effort.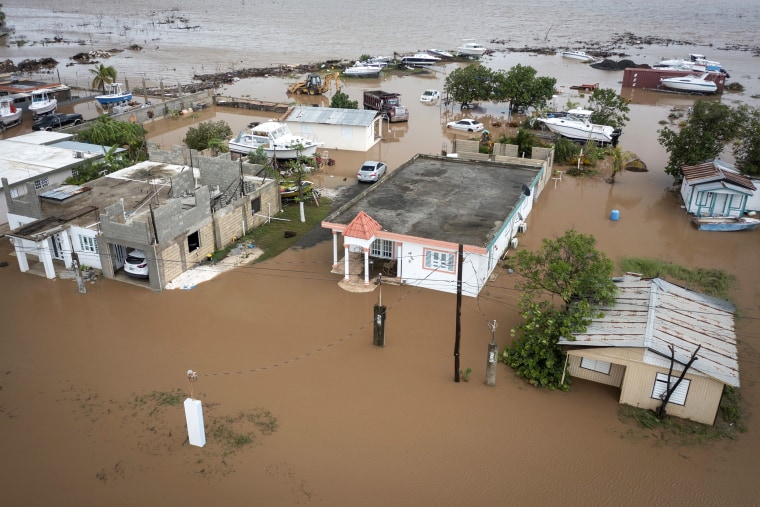 In a phone call with Pierluisi on Monday, Biden said more than 300 federal personnel were already working to assist with the response and recovery on the island. He further said he expected support to increase substantially over the coming days.
"The President said that he will ensure that the Federal team remains on the job to get it done, especially given that Puerto Rico is still recovering from the damage of Hurricane Maria five years ago this week," a readout of the phone call shared by the White House said.
Fiona also wreaked havoc on the Dominican Republic, with photos on social media showing devastated homes, downed trees and a collapsed bridge.
Authorities there reported one death: a man hit by a falling tree. The storm displaced more than 12,400 people and cut off at least two communities.
The hurricane left several highways blocked, and a tourist pier in the town of Miches was badly damaged by high waves. At least four international airports were closed, officials said.
Fiona was not expected to threaten the U.S. mainland.