LUMBERTON, N.C. — Pastor Roy Rogers spent more than 20 years in the Army, but here, in his hometown, tucked in North Carolina's Inner Banks some 70 miles from the ocean, is where he's seen the most tragedy.
After Hurricane Florence brought heavy rains and storm surges that flooded the Lumber River on Thursday, his town once again disappeared under feet of brown murky water only two years after Hurricane Matthew did almost the same exact thing.
Now Rogers, who turned 63 on Monday, has turned his church — appropriately named "Divine Refuge Ministries" — into a refugee center of sorts for the displaced in a North Carolina town that is among the poorest in the state.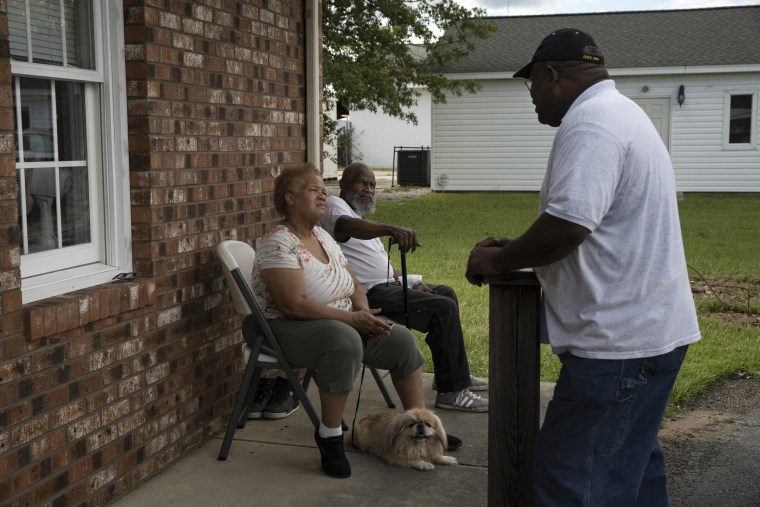 "Nature's gonna be nature," Rogers said, his collared shirt inscribed with his name and carrying a large blot of brown dirt. "Whatever we do, if it's the intent of God, that's what's going to happen — but a lot of people are hurting now."
The river here crested at 24 feet on Thursday, well above its normal major flooding stage of 19 feet, according to the National Weather Service, and county officials believe that even though it is now beginning to recede, the impact will continue to last.
Many had just moved back into their homes here in Lumberton, a process that took more than two years after flooding caused by Hurricane Matthew wiped out the town in the fall of 2016. But this latest deluge of water has caused Rogers to once again pull out the Army cots he keeps stored at his church for the 25 to 30 people, many of whom are children, who now must call this old storefront home.
Rogers, who still hasn't moved back into his home because of damage from Hurricane Matthew, had just come from checking on a 92-year-old woman who evacuated but returned to her semi-destroyed house because she had nowhere else to go. That house had no power, no air-conditioning and a hole in the roof, Rogers said, but she refused to leave again — so he brought her a generator to provide her some relief.
And yet officials with Robeson County, where Lumberton is the county seat, are trying to encourage residents here to steer clear of the roads and keep away from their homes. Though it might be sunny and the rain has abated, the floodwaters remain high.
"People are thinking, 'Oh, it's a beautiful day,' and they're getting cabin fever, but we're trying to get people to understand to stay off the roads because we have a lot that are still closed — a lot," said Emily Jones, the public information officer for Robeson County.
Jones, who only was able to move back into her own home this January because of Hurricane Matthew damage, said there had been about 1,300 water rescues, thousands of residents in the county remained in shelters and more than 3,000 structures in the county are flooded. She also noted that more rural areas of the county need help and remain far from resources.
Jones is an example of how it's not just "civilians" who are affected by these storms. Even the people who are paid to help others are often unable to get home and many still feel the sting of Hurricane Matthew.
"Now we have this situation where we have Matthew survivors who are still trying to get assistance, still trying to get repairs for homes that were damaged that now are suffering from the damage from Florence," said Wanda Omodunni, who is staying at Rogers' church with her family while also working as a disaster assistance case manager for Lutheran Services Carolinas. "I don't know how this is going to play out, but it's heart wrenching."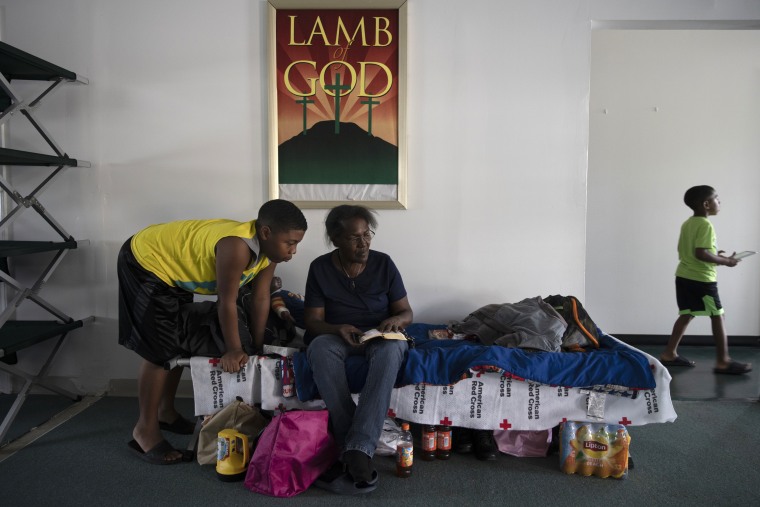 Omodunni said she only just returned to her home in the southern part of Lumberton after it was repaired due to Matthew, but she doesn't know what its status is in the current floodwaters because she can't get to it. Nevertheless, like Rogers, she remains committed to her job.
"Everyone is trying to stay busy by helping others," she said.