WILMINGTON, N.C. — Residents along coastal North and South Carolina were battening down Thursday morning ahead of the fierce winds and torrential rains that Hurricane Florence is forecast to bring — with more than 10 million people facing dangerous and potentially life-threatening conditions, officials said.
---
Here's the latest on Hurricane Florence:
The Category 2 storm could bring peak wind gusts at over 100 mph and substantial storm surges of up to 13 feet. Tropical storm-force winds will move in Thursday morning and Florence's outer bands will be felt ashore through the afternoon.
The storm could make landfall early Friday in North Carolina. Its size is larger than North and South Carolina combined.
As of 8 a.m. ET Thursday, the storm was about 170 miles east-southeast of Wilmington, North Carolina, with maximum sustained winds of 110 mph. It was moving northwest at 12 mph.
About 1.7 million people in North Carolina, South Carolina and Virginia have been warned to evacuate.
The airport in Charleston, South Carolina, has been closed through at least Saturday, and nearly 1,000 flights in the region have been canceled through Friday.
---
In the vacation town of Myrtle Beach, South Carolina, officials have been on the lookout for items that could turn into projectiles as Florence's tropical storm-force winds begin whipping ashore Thursday morning.
Myrtle Beach Mayor Brenda Bethune told "Today" that residents can still leave — or if they decide to ride out the storm, to remain in their homes.
"Our emergency crews will not be able to get to anyone if they do need help," she said.
The storm was expected to make landfall by early Friday in coastal North Carolina and then potentially stall as it churns its way slowly down the coast, FEMA's National Oceanic and Atmospheric Administration liaison Steve Goldstein said at a news conference Wednesday morning.
"This could mean that parts of North and South Carolina near the coast will experience hurricane-force winds and hurricane conditions for 24 hours or more," he said.
But regardless of when actual landfall occurs, hurricane-force winds were extending 80 miles from the center, and tropical-storm-force winds were extending outward of 195 miles from the center, the hurricane center said.
Coastal North Carolina could get 20 to 30 inches of rain, with isolated areas getting up to 40 inches, and all that rain could produce "catastrophic flash flooding," the hurricane center said. South Carolina could see 5 to 10 inches, with isolated areas getting 20 inches.
A large area of North Carolina was forecast to get 10 inches of rain or more Friday into Saturday.
"This is not going to be a glancing blow," said Jeff Byard, FEMA's associate administrator for response and recovery. "This is going to be a Mike Tyson punch to the Carolina coast."
The storm weakened to a Category 3 hurricane Wednesday afternoon and then weakened to just below that to a Category 2 as of 11 p.m. But the National Hurricane Center warned that "life-threatening storm surge and rainfall" were still expected, and the forecast predicts little change in strength before the storm's center reaches the U.S. coast.
Wilmington, a city of around 119,000 on North Carolina's coast, is along the forecast track. In the final hours before authorities shut down access to Wrightsville Beach, a town just east of Wilmington along the ocean, residents scrambled to secure their possessions, board up their windows, pack their cars and head inland.
Many lived through past storms, including hurricanes Fran and Bertha in 1996 and Floyd in 1999. They expected Florence to be at least as bad. But they largely accepted that with a sense of calm, saying that most homes on the island were more resilient than the cottages wiped out in those prior storms.
"It's a much different beach here now," said local Todd Schoen, just before he drove off the island with his wife and 9-year-old twin sons to stay with his parents four miles inland. "They're all better prepared. A lot of those old beach houses are gone. They were trampled, washed away, knocked down and replaced with other bigger, better constructed houses. It's a different time now."
Duke Energy, the main power supplier for North and South Carolina, said on Twitter that as many as 1 million to 3 million of the company's 4 million customers could experience power outages.
North Carolina Gov. Roy Cooper warned those under evacuation orders that time was running out and urged the state to prepare for the powerful storm.
"North Carolina, my message is clear: Disaster is at the doorstep and it's coming in," he said at a news conference Wednesday morning. "If you're on the coast, there's still time to get out safely. No possession is worth your life."
He warned North Carolinians to plan to be without power for days and "understand the rain may last for days and not hours."
"The National Weather Service has just said it will be unbelievably damaging and they can't emphasize that enough," he added. Cooper said on MSNBC that some 2,800 National Guard soldiers have been activated and others are standing by.
Georgia Gov. Nathan Deal declared a state of emergency on Wednesday afternoon, joining South Carolina, North Carolina, Virginia, Washington, D.C., and Maryland. West Virginia has declared a state of preparedness.
"In light of the storm's forecasted southward track after making landfall, I encourage Georgians to be prepared for the inland effects of the storm as well as the ensuing storm surge in coastal areas," he said in a statement.
Christina Saracina, a resident of Cape Carteret, North Carolina, said she was evacuating with her elderly parents and headed to Atlanta.
"We sat through a Category 2 hurricane before and it did enough damage that we decided that if it was a Category 3 or above we were out," she said. "It was a hard decision because you're leaving all your possessions and your home. You're trying to pack whatever you can and go."
She said she boarded up her home and her parents' home before leaving.
"The area was going to be a disaster zone," she said. "There's a lot of trees in the area and we're by the water."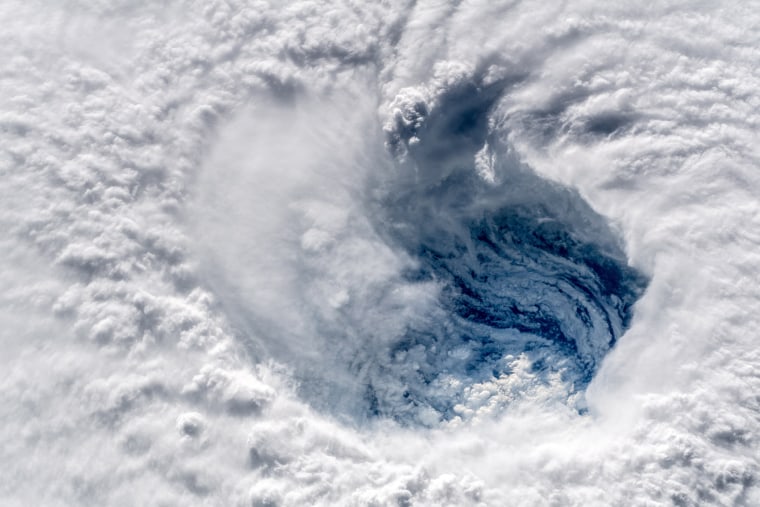 Edward Coddington, 83, left his mobile home ahead of the storm and went to a shelter in Myrtle Beach, South Carolina, with his daughter, Mary Edsall. "He's on oxygen, you want to make sure you have backup power generators," Edsall said of her father.
Wrightsville Beach, North Carolina, officials warned that the water system would be shut down at 6 p.m. Wednesday to protect the system, and that power would likely be lost and possibly not restored "for an extended time frame." Bars and restaurants in the town were all boarded up by Wednesday afternoon.
Jasper Newman was leaving Wrightsville Beach Wednesday afternoon, taking his dog, cat and chicken to a relative's condo on higher ground on the mainland nearby.
"Everyone is taking this seriously," Newman said. He figured he'd lived through at least eight hurricanes there — leaving town for each one. After Hurricane Fran, it was three months before he could move back into his house.
"I don't think there'll be anyone left here on Wrightsville Beach," Newman said. "There's no need to stay. There'll be no power, no water. It'll be a mess."
He knows the drill now: return home when officials say he can come back, throw out whatever's irreversibly damaged and clean what can be kept.
"Then, start over," he said.
The Red Cross said that more than 1,600 people spent Tuesday night in 36 shelters in the Carolinas, and dozens of more shelters were opening Wednesday. South Carolina's government said Wednesday that it had over 1,800 people in shelters in that state.
The timing of the most destructive winds and storm surge was from Thursday night to Friday night, she said. Florence could bring life-threatening storm surge and rainfall to parts of the Carolinas and Mid-Atlantic states, according to the National Hurricane Center.
Hurricane and storm surge warnings were in effect for South Santee River, South Carolina, to Duck, North Carolina, and Albemarle and Pamlico Sounds. A hurricane watch was in effect for Edisto Beach, South Carolina, to South Santee River, South Carolina, and a storm surge watch was in effect for Edisto Beach, South Carolina, to South Santee River and north of Duck, North Carolina to the North Carolina-Virginia border.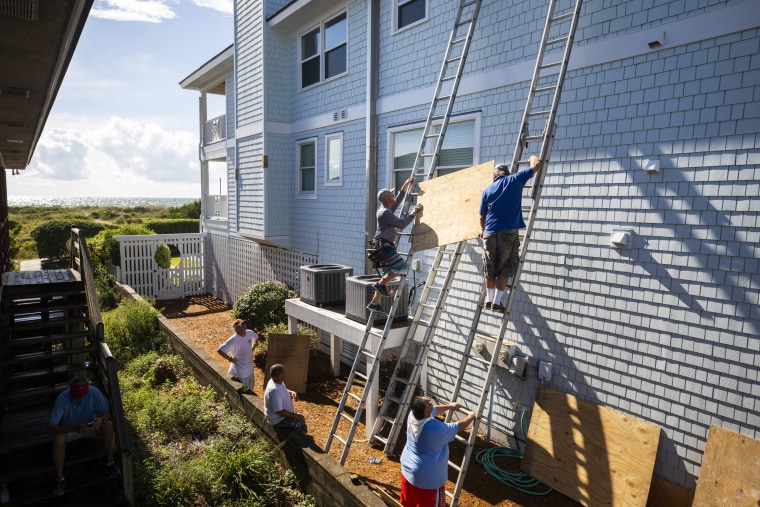 George Ruiz, 45, from Dauphin Island, Alabama, and his rescue organization Geaux Rescue, was headed to Wilmington, North Carolina, on Wednesday to help if needed. Ruiz also responded to flooding in Texas after Hurricane Harvey, and to Florida to help after Hurricane Irma last year.
"Bringing someone back to their family is one of the most amazing things in the world," Ruiz, who said he spent 20 years in the Coast Guard before retiring three years ago, told NBC News in a phone interview. "Being a human, being an American, we should just want to help each other out."
Schoen, who was leaving Wrightsville Beach on Wednesday with his family ahead of the storm, said that he expects some flooding and minor damage, but was optimistic.
"The people who have lived here through some of those storms, they know what to expect," Schoen said. "When you decide to live on this side of the drawbridge, you know what to expect. It's a paradise tax — an awesome place to live, but this is what comes with it."
Valerie Wiegman and her husband, Peter, stayed home on Wrightsville Beach through several smaller storms, but Florence was too big to do the same, she said.
The mandatory evacuation of Wrightsville Beach, and the threat of power outages, persuaded them to leave. They recalled their suffering after Hurricane Hugo in Charleston, South Carolina in 1989, when they lived in their home without power for a month.
"Memories of Hugo are with us a lot," Wiegman said. "We know how much damage can occur."
Jon Schuppe reported from Wilmington and Daniella Silva from New York.