Thousands of people fled Texas early Friday as Hurricane Harvey, a life-threatening Category 2 storm, gained strength and hurtled toward the coast.
Homeowners, businesses and government officials were scrambling to prepare for the potentially devastating storm, which forecasters said could lash the state with ferocious 125-mph winds and 12-foot storm surges.
---
The Latest
Hurricane Harvey, currently a Category 2 storm, is on track to strengthen to a Category 3 sometime Friday. It is expected make landfall just east of Corpus Christi around 1 a.m. local time Saturday.
Eight million people are under hurricane warnings, and some 735,000 are under tropical storm warnings.
---
The seven Texas counties on the coast have ordered mandatory evacuations of tens of thousands of residents from low-lying areas, according to the Associated Press. The message from state officials was clear: Get out while you can.
"A lot of people are taking this storm for granted, thinking it may not pose much of a danger to them," Gov. Greg Abbott told NBC affiliate KPRC in Houston. "Please heed warnings and evacuate as soon as possible."
Harvey, driven by warm Gulf of Mexico waters, was expected to make landfall as a Category 3 storm just east of Corpus Christi around 1 a.m. local time Saturday.
No storm that strong has hit Texas since 2008. The last Category 3 storm to pummel the U.S. was Hurricane Wilma in October 2005 in Florida.
In its 5 a.m. ET update, the National Hurricane Center warned Harvey was "dangerously approaching" the Texas coast. The storm had picked up more power as it reached about 180 miles southeast of Corpus Christi, with maximum sustained winds strengthening to 105 mph, according to the agency.
It warned that "life-threatening and devastating flooding" was expected near the coast because of heavy rain and storm surge.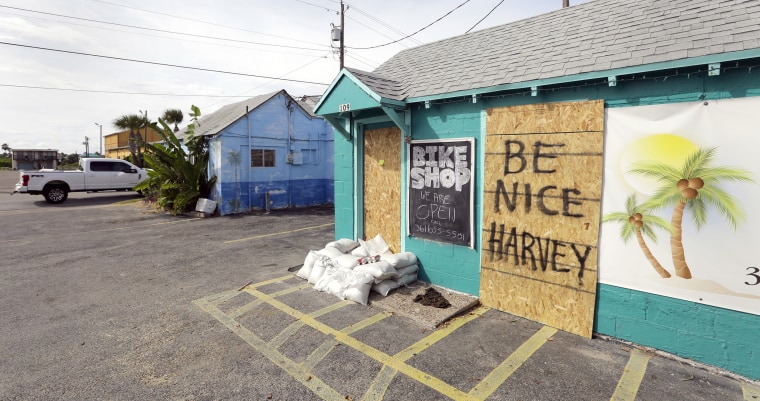 "Harvey is expected to become a major hurricane before it reaches the middle Texas coast," it added.
Corpus Christi Mayor Joe McComb said no mandatory evacuations were in effect, but he urged residents in low-lying parts of the coastal city to leave.
"We are going to in the strongest possible terms encourage the residents in the low-lying areas, as they say, to get out of Dodge," McComb said at a news conference.
At least 10 critically ill babies were flown Thursday from Driscoll Children's Hospital in Corpus Christi to Cook Children's Medical Center in Fort Worth, more than 400 miles north, to ride out the storm, NBC Dallas-Fort Worth reported.
"They made a wise decision to get them out as quickly as possible," said Debbie Boudreaux, Cook's director of transport and fleet services. "The problem keeping them there is the ventilation system they're on — the lifesaving ventilator — would not be able to be maintained without electricity."
In the town of Rockport, about 20 miles northeast of Corpus Christi, 90 elderly and fragile people were evacuated Thursday night from the Park Manor skilled nursing facility to its sister facility in Bee Cave, near Austin.
Johnielle Johnson, the Bee Cave facility's director of nursing, told NBC affiliate KXAN of Austin that a therapy gym was being turned into living space for 14 of the evacuees, while the rest will double up in rooms occupied by current residents.
"Life is unpredictable, but what is predictable is how we treat others," Johnson said.
Texas Gov. Greg Abbott activated more than 700 members of the Texas Army and Air National Guards, the Texas State Guard and the Texas Military Department.
"This is what we train for," Brig. Gen. Patrick Hamilton, commander of the Domestic Operations Task Force, told NBC affiliate KPRC of Houston. "This is Texans helping Texans — neighbors helping neighbors."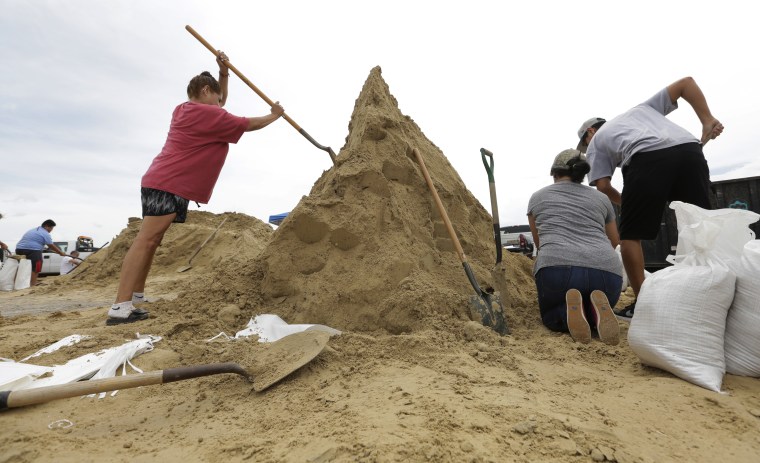 Dale Eck, head forecast operations for the Americas at The Weather Channel, said Harvey rapidly intensified overnight into Thursday. "I think the urgency of this just went up tenfold this morning," he said Thursday.
Eck said winds of 115 mph were expected, along with a "life-threatening storm surge" as it churns over the central Texas coast.
Related: Hurricane Harvey Rainfall Poses Danger to Ill-Prepared New Orleans
As of Thursday night, the National Hurricane Center had issued storm surge warnings from Port Mansfield to High Island in Texas, with storm surge watches in effect for south of Port Mansfield to the mouth of the Rio Grande and hurricane warnings in effect from Port Mansfield to Sargent.
The hurricane center said Thursday evening that up to 35 inches of rain was possible over southeast Texas through Wednesday. It warned Texans to get ready for Harvey now, as winds could be too strong for preparations on Friday.
Eck said that the storm could potentially be a "huge challenge" for emergency management officials and that evacuations could be expected.
"This thing is rapidly increasing in such a way that it could be devastating for anyone along the coast," he said. "The challenge is how far do you go if you can go inland? You could go to San Antonio, and you could have flooding there from the copious amounts of rain."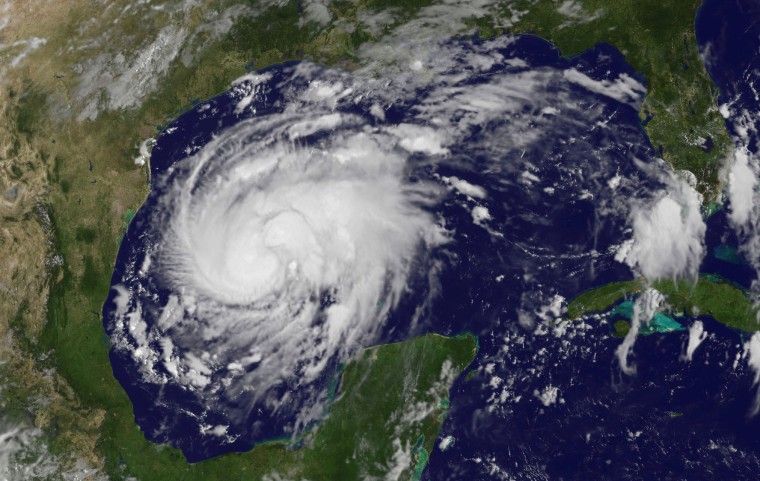 Homeland Security Adviser Tom Bossert briefed President Donald Trump on the hurricane's progress and preparations for its landing, a national security official said Thursday afternoon.
Bossert has been in contact with the acting Homeland Security Secretary Elaine Duke and Brock Long, administrator of the Federal Emergency Management Agency, and other federal partners were prepared to assist state and local responders as needed, the official said.
Related: Gas Prices Rise as Hurricane Harvey Catches Oil Companies by Surprise
Abbott on Wednesday declared a state of disaster in 30 counties. Mandatory evacuations were ordered in Texas for the cities of Aransas Pass and Portland and the counties of San Patricio and Brazoria. Authorities in Cameron Parish, Louisiana, meanwhile, ordered mandatory evacuations for areas south of the Intracoastal Water Way effective at 6 a.m. local time.
Abbott ordered the Texas State Operations Center to elevate its readiness level and made state resources available for preparation and rescue and recovery efforts.