As a major hurricane churns in the Gulf of Mexico, New Orleans is facing the biggest threat to public safety since Katrina ravaged the city 12 years ago. With a large number of pumps and turbines out of service, it is not clear if the city is ready for Hurricane Harvey, and the city is studying emergency evacuation plans.
Three of the five power turbines that power the 120 pumps that are supposed to keep the low-lying city from being swamped by rainwater are not working. And 15 of those pumps were offline because of repairs.
Earlier this month, substantial rainfall caused the Lakeview and Mid-City neighborhoods to flood, soaking some areas in knee-deep water because the city's pump and drainage systems were not at full capacity. Harvey is expected to pour another five to 10 inches of rain on the city.
Mayor Mitch Landrieu promised residents that he and other city officials have been working hard since the Aug. 5 storm to make repairs to increase power and pump capacity.
Nonetheless, the mayor confirmed that they were at "diminished capacity."
"The Sewerage and Water Board and contractors are now working 24/7 to repair all power and all pumps," Landrieu said at a Thursday news conference. "Since early August, we've brought one turbine back online, we've repaired three major pumps and secured and mobilized 26 backup generators."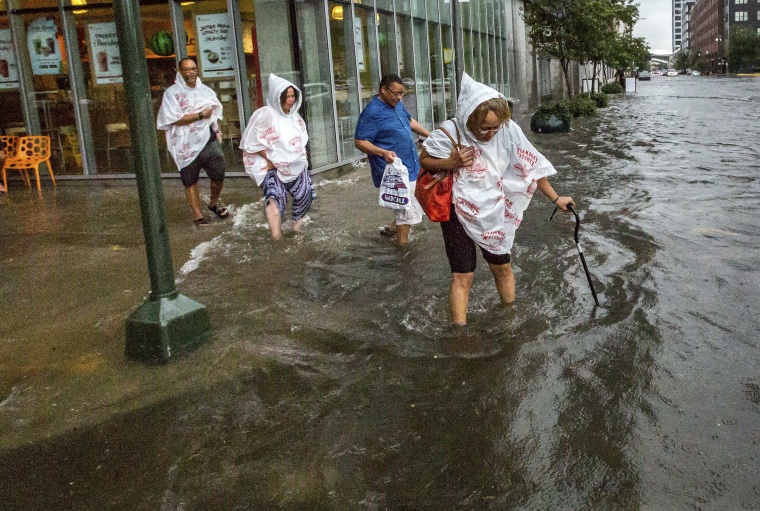 Landrieu said they had hired contractors to secure additional manpower in case of an emergency incident, and encouraged residents to revisit their emergency plans and clean out catch basins, which help with drainage on city blocks. He also said that he was reviewing an evacuation plan for the city, but was unclear what would trigger an evacuation.
His office declined to confirm the city's pumping capacity when NBC News reached out for comment Wednesday.
Lakeview's operational capacity plummeted to 52 percent during the storm on Aug. 5, and Mid-City's pumps were only working at 63 percent of their total capacity, leading to intense flooding.
Related: Storms, Flagging Pumps and a Fire Put New Orleans at Risk of Flooding
The problems New Orleans faces stem from its antiquated pumping and drainage system, as well as controversy at the New Orleans Sewerage and Water Board (S&WB).
The S&WB told city officials and the public numerous times that the pumps were operating at "full capacity" during New Orleans' recent flooding. This turned out to be untrue, as the S&WB confirmed later — first admitting that eight pumps were out of service. A day later, they revealed that 14 were actually down. And then, a few days after that, they upped the total to 16 pumps being out of service.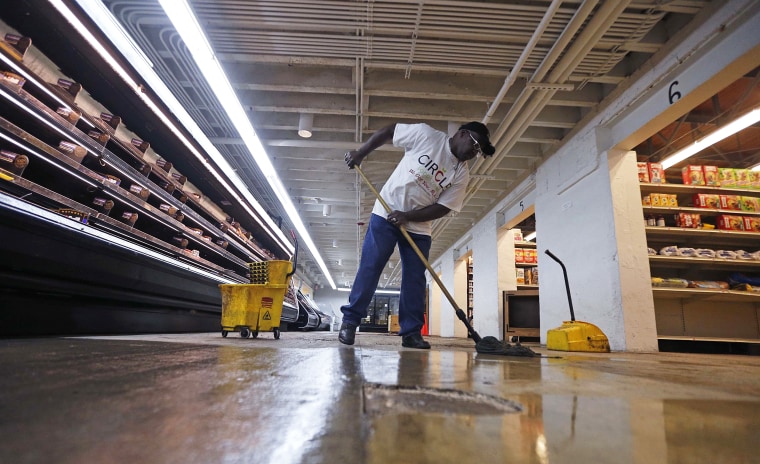 To pile onto the problems, the city was then left with a single working turbine to power its drainage pumps and water treatment plant on the Thursday following the Aug. 5 storm. Landrieu promised that the city would develop redundancy power options in case the single working turbine failed.
Two members of the Sewerage and Water Board, as well as Scott Jacobs, its president pro tem, and General Superintendent Joe Becker, have since resigned. Its executive director, Cedric Grant, announced he would be retiring in light of the controversy — months before he had planned.
"City Hall has known for years that drainage is inadequate," Jacobs said after his resignation, according to the New Orleans Advocate. "I'm disappointed that instead of standing up and saying this is a problem, and now the's time to deal with it, we're going to shoot a civil servant an hour until this problem is resolved."
But now, as Hurricane Harvey plows toward the region, the city waits to see if the work that has been done at S&WB since Aug. 5 will save it from destructive flooding.
New Orleans will likely experience the worst of the rain Sunday through Tuesday, but Weather Channel Senior Meteorologist Frank Giannasca said the real test will come as bands of moisture drench the city in waves as Harvey passes to the west.
"There are these bands of heavy precipitation that head [Harvey] out and that will hit New Orleans on the eastern side of the storm, which could drop even more water," Giannasca said.
"There's just so much water in the air," he added, "and another problem is it's so slow-moving."
CORRECTION (8:04 p.m. ET, Aug. 24): An earlier version of this story misstated what Meteorologist Frank Giannasca had said about the storm forecast. New Orleans is expected to get the most rain Sunday through Tuesday, not on Friday and Saturday.