Hurricane Ian made landfall on Florida's Gulf Coast on Wednesday, lashing the region with torrential rain and winds of 150 mph and knocking out power to more than 2 million homes and businesses.
The "catastrophic" system, one of the most powerful hurricanes to strike the U.S. in decades, came ashore near Cayo Costa, just west of Fort Myers, around 3 p.m. after strengthening to a powerful Category 4 storm, the National Hurricane Center said.
Hours after landfall, top sustained winds had dropped to 105 mph, making it a Category 2 hurricane. Still, storm surges as high as 6 feet were expected on the opposite side of the state, in northeast Florida.
"Our streets are pretty much underwater," said Mike McNees, the city manager on Marco Island. "The streets, at this point, are indistinguishable from the canals."
Para información en español de Noticias Telemundo haga click aquí
The latest on Hurricane Ian
The storm made landfall as a Category 4 near Cayo Costa, on Florida's Gulf Coast, around 3 p.m. ET Wednesday.
Ian had weakened to a Category 2 storm by 10 p.m.
As of 11 p.m., more than 2 million customers were without power across Florida.
Curfews have been issued in Florida to keep everyone but first responders off the streets.
Ian tore into Cuba on Tuesday, killing two people and bringing down the island's electrical grid.
In Fort Myers, Cheryl Berberich told NBC News she looked out of the window of her condo after Ian struck and "saw our car float away."
"Many cars are floating away here," said Berberich, who is from Missouri and was stranded in her vacation home after being unable to find a flight home. "Believe it or not, refrigerators are out there floating."
Gov. Ron DeSantis said that some areas have had storm surges as high as 12 feet and that Ian was "battering" southwest Florida. He said he has been in regular contact with President Joe Biden, who approved his request for an emergency declaration days before Ian slammed into the state.
"This is a big one, and I think we all know there's going to be major, major impacts," DeSantis said. "We have a long way to go before the storm exits this state."
With Ian now ashore, authorities in Charlotte County imposed an overnight curfew and ordered everybody but first responders off the roads.
"As soon as it is safe to rescind this order, I will do so," Charlotte County Sheriff Bill Prummell said. "Until that time, the only people that should be out on the roadways after hours are essential workers as they strive to assess and provide assistance to those who received damage caused by the storm."
Meanwhile, more than 600,000 customers in hardest-hit Lee, Charlotte and Sarasota counties were without power, and outages affected more than 1.5 million customers across the state, all the way from the Everglades north to Tampa, according to the utility data website PowerOutage.us.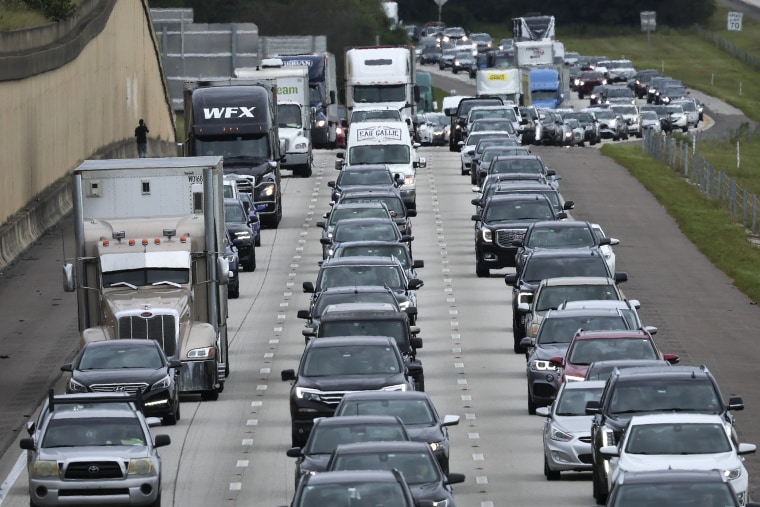 More than 2 million people along Florida's Gulf Coast had been under evacuation orders.
Ian was expected to dump 12 to 18 inches of rain on much of central and northeast Florida, with some locations perhaps being hit with as much as 2 feet of rain, the hurricane center said Wednesday.
Early projections had shown Ian on track to hit Tampa, Florida's third-biggest city, which hadn't been stuck by a major hurricane since 1921. But the storm's eastward shift likely spared the densely populated region more serious damage.
DeSantis urged Floridians who hadn't made it to the shelters to stay off the roads and take cover in their homes.
"It's time to hunker down and prepare for the storm," he said before Ian came ashore. "Do what you need to do to stay safe. If you are where that storm is approaching, you're already in hazardous conditions. It's going to get a lot worse very quickly."
Fort Myers Fire Chief Tracy McMillion also warned residents of his community to stay put because "emergency responders cannot go out."
"Stay in and check in. Stay in where you are," he said. "Stay where you are and check in with you family so they know you're safe."
While first responders are locked down for now, McMillion said, they're planning for any damage that could be left in Ian's wake.
"Responders are ready," he said, "Police, fire, public works, parks and rec, we are ready to go out and respond as soon as we are able to get back on the roads."
DeSantis warned of possible tornadoes that had been spotted on radar and said bridges were likely to be closed Wednesday.
Sanibel Mayor Holly Smith evacuated from her island community Tuesday night, knowing it could be hit by a storm surge.
Smith said she was crossing her fingers that the only path to and from her island, the Sanibel Causeway, would survive Ian's destruction.
But not all of Sanibel's 6,700 residents evacuated, the mayor said.
"I wish it was [fully evacuated]. No, it is not," Smith said. "I am aware of numerous individuals that decided to stay on the island. That's my main concern right now is their safety. I've been in touch with many of them as I can be, and that's a very difficult position to be in when I am sitting 15 miles away and knowing that a number of my citizenry might be in harm's way."
The governors of Georgia, South Carolina and North Carolina all pre-emptively declared states of emergency. Forecasters predicted Ian will turn toward those states as a tropical storm, likely dumping more flooding rains into the weekend, after it crosses Florida.
Two people were killed in Cuba after Ian made landfall early Tuesday in the western province of Pinar del Río. The storm plunged the entire island of 11.3 million people into darkness after it damaged its power grid, the country's national electric service reported.
Violent wind gusts shattered windows and ripped the metal roofs off old homes and buildings Reuters reported.
Many roads into the areas directly hit by the hurricane remained impassable Wednesday, blocked by downed trees and power lines, according to the news service.
Hirochi Robaina, the owner of a cigar factory in Pinar del Río, posted nearly two dozen photos Tuesday on Facebook showing the wreckage the storm left behind.
"It was apocalyptic," he said. "A real disaster."