Hurricane Idalia rumbled out of Florida on Wednesday, but getting in and out of the Sunshine State remained a major headache for regular air travelers.
Most of the half-dozen major Florida airports that shut down operations when the massive storm was menacing the state reopened for business.
But the Federal Aviation Administration warned that air travel was still feeling the after-effects of Idalia.
"Hurricane #Idalia is causing flight cancellations as it makes landfall in Florida," the agency warned on its official Twitter feed as Idalia was moving into south Georgia. "Severe weather can affect flights beyond the immediate area."
Southwest Airlines' schedule was the most affected by Idalia, with 220 cancellations and 300 delays, the flight tracking website FlightAware showed.
United, Delta and American Airlines reported about 700 delays combined and roughly 330 cancellations, according to FlightAware.
Still, Tampa International Airport announced online that it was reopening at 4 p.m. Wednesday, but only for incoming flights.
"Departing flights and normal operations will resume early Thursday morning," the TIA post said.
Tampa International Airport CEO Joe Lopano said they dodged a very big bullet.
"TPA is fortunate to have avoided the worst effects of such a dangerous storm, after acting in an abundance of caution to protect the safety of our passengers, employees and facilities," Lopano said in a statement. "We're focused now on returning to full operational capacity to continue serving our community and to assist in recovery efforts for our fellow Floridians."
The much-smaller St. Pete-Clearwater International Airport announced it too would reopen, but at 3 p.m. Wednesday.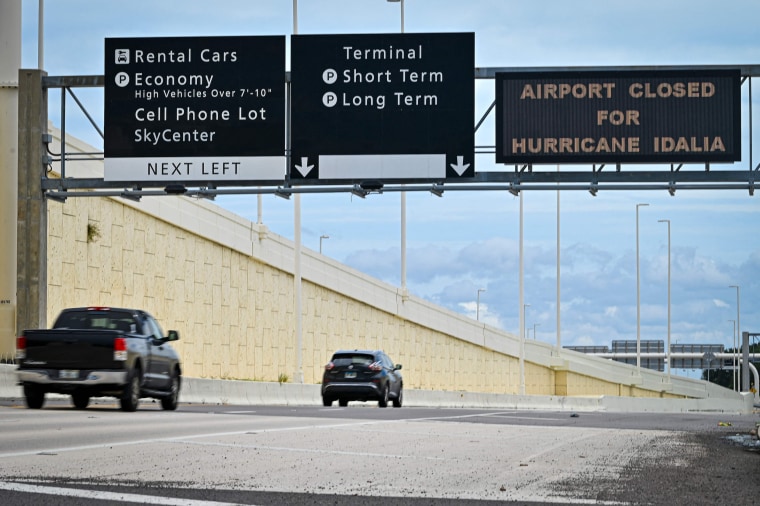 "Flights to resume Thursday, check with airlines for status," the airport announced on its Twitter feed.
The Sarasota-Bradenton Airport resumed business on Wednesday morning, but warned travelers to check with their airlines for the latest updates.
Jacksonville International Airport posted a similar message on its official website.
"Travelers should contact their airlines for rebooking options," it said.
But the Gainesville Regional Airport remained closed Wednesday and gave no indication on its feed when it would reopen.
Tallahassee International Airport also remained closed Wednesday "with normal operations resuming Thursday morning," according to the official Tallahassee government website.