BAR HARBOR, Maine — Fishermen removed lobster traps from the water and residents hauled hundreds of boats ashore — leaving some harbors looking like ghost towns — while utility workers from as far away as Tennessee began taking up positions Friday ahead of Hurricane Lee's heavy winds, high seas and rain that's expected to span hundreds of miles of land and sea.
The storm is projected to be more than 400 miles wide with tropical-storm-force winds when it reaches land, creating worries of power outages in Maine, the nation's most heavily forested state, where the ground is saturated and trees are weakened from heavy summer rains.
Lee remained a hurricane with 80 mph winds Friday night as it headed toward New England and eastern Canada with 20-foot ocean swells, strong winds and rain. Forecasters said there would be winds topping 40 mph across the region, with peak winds reaching upward of 65 mph, ahead of landfall expected Saturday afternoon.
Landfall was projected for nearby Nova Scotia, but the Category 1 system was big enough to cause concerns over a wide area even if it weakens to a tropical storm.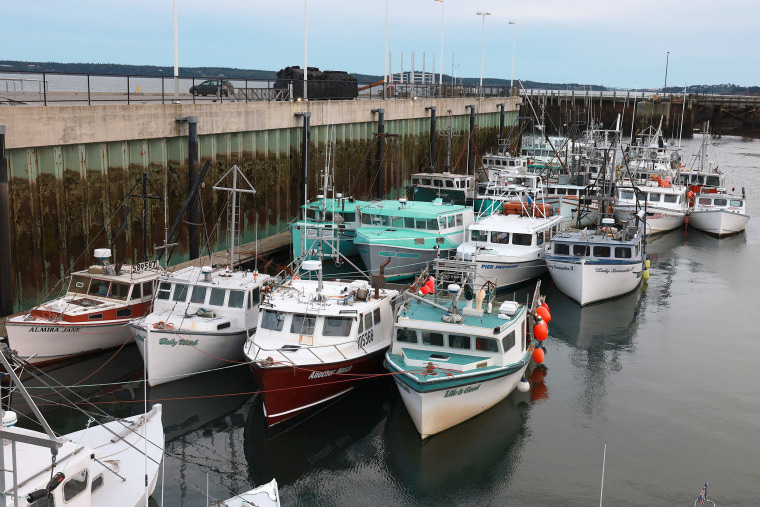 There was little else to be done but wait and worry, and make final preparations as Lee spun about 300 miles southeast of Nantucket, Massachusetts.
In Bar Harbor, there were only two lobster boats in the water compared with 20 to 25 on a normal day. Lobsterman Bruce Young said his 38-foot vessel was transported to the local airport, saying it's better to be safe than sorry. "There's going to be huge white rollers coming in on top of 50 to 60 mph winds. It'll be quite entertaining," he said.
On Long Island, commercial lobster fisherman Steve Train had just finished hauling 200 traps out of the water. Train, who is also a firefighter, was going to wait out the storm on the island in Casco Bay.
He was not concerned about staying there in the storm. "Not one bit," he said.
In South Thomaston, Dave Cousens, who lost fishing gear when Hurricane Bob came through in 1991, said lobstermen were busy moving their traps, which cost $100 to $170 apiece, to try to avoid damage from the rough seas.
Parts of coastal Maine could see waves up to 15 feet high crashing down, causing erosion and damage, and the strong gusts will cause power outages, said Louise Fode, a National Weather Service meteorologist in Maine. As much as 5 inches of rain was forecast for eastern Maine, where a flash flood watch was in effect.
In Canada, Ian Hubbard, a meteorologist for Environment and Climate Change Canada and the Canadian Hurricane Centre, said Lee won't be anywhere near the severity of the remnants of Hurricane Fiona, which washed houses into the ocean, knocked out power to most of two provinces and swept a woman into the sea a year ago.
But it was still a dangerous storm. Kyle Leavitt, director of the New Brunswick Emergency Management Organization, urged residents to stay home, saying, "Nothing good can come from checking out the big waves and how strong the wind truly is."
Massachusetts Gov. Maura Healey joined Maine in declaring a state of emergency and asking the Federal Emergency Management Agency to issue a pre-disaster emergency declaration. She also activated up to 50 National Guard members to help with storm preparations, including operating highwater vehicles to respond to flooded areas.
The storm's arrival was expected just days after heavy flooding and tornadoes in New England.
"As we've seen in recent weeks, severe weather is not to be taken lightly. Flooding, wind damage, downed trees, tree limbs — all these things create real hazards and problems for people," Healey said.
East Hampton, New York, barred swimming — and, in at least some places, even walking — on beaches because of dangerous surf. Caution tape was strung up along the edge of the sand at the tony second-home community's picturesque Main Beach, where waves already were roiling Friday afternoon.
In Rhode Island, Gov. Dan McKee said crews were working to secure the iconic 11-foot-tall "Independent Man" statue atop the State House dome. Workers wanted to safeguard the 500-pound statue against the storm's wind and rain after a drone recently captured footage showing damage to the base.
In Maine, where people are accustomed to damaging winter nor'easters, some brushed aside the coming Lee as something akin to those storms only without the snow.
"We fear nor'easters up here more than the remnants of a tropical storm," said Andrea Silverthorne, who works in reception and reservations at the Inn on the Wharf in Lubec, Maine's easternmost town.
Many tourists were caught up in the storm.
Kent Thomas and his wife Robin, from Chapel Hill, North Carolina, watched the weather reports closely before deciding to travel to Mount Desert Island, home to Acadia National Park. They're used to big storms back home, so they're going with the flow.
"We'll hunker down like everyone else with the winds and the weather," Kent Thomas said while visiting Bar Harbor. "We have a lot of experience with tropical storms and hurricanes in North Carolina. Power outages and tree damage go with the territory."