Puerto Ricans described desperate conditions on the hurricane-ravaged island and pleaded for more help from federal agencies on Monday, with some saying they felt the U.S. territory was being forgotten.
"It looks like a bomb went off," said Monique Casablanca, 37, by phone from Ocean Park in the capital of San Juan.
"I've seen very little to no police presence, I've seen zero military presence. Nights are excruciating, there's screaming, there's gunshots. It's hot, so it's hard to sleep right now I haven't slept in 48 hours," said Casablanca, a rental property manager.
Photos: Powerless Puerto Rico Struggles to Recover Post Maria
Casablanca said that while she had seen Federal Emergency Management Agency workers visit the area a few days ago, she had not seen them since.
"You feel like you're forgotten. I'm in an area that's flooded and there's basically dead animals — cats, dogs, rats just floating around — the smell is crazy and I don't see anyone here anywhere as of today or yesterday," she said.
"We need more of everything. We need help," she said.
Federal agencies rescuing people and delivering humanitarian aid to Puerto Rico in the wake of Hurricane Maria faced an island that remains largely without power, running water, fuel and access to cell service on Monday, five days after the storm first made landfall.
FEMA Administrator Brock Long and Homeland Security Adviser Tom Bossert arrived on the island on Monday and met Gov. Ricardo Rossello in San Juan as relief crews continued to work to provide much needed supplies to the island.
More than 10,000 federal staff, including 700 FEMA personnel, were on the ground in Puerto Rico and the U.S. Virgin Islands, assisting with rescue efforts, restoring power and getting badly needed supplies to parts of the islands, a FEMA spokesperson said on Monday evening.
Related: Here's How to Help Victims of Hurricane Maria
"While significant progress is being made, there is still a long way to go," the FEMA spokesperson said in a statement Monday evening. "As access to ports, airfields and roads continues to become available, additional resources will continue to flow into hard hit areas."
"FEMA and our federal partners continue 24-hour operations, conducting search and rescue operations, bringing additional essential commodities to the islands, and restoring power at critical facilities with generators, and the fuel needed to power them," the spokesperson added.
Nine search and rescue teams were working "around the clock" in the region, FEMA said in a tweet earlier Monday.
The agency said that it had provided more than 1.5 million meals, 1.1 million liters of water and nearly 12,000 emergency roofing kits.
White House Press Secretary Sarah Huckabee Sanders had said Monday that Long and Bossert were sent to assess the damage from the ground.
"We've done unprecedented movement in terms of federal funding to provide for the people of PR and others that have been impacted by these storms," she said during the White House press briefing. "We'll continue to do so and continue to do everything that we can possibly under the federal government to provide assistance."
Trump tweeted Monday night that while Texas and Florida were "doing great" in the aftermath of the recent hurricanes, Puerto Rico "is in deep trouble."
"It's old electrical grid, which was in terrible shape, was devastated," he tweeted, adding, "Much of the Island was destroyed."
Trump had not tweeted about Puerto Rico since last Thursday.
Maria was the third major storm to hit U.S. shores in just a month, after Hurricanes Irma and Harvey wreaked havoc across the Caribbean and southeastern U.S.
Maria, which made landfall as a Category 4 hurricane, has been blamed for 16 deaths in Puerto Rico, officials said Monday.
William Booher, director of public affairs for FEMA, told The Associated Press on Saturday there was no difference in the agency's response in Puerto Rico, compared with Texas, Louisiana or Florida after recent hurricanes. FEMA has had sufficient resources to deal with back-to-back-to-back hurricanes, he said, adding that "we've been able to address each one of them."
Rossello also praised federal relief efforts on Monday and said FEMA was doing a "phenomenal job," according to the AP.
But earlier Monday, he also said the island was facing an "unprecedented disaster" and called for swift action from Washington.
"Given Puerto Rico's fragile economic recovery prior to the storms, we ask the Trump administration and U.S. Congress to take swift action to help Puerto Rico rebuild," he said in a statement.
Meanwhile, advocates, residents and officials implored the federal government to send more help and take seriously the long-term impact Maria would have for Puerto Rico.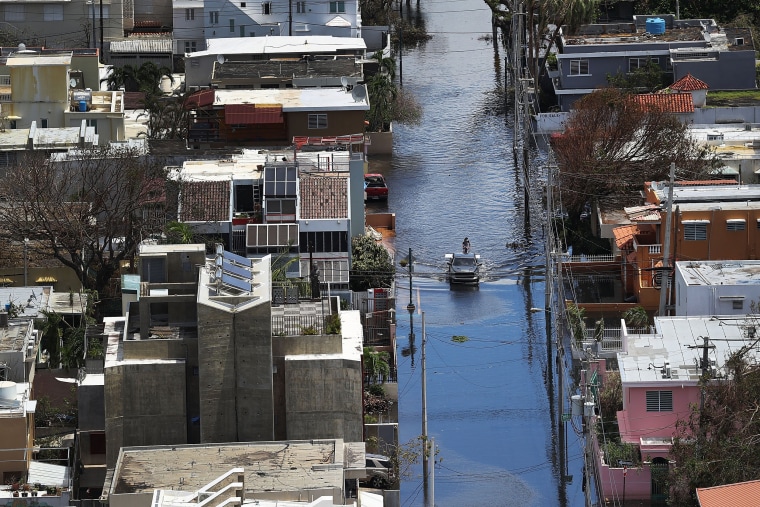 Frances Colón, founder of the Washington-based nonprofit Cenadores, said the "scale of the federal response right now is not on scale with the level of devastation." Colón formed Cenadores to organize Puerto Ricans on the mainland to volunteer to help the island.
"We still have townships not reached. The government had a diesel ship parked in the bay and the government and National Guard is so maxed out they couldn't ensure security so the fuel could reach its destination," said Colón, who lives in Miami and worked 12 years for the State Department as a science and technology adviser. "We need boots on the ground from the federal government. We need FEMA, National Guard, a federal response at [Hurricane] Katrina scale."
"Everyone is overwhelmed because the disaster is bigger than everyone," she said.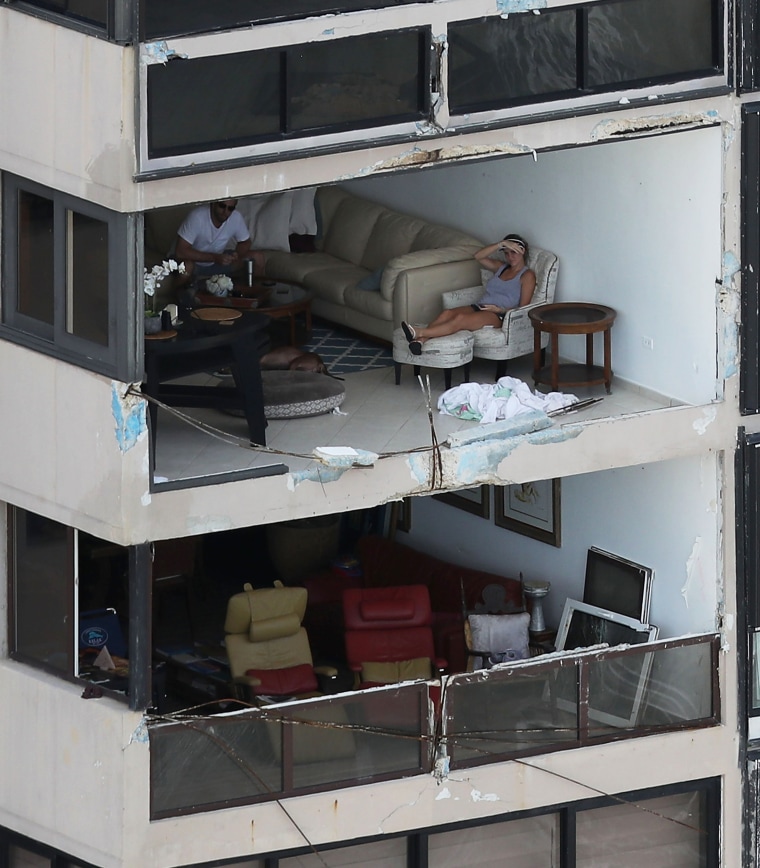 "The response can't be tepid. It's been a week and still communication is down and there are towns that haven't been reached."
PHOTOS: Hurricane Maria Lashes Puerto Rico, Storm-Battered Caribbean
Armando Valdés Prieto, a lawyer who has been helping with volunteer operations in San Juan said he felt the sheer magnitude of the devastation on the island made distributing federal aid difficult.
"The scope and magnitude of what's going on is so large that I'm not entirely sure that they really know where to start," he said by phone Monday afternoon.
He said that while he felt a lot was being done, being unable to communicate with parts of the island compounded problems.
"We're still kind of in an assessment phase where I guess it's a little hard to gauge whether or not things are being done right," he added.
Related: Puerto Rico Holds Its Breath Over Hurricane-Battered Dam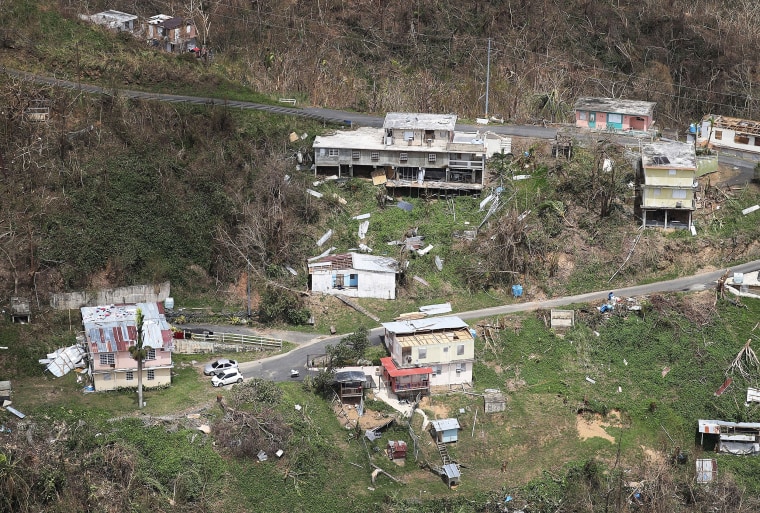 Adding to the island's woes is stifling heat. San Juan tied for its maximum temperature at 94 degrees on Sunday, according to the NWS.
"It's really, really hot and there's not a lot of respite from the heat," said Valdés Prieto, adding that many people did not have electrical power and could not use their air conditioners.
And the island's Aqueduct and Sewer Authority said Monday that only about 40 percent of their customers, or 500,000 people, had water service.