South Carolina began massive preparations to evacuate almost a quarter of its people Wednesday as Hurricane Matthew crawled toward a weekend rendezvous with the state's Atlantic coast.
Gov. Nikki Haley said that unless the storm's course changes drastically overnight, a complete evacuation will begin at 3 p.m. ET Wednesday in the historic city of Charleston and other coastal communities. The region is home to 1.1 million people, almost 25 percent of the state's entire population — not including beach-goers and other tourists.
"We don't do voluntary or mandatory. It is an evacuation," Haley said at a news conference. "Our goal is to make sure you get 100 miles away from the coast."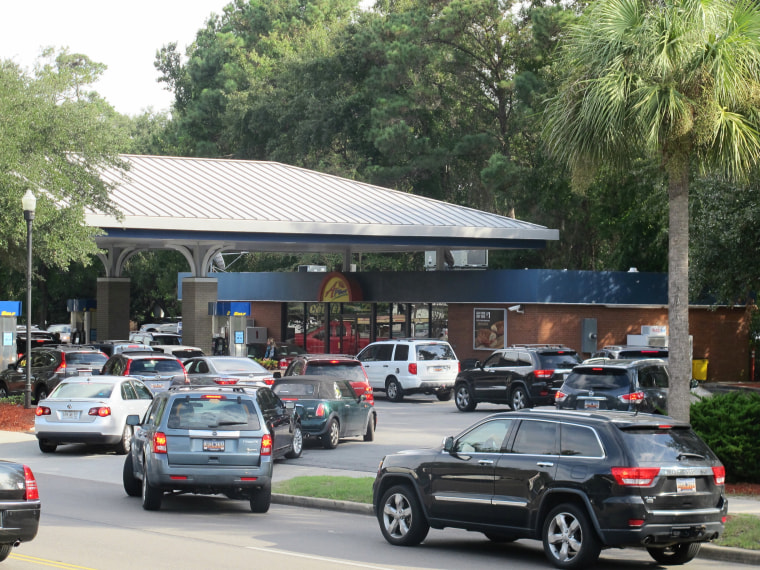 State emergency officials made plans to reverse traffic on all four lanes of Interstate 26 from Charleston to Columbia. Authorities posted an interactive map of evacuation routes showing lane reversals on numerous other state and local roads ahead of the total shutdown of coastal South Carolina on Wednesday.
Matthew isn't expected to arrive until the weekend, but Haley said she issued the warning now because "it's not going to be a fast evacuation. It could take up to several hours."
That was certainly the case for Lydia and Steve Dalton of Zionsville, Ind., who were supposed to have been on vacation in Charleston until Friday. Instead, they headed out of town Tuesday.
"It took us a long time to get out of Charleston," Lydia Dalton told NBC News on Tuesday night.
"We thought we were leaving way ahead of everyone else," she said. But "it's been bumper to bumper the whole time."
In Columbia, the state capital, hotels were rapidly filling up Tuesday night, NBC station WIS reported.
"The phones have been ringing off the hooks," said Jana Medlin, director of sales at the Inn at USC Wyndham Garden near the University of South Carolina campus.
Vacancies were already tight ahead of the University of South Carolina's scheduled football game Saturday against the University of Georgia. The university said it wouldn't decide until later this week whether the game would go on as planned.
Related: Sports Teams Keeping a Close Eye on Hurricane Matthew
"Around the hotels here in the Midlands, it's really all hands on deck right now," said Katie Montgomery, a spokeswoman for the South Carolina Restaurant and Lodging Association.
Newer data continued to push Matthew's expected track farther west early Wednesday, and "that's a problem, because that means greater impacts along the coast of Florida, coastal Georgia, South Carolina and North Carolina," said Kait Parker, a meteorologist for The Weather Channel.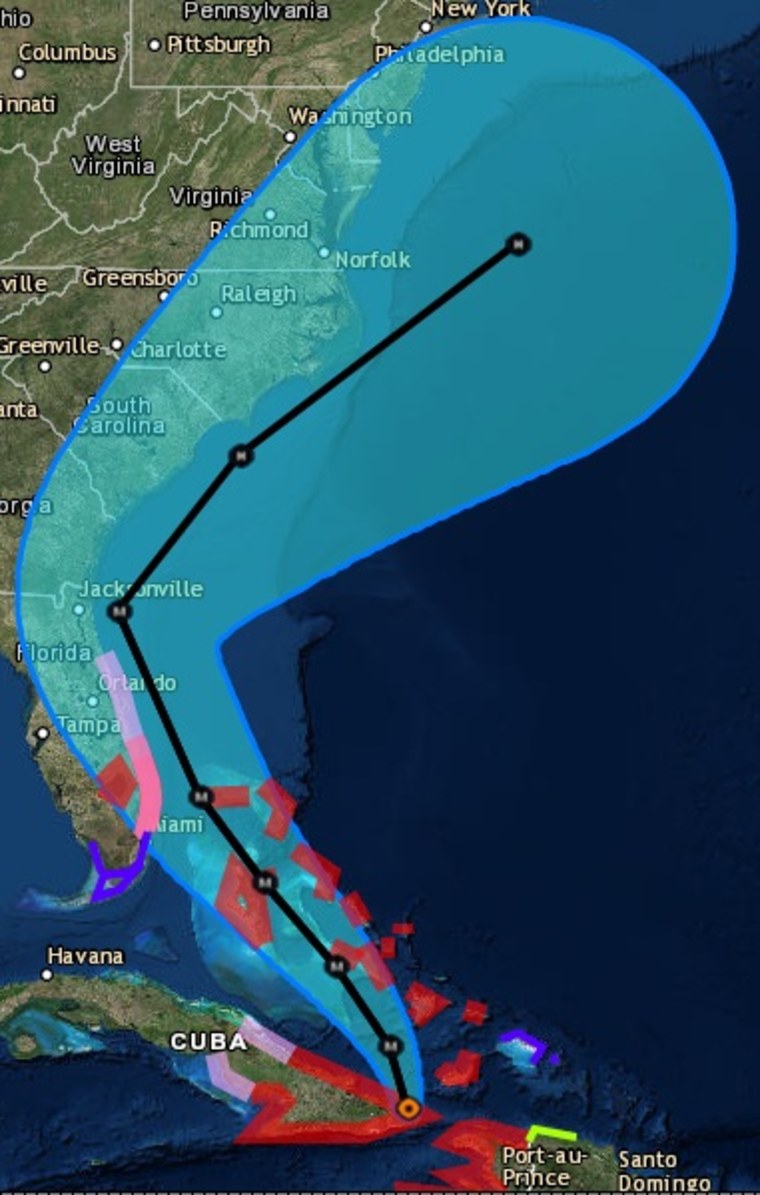 "Right now, the storm itself is the size of Arizona," Jim Butterworth, director of the Georgia Emergency Management Agency, told NBC station WXIA of Atlanta.
The storm weakened slightly early Wednesday with top sustained winds of 125 mph — dropping just below the category 4 threshold of 130 mph to 140 mph that it had stuck to for several days.
States of emergencies were in effect in all of Florida and in coastal parts of Georgia and the Carolinas with Matthew expected to arrive near eastern Florida by Thursday evening.
From there, it's expected to ride along the Georgia coast north to South Carolina on Friday and Saturday, reaching North Carolina sometime early Sunday, forecasters said.
The problem, said Ari Sarsalari, another meteorologist for The Weather Channel, is how slowly Matthew is moving — only about 8 mph.
"This is a storm that will be affecting the Eastern Seaboard for several days," he said.
Early Wednesday, hurricane warnings were in effect for Palm Beach and Broward counties and Lake Okeechobee in Florida.
Gov. Rick Scott activated 200 members of the National Guard to support hurricane response and said 300 more would be staged across the state Wednesday. Plans were under way to close bridges on the Intracoastal Waterway along the eastern Florida coast by 8 p.m. Wednesday.
"Regardless if there is a direct hit or not, the impacts will be devastating," Scott said. "I cannot emphasize it enough that everyone in our state must prepare now for a direct hit."
In Brevard County, Port Canaveral, one of the busiest cargo and naval ports in the world, ordered a total evacuation late Tuesday afternoon for all marinas, port businesses and tenants.
The Coast Guard said Canaveral Harbor itself would be closed by Wednesday afternoon — meaning no vessels, including cruise and cargo ships, as well as recreational and commercial fishing boats — will be allowed in.
Meanwhile, worried Floridians picked the grocery store shelves clean of staples like bottled water and batteries.
Employees raced to restock shelves stripped of water, canned goods, peanut butter and bread at a Publix supermarket in West Palm Beach, NBC station WPTV reported.
"We're concerned about the flooding," resident Yvette Passino said. "I don't know if we're going to be evacuated or not."
In North Carolina, the University of North Carolina at Wilmington issued a mandatory campus evacuation for all students by noon Thursday as authorities began evacuating Cape Lookout National Seashore and barrier islands on the coast.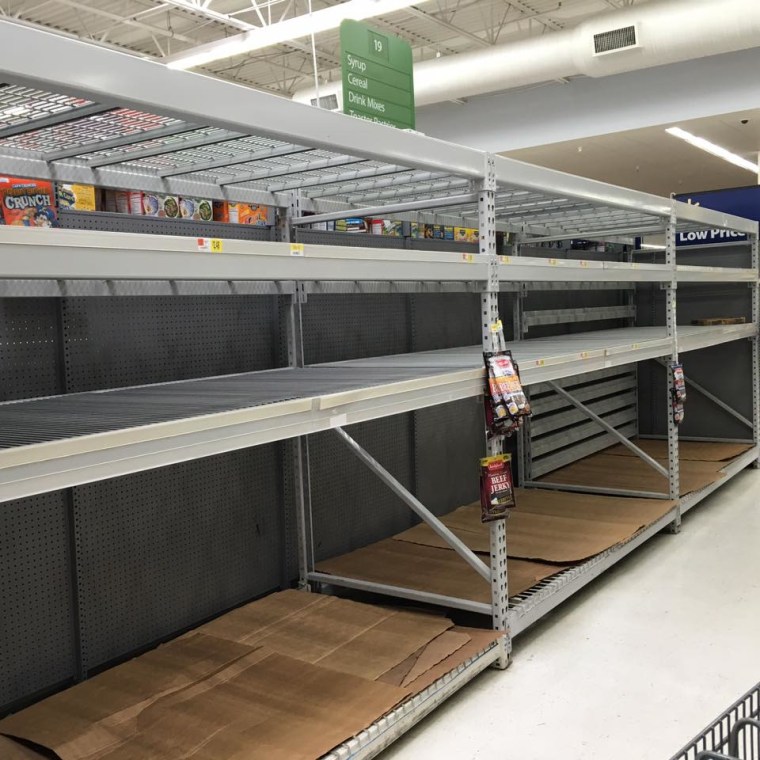 Mary Jane Lane, owner of the Sea and Sun Motel in Carolina Beach, N.C., packed up the first floor of her motel and planned to head west. Lane told NBC station WRAL of Raleigh that some of her guests are refusing to leave, which means they're on their own if there's a mandatory evacuation.
Lane said longtime residents were comparing the storm to Hurricane Hazel, which took a very similar path in 1954, killing about 400 people in Haiti and almost 100 in the United States.
"If you remember Hazel, then you will pack up," she said.
Meanwhile, the Federal Emergency Management Agency, or FEMA, had already deployed extra hands and supplies to Florida, Georgia and the Carolinas, while the White House postponed plans for President Barack Obama to campaign for Hillary Clinton on Wednesday in Miami and Tampa, Fla.
Instead, Obama will head to FEMA headquarters Wednesday to track the storm and get updates on the federal emergency response.
Matthew is the most powerful Atlantic storm since 2007. NBC News meteorologist Bill Karins said its path appears to be similar to that of Hurricane Floyd in 1999, which forced the evacuation of 2.6 million people across five states.