LYNN HAVEN, Fla. — For a grueling 55 minutes, Mayor Margo Anderson didn't know if they were going to survive Hurricane Michael.
She rode out the storm in the police headquarters building here with about 40 other people, including police officers, their families and their pets.
The group went room to room, dodging falling debris until the eye came through. Then, silence.
"I looked over at my husband and I took his hand and I said we're not going to make it," said Anderson. "We are not going to make it."
Fortunately, all 40 people sheltered inside survived. Once the storm passed, they crawled through blown out windows to get out of the demolished building. The first time she went back inside the building, it was almost too much to bear.
"I have normally a very low, calm voice and I can feel myself just talking about it and I'm short of breath," she said.
What Anderson lived through in Lynn Haven echoes the destruction seen by those throughout the area. The death toll from Hurricane Michael rose to 19 Sunday as searchers continued to make their way through the devastated parts of the Florida Panhandle. Residents have been left in disbelief, unsure of what's next.
Four miles south of Lynn Haven is Panama City, Florida. Along the main road through town, every business has either some damage or is completely destroyed.
A local auto shop owner in Panama City was so worried about looting that he spent the night in his destroyed building armed with a shotgun.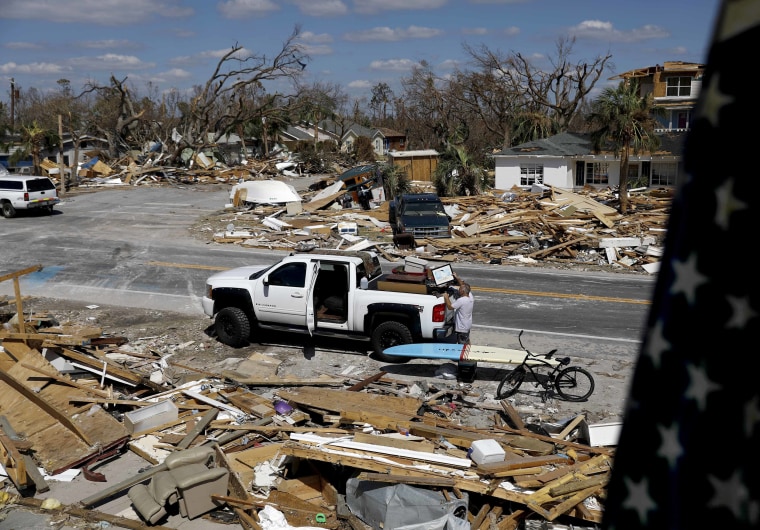 Meanwhile, Mexico Beach, just 24 miles away from Panama City, is considered ground zero for hurricane damage — every home there was leveled by the wind and rain. Search and rescue teams from Tennessee, Indiana and Florida are on the ground searching for 250 people who chose to stay behind and are currently unaccounted for.
"We continue to go through that list to assure that we account for everyone," said Michael Pruitt, PIO for FEMA Urban Search and Rescue Incident Support Team.
Those without any insurance are in dire straits. Kelly Mitchell said her grandparent's beach house is beyond repair. It was a place where generations of family members came together to enjoy the peacefulness of a small town coastal community of just about 1,000 people.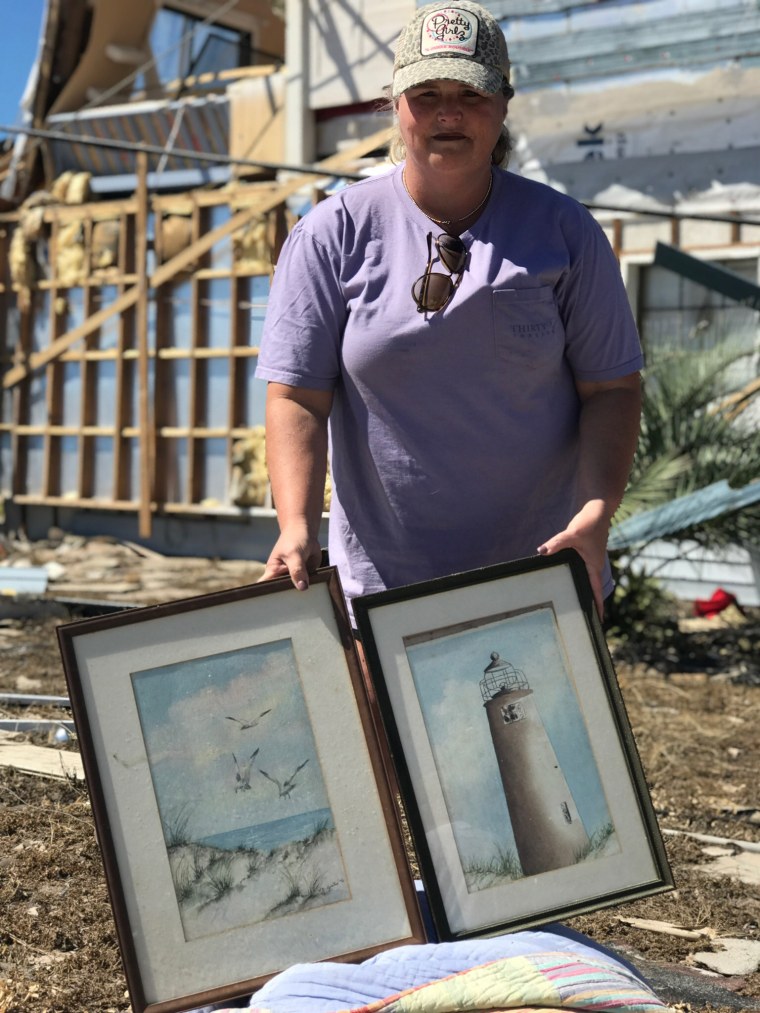 "I know it's just a big house but it has a lot of memories for us," said Mitchell. "There's a five foot of storm surge inside and it's totally mud and sand and everything in the house is just destroyed. "
Mitchell and her daughter Abby Golden made their way from Blountstown to Mexico Beach for one thing.
"We came down here mainly to get pictures that my grandmother who would have been 100 years old had painted in the house," said Mitchell. "We wanted to salvage that and we were able to pick those up."
In Lynn Haven, Anderson is working hard to check on her community, riding around otherwise impassible roads in a golf cart.
"We are all together. We have a hashtag. Lynn Haven Together And Strong. And that's what we are," said Anderson. "We have hope for the future and we're going to get through it. People here are devastated. Our town has been catastrophically affected."
Anderson organized the first distribution center in her city where residents can get a hot meal, water and ice. Volunteers have been working around the clock serving homemade casseroles, hot dogs, burgers, and even cupcakes. Everything has been donated from neighboring cities where people have power, can cook or can reach open grocery stores miles away.
"There's a lot of good people here," said Mara Harrison. "They just want to help."
Harrison has lived in the Florida Panhandle all her life and she's never seen devastation like this.
Across the street from the volunteer distribution center, her husband's dentist office barely stands. But Harrison is more concerned about her neighbors who can't leave their pummeled homes.
"There's a lot of people who don't have the means to leave and those are the people we need to help," she said.
Anderson said 80 to 90 percent of the homes in Lynn Haven are destroyed. The Mexico Beach city manager said 95 percent of the homes in Mexico beach are uninhabitable.
Residents in Lynn Haven aren't waiting for help. Although FEMA arrived Sunday to begin the process of providing transitional sheltering assistance to residents, volunteers continued to serve hot meals.
"Who's going to help? People just don't know they need to," Harrison said as she prepared hot dogs and hamburgers for a long line of hungry neighbors. "They have no idea it's like this."