Even though Sally is no longer a hurricane, the threat was far from over Wednesday night as it moved inland as a tropical depression, soaking the coastal communities in its path.
The system threatened to lash much of the coastal region near the Florida-Alabama border with heavy rain and flooding into Thursday, officials said. The storm was "causing torrential rains over eastern Alabama and Western Georgia," the National Hurricane Center said in a bulletin late Wednesday.
Hurricane Sally lumbered ashore near the Florida-Alabama line Wednesday with 105 mph winds and rain measured in feet, not inches, swamping homes and forcing the rescues of hundreds of people as it pushed inland for what could be a slow and disastrous drenching across the Deep South.
At least one death, in Orange Beach, Alabama, was attributed to the storm. Another person was missing, Orange Beach City Administrator Ken Grimes told NBC affiliate WPMI of Mobile.
Florida Gov. Ron DeSantis said at a news conference that nearly 600 search-and-rescue missions had been conducted since landfall early Wednesday. The state has activated 500 National Guard members to assist, he said.
The storm was about 30 miles south-southeast of Montgomery, Alabama Wednesday night, the hurricane center said. It packed sustained winds of 35 mph.
DeSantis said some bridges were out because of flooding and damage.
The Gulf State Park Pier in Gulf Shores, Alabama, was essentially "cut in half," said the National Weather Service in Mobile.
Pensacola recorded more than 2 feet of rain in places, flooding roads and covering vehicles up to their windows. The city was placed under a 7 p.m.-to-6 a.m. curfew for the next 72 hours.
Sally made landfall in Gulf Shores, Alabama, about 30 miles outside Pensacola, and slowly made its way north-northeast as a Category 2 storm.
By 1 p.m. CT Wednesday, a storm surge warning had been issued for the region along the Alabama/Florida border, and a hurricane warning was in effect from Mississippi to the Florida Panhandle.
More than 532,000 homes and businesses in Alabama and Florida went without power at some point on Wednesday as a result of the storm, local utilities said.
At least 150,000 customers in and around Mobile woke up Wednesday to find they had lost power, Alabama Power Co. tweeted before 7 a.m. local time.
Mobile Mayor Sandy Stimpson begged his constituents to stay indoors — and, of course, to stay away from fallen power poles.
"If you come across downed power lines, trees, or debris report it to 911 and do not try to touch or clear trees on your own," the mayor pleaded in a series of tweets Wednesday. "In the meantime, we are urging citizens in the City of Mobile to stay home. Please do not venture out unless it's absolutely necessary."
Parts of interstates and highways were closed because of flooding and winds as officials warned people to just stay home and off any roads.
Boats across the Gulf of Mexico were ripped from their docks, sinking the vessels or sending them to land, and a construction crane destroyed a chunk of Three Mile Bridge over Pensacola Bay after it was torn loose.
Forecasters warned that areas from the western Florida Panhandle to southeastern Mississippi could get up to 35 inches of rain.
Pensacola, the westernmost city on the Panhandle, reported a storm surge Wednesday morning of about 5.5 feet.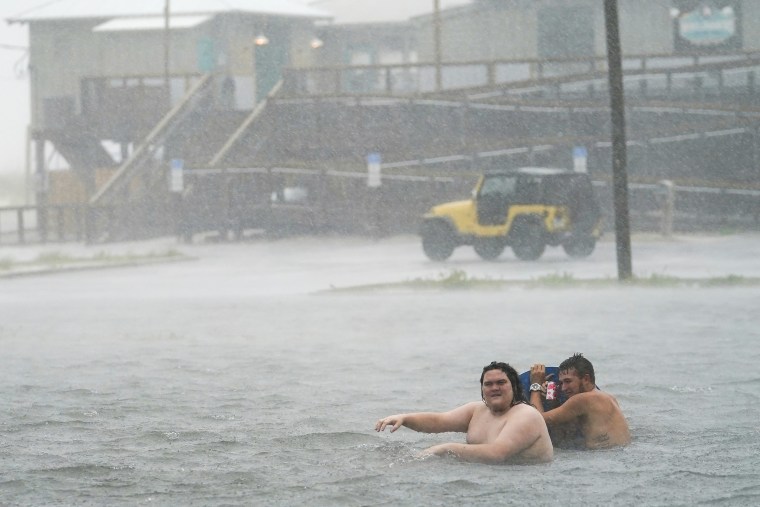 Earlier this week, President Donald Trump issued emergency declarations for parts of Alabama, Mississippi and Louisiana, ordering federal assistance.
Last month, Trump got a firsthand look at damage after Hurricane Laura pummeled parts of Louisiana and Texas, killing at least 15 people and wreaking havoc. His visit followed a Republican National Convention trip days after the storm slammed the Gulf Coast.
The extreme weather follows historic wildfires that swept through parts of the West Coast this month, with California officials and experts blaming climate change and a buildup of dried-out vegetation for the dozens of fires that scorched the state.
Download the NBC News app for breaking news and politics
The storm, which will begin to pick up some speed, is expected to move inland across southeastern Alabama later Wednesday and into Thursday.
Sally is also forecast to bring heavy downpours to parts of Mississippi, Alabama, Georgia and the Carolinas later in the week.
Brian McNoldy, a hurricane researcher at the University of Miami, said the slow-moving storm could be particularly damaging.
"If they aren't moving along and they just kind of sit there, you're going to get a ridiculous amount of rain," he said.
Forecasters warned that tornadoes were also possible Wednesday across the Florida Panhandle and southern Alabama.
Louisiana and Mississippi braced for Sally earlier in the week, but as the hurricane slightly changed course, forecasters predicted that they should largely be spared from the storm.
Sally had already deluged some areas Tuesday night with more than a foot of rain.
This year's hurricane season — which won't end for 2½ more months — has already been one of the busiest on record. Forecasters have almost run through the alphabet of names.
Early Wednesday, another storm, Teddy, was rapidly upgraded to a hurricane, with sustained winds of 90 mph. The storm was still in the middle of the Atlantic, hundreds of miles from land, but it is forecast to become a catastrophic Category 4 hurricane, possibly reaching Bermuda this weekend.