An Ohio man who became an advocate for protective fencing on highway overpasses after his wife was severely injured by a rock thrown by teenage vandals killed himself after texting a farewell to their kids, authorities said.
Randy Budd also texted a Pennsylvania lawmaker who had introduced legislation aimed at preventing a repeat of the tragedy that left his wife brain damaged two summers earlier before he fatally shot himself Saturday.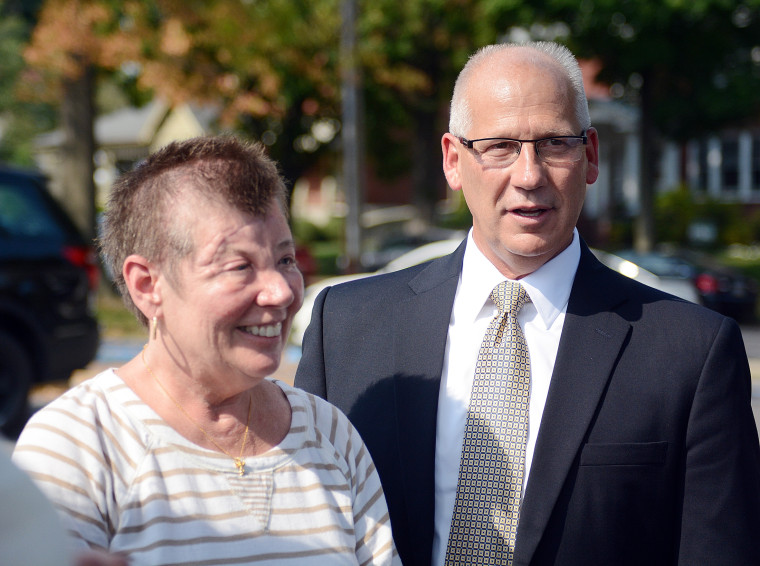 "Please get the fence issue settled," Budd texted at 8:24 p.m. Saturday, a spokesman for Pennsylvania State Sen. Gene Yaw of Williamsport confirmed to NBC News.
Some two and a half hours later, at 11:04 p.m., Budd was pronounced dead of a self-inflicted gunshot wound, said Harry Campbell, chief investigator for the Stark County, Ohio coroner's office. Budd was 55.
Budd and his wife were only ones in their Uniontown, Ohio, home when he killed himself, Campbell said. Budd had texted their kids, telling them that he loved them and that his brother was heading to the house, Campbell added.
"He had several conversations with his brother," Campbell told NBC News.
The Pennsylvania prosecutor who sent four teenagers to prison for the rock-throwing that transformed Sharon Budd from a popular school teacher into an invalid unable to take care of herself said he knows who is to really to blame for Budd's death.
"Randy Budd did not die from a gunshot," Union County District Attorney D. Peter Johnson told Penn Live. "He died when those kids threw a rock through his windshield."
Budd, his wife and daughter Kaylee were driving on Interstate 80 through Pennsylvania to New York City on July 10, 2014 when their lives were changed forever.
A five pound, volleyball-sized rock tossed from an overpass south of Williamsport crashed through the windshield of their Nissan Rogue and struck Sharon Budd as she sat in the front passenger seat.
Police later arrested Brett Lahr, his brother Dylan, Tyler Porter and Keefer McGee.
Sharon Budd lost an eye and suffered massive head injuries that repeated surgeries could not correct. Budd, who had been sitting in the backseat while his daughter was driving, was not hurt.
In the aftermath, Budd — a former pitcher who had been drafted by the Montreal Expos in the early 1980s — became an advocate and got the Ohio Department of Transportation to install chain link fencing on any new or rehabbed highway overpasses.
Budd is survived by his wife, Kaylee, and three other children.