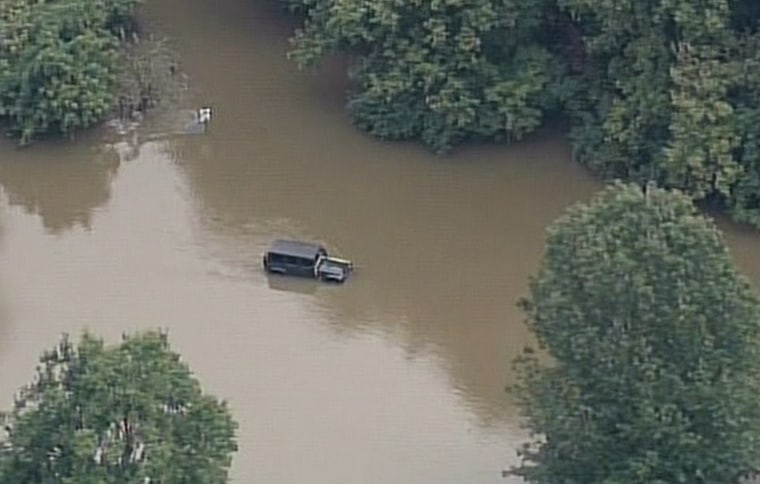 More than 80 people and their pets had to be rescued by boat from their flooded homes after more than seven inches of rain fell Saturday and Sunday in Louisville, Kentucky.
The National Weather Service declared a flash flood emergency for Louisville early Sunday due to back-to-back thunderstorms that began Saturday..
First floor apartments were flooded and vehicles were swallowed by high waters after 5.91 inches fell in Louisville on Saturday alone, according to the Weather Channel.
"I was lying there sleeping, kids woke me up, looked out, I couldn't believe it," evacuee Vickie Dedrick told NBC affiliate WAVE in Louisville.
"Just a little bit of water on the road, next thing you know it looks like a tidal wave come through; looks like all cars washed off," added evacuee Mark Elliott.
No injuries were reported, but at least 45 roads were closed and many homes and cars were damaged, according to the Courier-Journal.
According to the National Weather Service, a record 5.91 inches of rain fell on Saturday, breaking the day's old record of 3.07 inches of rain set on October 5, 1910, WAVE reported.
The deluge also already breaks the local all-time record for rainfall the month of October: The previous record was 5.07 inches set in 2004. 
The National Weather Service reports Louisville residents will be able to breathe a sigh of relief with a mostly sunny day slated for Monday.
NBC News' Kerry Sanders contributed to this report.