Nicole Hingle hasn't seen her son Jace in over a month.
Jace, 17, has spent the past year in the Bridge City Center for Youth, a long-term detention facility near New Orleans; he has nearly three years left on his sentence for battery and resisting arrest, stemming from a fight with neighbors. Like many juvenile detention facilities, the Bridge City Center cut off family visits in March as a measure to stop the spread of COVID-19, the disease caused by the coronavirus.
Since then, 10 youths and nine staff at the Bridge City Center have tested positive for the coronavirus. Hingle and other parents say facility and state officials have not told them what steps are being taken to address the rapid spread. So Hingle, who works in the service industry in New Orleans, relies on what she hears from Jace in their daily phone calls, which cost $3.15 for every 15 minutes.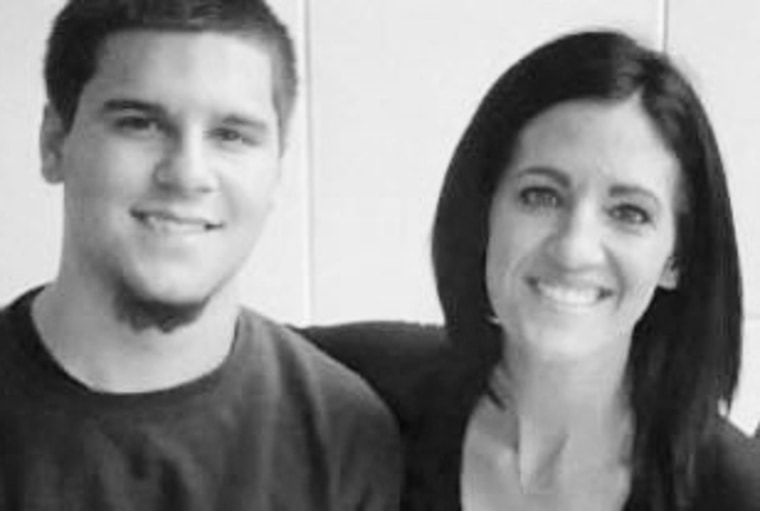 The youths at the Bridge City Center get one hour outside each day; otherwise, they're confined to their dorm, Jace told Hingle. They aren't getting any schooling, nor visits from case managers or religious clergy. They're stressed and they don't know what's going on. Those who are sick are moved to another dorm but Jace doesn't know what happens to them next.
"This is one of the worst things I've ever had to go through," Hingle said through tears. "I just sit by the phone and I wait and I pray, and I wait and I pray, and that's all I can do as a mom. I wait for my son to call, and I just pray that my worst fear doesn't come to reality."
Twenty-seven youths have tested positive for COVID-19 in Louisiana's four secure juvenile detention facilities — the Bridge City Center, the Acadiana Center for Youth in Bunkie, the Swanson Center for Youth in Columbia and the Swanson Center for Youth in Monroe — which house children and young adults ages 13 to 20 who are serving long-term sentences. As of Monday, 14 staff in these facilities had also tested positive for the coronavirus.
Some Louisiana lawmakers said they are troubled by those figures, as more than 10 percent of the 220 youths in state-run detention centers have tested positive.
That "is extremely high," said Daryl Deshotel, a Republican state representative. "I've been really worried about these outbreaks getting larger."
Parents and civil rights activists are frustrated with state officials who have given few details on how they're dealing with coronavirus cases among incarcerated children. Hingle said she doesn't know how staff decide whether to take a sick child to the hospital, or if she'd even be told.
"If he contracts this virus," Hingle said, she fears that "I may never see my son again."
Gov. John Bel Edwards, a Democrat, has not responded to letters sent in March from civil rights organizations, churches, children's rights advocates and public health experts asking that he release young people from detention centers.
The governor's office told NBC News that the state's Office of Juvenile Justice has distributed personal protective equipment to facility staff, increased cleaning and sanitizing in the centers and is screening anyone who enters the facilities for COVID-19 symptoms, including by taking their temperature. The state is also sharing updates with parents, the governor's office said.
Full coverage of the coronavirus outbreak
Louisiana's top judge, Chief Justice Bernette J. Johnson, rejected calls to issue a blanket release of juvenile offenders. However, she requested last week that judges consider releasing youths with less than 90 days left on their sentence, and review others on a case-by-case basis.
Deshotel said he has pressed Edward Dustin Bickham, who became the head of the Office of Juvenile Justice on March 25, to prepare a list of youths who could be safely released. The Office of Juvenile Justice referred questions to the governor's office.
Christina Stephens, a spokeswoman for the governor, said that the Office of Juvenile Justice is "reviewing all youth in its custody and working with the courts to determine the most proper placement to maintain their physical health, as well as maintain public safety."
But Renée Slajda, communications director for Louisiana Center for Children's Rights, an advocacy group, said it's unclear when those cases will be reviewed.
"We've seen no urgency around that," she said, "and time is of the essence."
Dozens of coronavirus cases in juvenile detention centers
Louisiana is one of just a few states releasing coronavirus test results from juvenile detention centers. To fill the gap, Joshua Rovner, who studies juvenile justice at the Sentencing Project, a Washington-based nonprofit, is counting coronavirus cases through a mix of state figures and media reports. He's identified 55 children and 84 adult staff members at youth detention facilities nationwide with COVID-19 diagnoses.
The growing number of positive tests follows pleas nationwide from epidemiologists, physicians and public defenders who warned that the virus would spread rapidly once it appeared in these facilities. Medical professionals, former leaders of juvenile correctional facilities and civil liberties groups have argued that states must release as many youths as possible to avoid a COVID-19 outbreak, like the one occurring at the Cook County Jail in Chicago.
"These are crowded facilities that are not created to have social distancing," said Samantha Buckingham, director of the Juvenile Justice Clinic at the Loyola Law School and the author of a recent white paper on COVID-19 in youth detention centers. Juvenile detention centers, Buckingham noted, often restrict kids from using hand sanitizer, have communal showers and bathrooms and offer staff few options to separate sick children besides placing them in solitary confinement.
While the coronavirus poses a greater risk to older people, it's also a threat for those with weakened immune systems, and youths in the juvenile justice system are more likely to have underlying health issues.
Louisiana has been hit hard by the coronavirus pandemic, which has led to the deaths of a 17-year-old in New Orleans and a state lawmaker. One study found that confirmed cases of the virus rose faster in Louisiana than anywhere else in the world.
Do you have an experience to share about the juvenile detention system and the coronavirus? Contact us
No one in Louisiana's juvenile detention facilities has died as a result of the coronavirus. Five adult inmates in a Louisiana prison have died after contracting COVID-19, as have adults working in juvenile detention centers in New York, Arizona and Washington, D.C.
"If the coronavirus is going to hit us, it's going to hit us all," said Gina B. Womack, executive director of Families and Friends of Louisiana's Incarcerated Children, an advocacy group. "It's not like behind bars you're going to be safe from these catastrophes, because you're not."
Epidemiologists, advocates and attorneys are concerned about the closed nature of jails and detention centers. Staff cycle in and out of the facilities daily. In Louisiana's state-run juvenile detention facilities, probation officers take turns picking up shifts due to a high turnover rate among staff that predates the coronavirus. Julia Fleckman, a professor at Tulane University's School of Public Health and Tropical Medicine, said that bringing in additional employees could exacerbate the spread of the coronavirus.
"The more people you have exposed, the more likely it is to spread," Fleckman said.
'They're scared they're going to get the virus'
Parents of youth in Louisiana state-run detention facilities say they've been left waiting and worrying about their kids.
The mother of a 20-year-old who has been in the Swanson Center for Youth at Monroe for three years said her son told her they have hand sanitizer, but it doesn't contain any alcohol, which experts say is ineffective. "I feel angry, I feel helpless," she said. "I'm scared for my child. It's extremely difficult."
Another mother, of a 20-year-old son who has been in the Bridge City Center for three years, said he told her the room that the youth spend all day in isn't big enough for them to stay 6 feet away from each other. "It's my job to protect him, and I can't do any of that at this point," she said, adding that she is currently spending as much as $50 a week to call her son at the facility.
Both mothers, who asked for anonymity because they feared jeopardizing their sons' chances of release, said they have heard nothing from the state about outbreaks in the facilities.
Slajda, with the Louisiana Center for Children's Rights, said she's spoken with 10 families of children in state-run juvenile detention facilities who say they, too, have been left in the dark.
"Every parent I spoke to has said the OJJ has not contacted them at all since this began," she said, referring to the Office of Juvenile Justice.
One mother's son tested positive for the coronavirus, but his mother was not notified by the facility — she found out days later when he called her and said he was in a room with other sick kids, according to Slajda.
"OJJ is working to keep parents of youth updated on their health and safety status through contacts with medical, administrative and case management staff," said Stephens, from the governor's office. "Both its facility and community-based staff remain available to communicate with parents that may have questions concerning COVID-19 and their children."
Stephens said that the Office of Juvenile Justice is now letting detained youths have two no-charge 15-minute phone calls a week, and the agency is "planning to implement a schedule for videoconference visitation in the next week."
Download the NBC News app for full coverage and alerts about the coronavirus outbreak
At the Bridge City Center, Hingle said Jace told her that the teens are starting to lose patience.
"They're scared they're going to get the virus," she said.
Hingle said her attorney has filed a motion requesting that Jace be sent home, in part to protect him from the coronavirus. But she also would like to see the governor get involved.
"I hope he would do for my child what he would possibly do for his own," she said, "and I think he would fight to get them home."