The little shop on West Jefferson Boulevard near downtown Los Angeles is easy to overlook. It sits on a bustling corner, in a storefront with no windows and a crude poster for a sign.
"A remodel would be great," one person wrote on Yelp.
The shop, University 20 Cap, has a reason to avoid drawing attention to itself — it's an unlicensed marijuana dispensary. The black market operation sells, among other products, bootleg THC vape pens linked to the rash of severe lung illnesses plaguing the country.
And yet, there it is, listed on Yelp as if it were just another Italian restaurant or craft store.
"I really love the vibes at this place but it is usually a wait to go in," one reviewer wrote.
"They have a rude security guard," wrote another.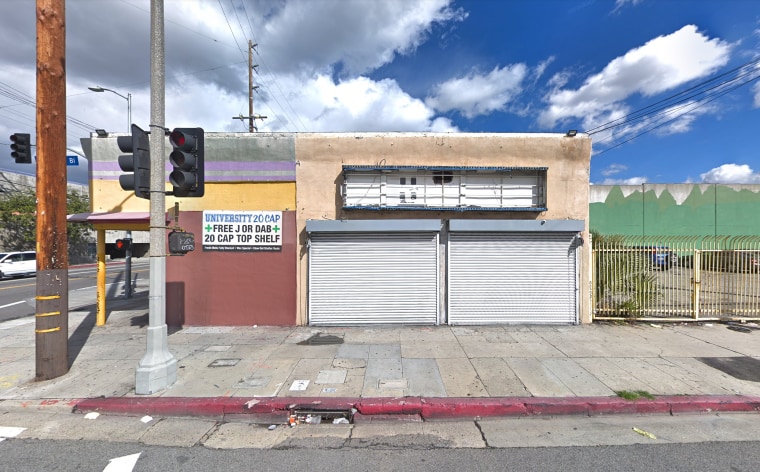 University 20 Cap is one of an untold number of unlicensed dispensaries operating in plain sight across Los Angeles and appearing on Yelp. The popular business review site is littered with dozens upon dozens of listings for marijuana shops that are illegally selling products, according to an NBC News investigation.
"This is a clear public health threat that needs to be addressed," said Raphael Cuomo, an assistant professor at the University of California, San Diego, who is researching the public health effects of vaping.
Cuomo said big online companies like Yelp have little incentive to better police their content. "We haven't seen strong evidence that they are going to suffer a great deal of backlash whether from the public or legislators," Cuomo said.
Yelp says it bars from its platform any cannabis businesses in states where cannabis isn't medically or recreationally legal. But when reached by NBC News, a Yelp spokesperson said the company had no idea it was hosting listings for unlicensed cannabis dealers in California, where marijuana is legal but businesses must obtain city licenses to sell it.
In response to questions, Yelp said it won't remove the illegal businesses. "Removing local businesses from Yelp could hurt consumers as they would no longer have that resource for information, whether positive or negative, about the business," a spokesperson said. "Consumers have a right to speak their minds about all businesses, irrespective of licensing status."
But Yelp said it's planning to make a policy shift spurred by the NBC News investigation. The website will start identifying cannabis shops that have not participated in Yelp's "license verification program." The listings for those shops will feature a large exclamation point near the top alongside the message "Unverified license," a spokesperson said.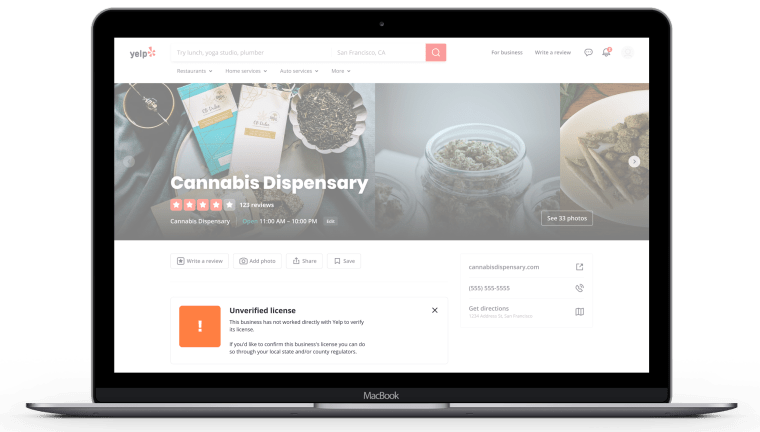 Jerred Kiloh, president of the California-based United Cannabis Business Association, said the company deserves credit for taking those steps. "I applaud Yelp for taking the lead on it," Kiloh said. "At least they're now creating a system where they can show consumers the difference between a licensed and unlicensed business."
But Cuomo said Yelp's new approach could have the effect of spotlighting illegal dealers and making it easier for customers to get their hands on the kinds of cheaper illicit products they may prefer in spite of the health risks.
"This particular step may end up being more harmful," Cuomo said.
Since the outbreak began early last year, about 60 people have died from vaping related lung injuries and about 2,700 others have been hospitalized. Emergency room visits have been declining since late last summer, but new cases continue to be reported, according to the Centers for Disease Control and Prevention.
Federal health officials have identified vitamin E acetate, a cutting agent used in some THC oil cartridges, as one of the possible culprits. A brand of illicit THC vape pens called Dank Vapes, which were on sale at University 20 Cap, was used by several people who suffered lung injuries, the CDC has said.
In Los Angeles, 188 cannabis dispensaries have been granted licenses. Dozens of black market dealers have sprouted up like weeds, and many sell marijuana products tax free, allowing them to undercut their licensed competitors.
Yelp isn't the only tech company that helps people find the dispensaries, licensed and unlicensed. Weedmaps and Leafly, competing websites and apps that have each been described as the "Yelp for pot," make it easy to find pot shops and browse their menus.
The apps have faced a sharp backlash from the legal cannabis industry for providing listings for unlicensed businesses and accepting advertisements from illicit dealers. Leafly announced in February 2018 that it was ditching ads and listings for black market operators.
Weedmaps has argued that it's an online platform, akin to Google or Craigslist, and is therefore protected under federal guidelines known as Section 230 of the Communications Decency Act. The law shields website operators from criminal and civil liability for the content their users create.
Amid growing pressure from state regulators, Weedmaps instituted a policy this year requiring cannabis shops to provide license information to list on its platform. The company said it has removed more than 2,700 illicit cannabis operators across the country.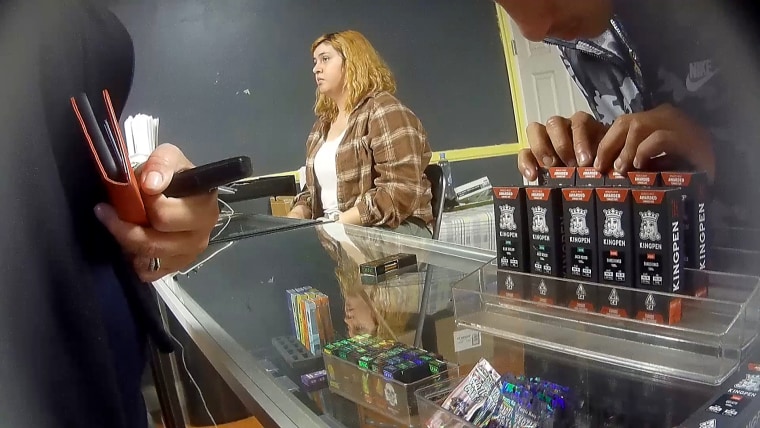 But Kiloh said Weedmaps has, at the same time, made changes to the site, including adding a feature that allows companies to register as CBD stores, that make it easier for black market operators to present themselves as legitimate.
"Yelp is in the gray area," Kiloh said. "It's more like a directory, where Weedmaps is knowingly aiding and abetting illegal activity."
Added Kiloh: "They're all hiding underneath the 230 federal code that allows for them to not be held accountable for the content posted on their site."
Chris Beals, CEO of Weedmaps, pushed back against that characterization.
"It simply isn't true that unlicensed operators have an easy path to list on Weedmaps," Beals said. "Between the vetting processes in place for our suite of products, internal reviews and responses to reports from users, licensed shop owners, regulators and law enforcement, Weedmaps has a robust process in place to ensure the cannabis operators on the site are licensed."
The challenge of cracking down on rogue pot shops goes beyond websites and mobile apps.
State regulators and local law enforcement have been locked in a battle with unlicensed sellers since California legalized recreational marijuana in 2018. An industry-sponsored analysis released last fall found that illicit dealers outnumbered legal dispensaries by 3 to 1.
Download the NBC News app for breaking news
Los Angeles police have launched several raids in recent months and shuttered multiple rogue shops — at least temporarily. NBC News was invited to accompany officers in November as they inspected various shops suspected of selling marijuana products illegally.
The action was part of a novel approach in stamping out illicit dealers and their suppliers: to use trademark infringement laws to stiffen the penalties for operators selling counterfeit products. At one location, cops turned up several boxes of bootleg vape pens, as well as bags and bags filled with marijuana buds. The owner was arrested, and the unlicensed shop was shuttered.
But even as the illicit pot products were still being hauled out of the building, police conceded that the raids were unlikely to make a significant dent in the city's booming black market trade.
"What we've experienced with marijuana dispensaries is we shut them down and they're back in business the next day," Capt. Lillian Carranza said. "Because it's big money. It's a billion-dollar operation."
Carranza said the whack-a-mole dynamic between law enforcement and rogue pot shops is spurred by the lack of time owners spend behind bars and how easy it is for them to reopen their businesses. Even if the water has been turned off and the power has been cut, operators have been known to bring in generators to turn the lights on and welcome customers back.
Los Angeles City Attorney Mike Feuer said his office has shut down 197 illicit marijuana stores and has had success prosecuting the landlords who rent out space to the unlicensed dealers.
"We are trying very hard to make it as difficult as possible for them to operate," Feuer said. "But they continue to try to find ways around the system."
In the meantime, anyone looking to score marijuana products on the cheap can still find unlicensed pot dispensaries through Yelp.
Located three blocks from the University of Southern California, a shop called Breaking Bud 20 Cap uses a logo modeled off the hit TV show "Breaking Bad." Its Yelp page features its address and phone number but no reviews.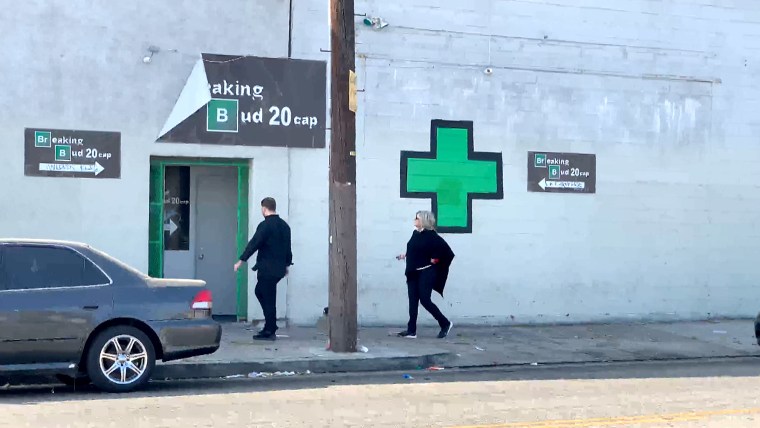 A trip to the store revealed a relaxed atmosphere with limited products and a man sitting on a couch rolling what appeared to be a joint. Two female workers stood behind a glass counter politely answering questions.
When asked whether they had any Dank Vapes, the workers said they were out and offered a variety of STIIIZY cartridges, a legitimate brand that is among the most commonly replicated by counterfeiters. NBC News bought a pair of STIIIZY cartridges for $30 each and later showed them to a expert in vape pen counterfeits who does work for the Los Angeles Police Department. It took the expert less than a minute to render a verdict: clear knockoffs.
The selection of pot products at University 20 Cap, the illicit dispensary with a poster for a sign, was far more robust. Its glass cases were filled with several varieties of THC vape pens, as well as canisters of marijuana flower.
Among the offerings were Dank Vapes cartridges, which have been found to contain dangerous amounts of pesticides, including a fungicide that can transform into hydrogen cyanide when burned.
A man working behind the counter dismissed a question about whether the Dank Vapes cartridges could pose health risks.
"We manufacture them ourselves," he said. "There's no need to worry about this."
The existence of shops like these comes as no surprise to Adam Bierman.
Bierman, who co-founded the California dispensary chain MedMen Enterprises but recently stepped down as CEO, said he estimates that more than 500 illegal marijuana shops and delivery services surround his store in West Hollywood. Finding them, Bierman said, is simple.
"All you have to do is go on the internet," he said.