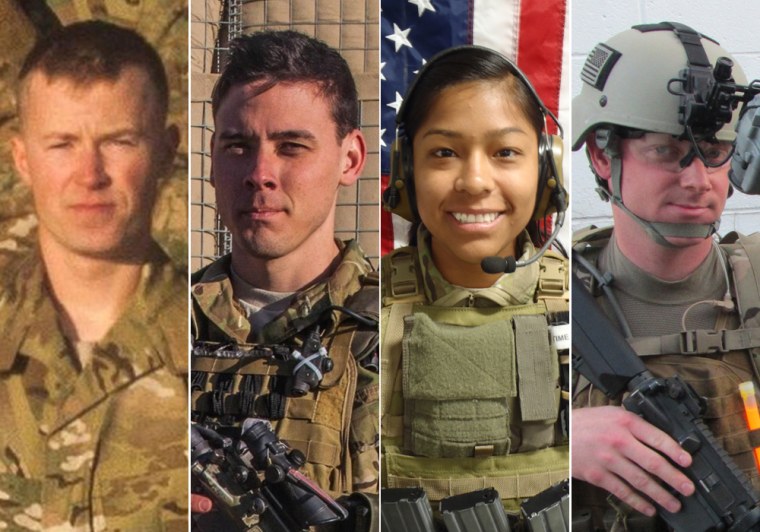 By Tony Dokoupil, Senior Writer, NBC News 
Grieving families of fallen U.S. service members are expressing outrage over a lapse in government benefits designed to help them pay for funeral costs or travel to meet the flag-draped coffins of their loved ones.
"The government is hurting the wrong people," said Shannon Collins, who lost her son, Marine Lance Corporal Jeremiah M. Collins Jr., over the weekend in Afghanistan. "Families shouldn't have to worry about how they're going to bury their child," she told NBC News. "Families shouldn't have to worry about how they're going to feed their family if they don't go to work this week."
Seventeen U.S. service members have died this month, but as a result of the government shutdown, none of their families have received the $100,000 normally sent within three days of the ultimate sacrifice, also known as the "death gratuity." The situation was detailed by a series of NBC News stories over the past two days, beginning with an Andrea Mitchell report on TODAY.
On Tuesday evening, the Fisher Foundation announced that they would step in to cover expenses with temporary grants, but there were few details.
"They killed my boy," said Randall Patterson, the father of Private First Class Cody James Patterson, one of four members of the Army and one Marine killed in Afghanistan over the weekend. A retired long haul trucker, he's livid about the missing payment.  
But he softens quickly when the subject returns to his son. "He died doing what he loved," said Patterson, who recalled that as a boy, his son "could never decide which GI Joe was his favorite, so I'd have to buy them all."
Collins said she feels fortunate to have supervisors who will allow her to take paid time off from work to take care of her son's return home. Other grieving families may not be so lucky.
"While that benefit may not be urgent for me, it's urgent for somebody. There's somebody who needs to fly their family home. There's somebody who needs to have expenses covered, or be able to take off work to handle the affairs of their loved one," she said. "And to know that the government shutting down will delay their ability to handle their business, some people just won't be able to do it."
Besides the death gratuity, families are also waiting for a year's worth of housing allowance, which typically comes in a lump sum. So far the military has paid for people's travel and their hotel rooms, according to two of the families.
Related: 'Just disgusting': Outrage after shutdown delays payment for families of fallen
But for Patterson, it was the details that mattered as he prepared to fly Tuesday to Dover Air Force Base, Del, to retrieve his son. He wanted a scotch on the rocks to calm his nerves during the flight from Oregon.
"It better be on that tray," he says he told the Army. "I don't care if you have to pay for it out of your own pocket."
Collins said she hoped the government would figure out how to reinstate the death benefits -– and soon.  
"For the sacrifice our kids are making, at the age that they're making them, I don't understand how this can be a benefit that's withheld. I won't ever understand it," she said. "How can we do that to these young men and these young women, who come back having lost their lives? 
The five service members who died over the weekend in Afghanistan are: 
Pfc. Cody James Patterson
24, Philomath, Ore.
Patterson was "Mr. Philomath High School," said his father Randall, known around town for his slapstick rendition of the 1978 rock song "Werewolves of London."
He joined the Army in January 2012, traveled to Fort Benning, Ga., for infantry training, caught the eye of the Rangers, and was assigned to Company B, third battalion, 75th Ranger Regiment in November 2012.
"Pfc. Cody Patterson was the poster child for the Ranger Regiment," said Lt. Col. Patrick J. Ellis, Commander of 3rd Bn., 75th Ranger Regiment. The private lost his life "fighting tenaciously," Lt. Col. Ellis added.
"I hope so," his father said. "I couldn't bear it if he was blown clear and suffering. I hope he never knew what hit him."
This was Patterson's second deployment to Afghanistan. He was already well-decorated, earning badges for parachuting and marksmanship, and the Global War on Terrorism Service Medal. He was posthumously awarded a Bronze Star Medal, Army Commendation Medal, Purple Heart and NATO Medal.
Patterson's mother, Nancy R. Wilson lives in Corvallis, Ore., and his father and his sister Taylor, both live in Philomath.
"Taylor hit the floor when they told her," Randall said. "I warned them she would."
Special Agent Joseph Peters
24, Springfield, Mo.
Peters was on his third deployment to Iraq or Afghanistan -- and it was supposed to be his last, so he could spend more time at home with his wife, Ashley, and their 20-month-old son, Gabriel.
"I'm a stay-at-home mom, which is what my husband wanted. He wanted me to take care of our son," Ashley Peters said.
Peters was assigned to Army Criminal Investigations. He joined the Army straight from high school in Springfield, Mo., in 2007, and rose quickly, passing basic training in-state at Fort Leonard Wood, and then Human Intelligence Training at Fort Huachuca, Ariz.
During his first two deployments, he served in the 14th Military Intelligence Battalion. For his last he had reclassified and been assigned to the 286th Military Police Detachment, based in Vicenza, Italy.
"Special Agent Peters was a highly respected agent," said Maj. Gen. David Quantock, the commanding general of the U.S. Army Criminal Investigation Command. 
Among his many awards and distinctions were the Army Achievement Medal, National Defense Service Medal, and Global War on Terrorism Service Medal. He was posthumously awarded the Combat Action Badge, Bronze Star Medal and Purple Heart. 
Sgt. Patrick Hawkins
25, Carlisle, Pa.
Hawkins was a rifleman and gun team leader assigned to Company B, third battalion, 75th Ranger Regiment, and he died—on his fourth deployment to Afghanistan—moving to the aid of another wounded soldier, according to a statement by U.S. Special Operations Command.
"Sgt. Patrick Hawkins was a brave and incredibly talented Ranger," said Lt. Col., Patrick J. Ellis, the commander of the 3rd battalion. "His actions that night were in keeping with the epitome of the Ranger Creed: 'I will never leave a fallen comrade.'"
He took a direct path to the Army, leaving his hometown of Carlisle, Pa., in February 2010, jumping straight from high school to infantry training at Fort Benning, Ga., where he earned the attention of the Rangers. He passed the training program and joined the 75th Ranger Regiment in September 2010, where he added badges for parachuting and expert marksmanship. He was posthumously awarded the Bronze Star Medal, Meritorious Service Medal and Purple Heart.
 "His loss is felt by the entire Regiment," said Col. Christopher S. Vanek, Commander of the 75th Ranger Regiment. 
Hawkins died five days after his 25th birthday. His wife, Brittanie M. Hawkins, lives in Lansing, Kans., and his parents, Roy and Shelia Hawkins, live in Carlisle.
1st Lt. Jennifer Moreno
25, San Diego
Moreno was a gung-ho Army nurse assigned a new role as part of a Cultural Support Team, assisting the mission of the Joint Special Operations Task Force, and she died with members of the same.
"Our unit mourns the loss of 1st Lt. Jennifer Moreno," said Lt. Col. Patrick J. Ellis, Commander of 3rd Battalion, 75th Ranger Regiment.
This was Moreno's first deployment to Afghanistan, since she was commissioned as Nurse Corps Officer in 2009, and she was said to be an excited young soldier. "Hooah Nursing Corp!" she told Dons Saber, an ROTC publication, in 2010. 
She completed the Army Airborne course at Fort Benning, Ga., in 2009, bounced to Fort Sam Houston, Texas in 2010, and landed at Madigan Army Medical Center at Joint Base Lewis-McChord in Washington, where she served on a surgical unit.
She volunteered for special operations and deployed in June, having accrued a Parachutist Badge, Global War on Terror Service Medal and Army Service Ribbon. She was posthumously awarded a Bronze Star Medal, Purple Heart, Afghanistan Campaign Medal and NATO Medal.
Her mother, Marie V. Cordero, and sisters, Jearaldy Moreno and Yaritza Cordova, live in San Diego. Her brother, Ivan F. Moreno, is currently serving in the U.S. Army.
Lance Cpl Jeremiah Michael Collins
19, Milwaukee, Wisc.
Collins, a Marine, was a recent graduate of Milwaukee Hamilton High School, in Wisconsin, and he died in Afghanistan under murky circumstances last weekend.
The cause of death is under investigation, according to his mother, Shannon. The Lance Corporal was an intelligence specialist working in Helmand Province. His mother, father, Jeremiah, sister, Monque and brother, Paris, live in Milwaukee.