With Hurricane Ian growing stronger and marching northward, Florida on Monday began ordering evacuations and preparing for possible floods.
Tornadoes are also possible across the Florida Keys and the southern and central Florida Peninsula, according to the National Hurricane Center.
Para información en español de Noticias Telemundo haga click aquí
A mandatory evacuation order was issued Monday for some residents in Hillsborough County, on the westernmost part of the Florida Peninsula. Emergency shelters were opened in the county, which includes Tampa.
The latest on Hurricane Ian
By late Monday, Ian was moving northwest at 13 mph and about 105 miles southeast of the western tip of Cuba, with top sustained winds increasing to 105 mph.
Forecasters expect Hurricane Ian to hit Florida's west coast as a major hurricane as early as Wednesday.
Cuba said it was evacuating 50,000 people in Pinar del Río province, had sent in medical and emergency personnel and taking steps to protect food and other crops in warehouses.
The center of the hurricane passed to the west of the Cayman Islands on Monday, but no major damage had been reported there.
Follow along for NBC News' live coverage of Hurricane Ian
"We did not make this decision easily, but the storm poses a serious threat, and we must do everything we can to protect our residents," County Administrator Bonnie Wise said.
A major hurricane has not directly hit the Tampa Bay area since 1921, said Rick Davis, a senior meteorologist with the National Weather Service's Tampa office.
"The Tampa Bay area hasn't seen this type of storm in decades, if not 100 years," Davis said. "All the threats that hurricanes can have — we are definitely in the high-to-extreme category in all these threats."
In coordination with Hillsborough officials, MacDill Air Force Base in Tampa, home to U.S. Central Command, has also announced a mandatory evacuation. The order is for "non-mission essential individuals" living in the westernmost part of the county, which includes uniformed service members, civilian employees and their dependents.
This evacuation is set to be completed by Tuesday afternoon.
Hernando County, about an hour north of Hillsborough, issued a voluntary evacuation order Monday for those living in low-lying areas and mobile homes. The order will become mandatory Tuesday morning. Shelters will also open Tuesday, and schools will be closed in the coastal county.
Manatee County, south of Hillsborough, also announced a mandatory evacuation for some residents that will go into effect Tuesday morning, according to a news release.
Tampa International Airport is bracing for "severe impacts" from the hurricane and could begin closing parts of its airfield and facilities as wind speeds increase. All airport operations will stop when sustained winds reach 50 mph.
Cuba, Cayman Islands in Ian's path
Ian is expected to strengthen rapidly during the next day or so and become a major hurricane as it nears western Cuba, where it is expected to "produce significant wind and storm surge impacts."
The storm, which by late Monday afternoon was about 155 miles southeast of the western tip of Cuba, has maximum sustained winds of 100 mph, with higher gusts, the hurricane center said.
A hurricane watch was issued along the west coast of Florida from north of Englewood to the Anclote River, including Tampa Bay, while a tropical storm warning is in place for the lower Florida Keys from Seven Mile Bridge to Key West, as well as Dry Tortugas Island.
The center of Ian is expected to pass near or west of the Cayman Islands on Monday and near or over western Cuba on Monday evening and early Tuesday, the hurricane center said.
"Ian will then emerge over the southeastern Gulf of Mexico on Tuesday, and pass west of the Florida Keys late Tuesday, and approach the west coast of Florida on Wednesday," it said.
Preparing for heavy rain, flooding, storm surge
The hurricane is forecast to bring 8 to 15 inches of rain to central West Florida, 3 to 8 inches to the rest of the Florida Peninsula and 4 to 6 inches to the Keys.
"Heavy rainfall is expected to affect North Florida, eastern portions of the Florida Panhandle, and portions of the Southeast, and Mid Atlantic regions Friday and Saturday," the hurricane center said. The rain could cause flash and urban flooding mid-to-late week in central Florida, as well as across the Florida Keys and the peninsula, through midweek.
Flooding and rising of streams and rivers over northern Florida and parts of the Southeast U.S. are also possible mid-to-late week.
"Regardless of Ian's exact track and intensity, there is a risk of dangerous storm surge, hurricane-force winds, and heavy rainfall along the west coast of Florida and the Florida Panhandle by the middle of this week, and residents in Florida should ensure they have their hurricane plan in place," it said.
In photos captured Sunday, residents in Tampa filled sandbags to help prevent against flooding ahead of the storm.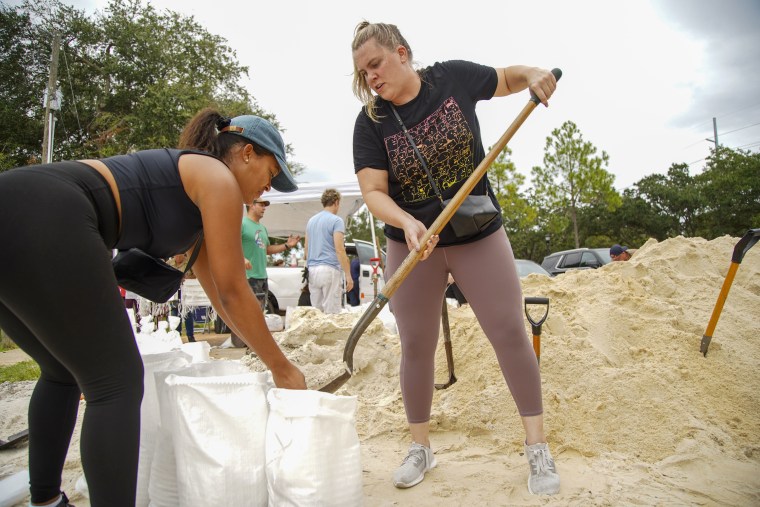 In Kissimmee, about an hour northeast of Tampa, a long line of shoppers waited outside a store in a race to stock up on supplies. A number of people carted several cases of water bottles out of the store.
Before the hurricane reaches Florida, it is predicted to pass near or west of the Cayman Islands before it moves over to western Cuba.
'Pray and hope for the best'
"Life-threatening" storm surge and hurricane-force winds are expected to hit parts of western Cuba starting late Monday, with Ian expected to be at or near major hurricane strength by the time it nears the region.
Western Cuba could get anywhere from 6 to 16 inches of rain, the Cayman Islands might get 3 to 8 inches, and Jamaica could get an additional 1 to 3 inches, forecasters said. The rainfall may produce flash flooding and mudslides in higher-terrain areas over western Cuba.
Water levels along the coast of western Cuba could rise to as much as 9 to 14 feet above normal tide levels Monday night and early Tuesday.
A hurricane warning is in place for the Cuban provinces of Isla de la Juventud, Pinar del Río and Artemisa, while a tropical storm warning is in effect for the Cuban provinces of La Habana, Mayabeque and Matanzas.
Authorities in Cuba suspended school classes in Pinar del Rio Province and said they would start evacuations Monday in preparation for the storm.
The Cuban state media outlet Granma reported that authorities planned to start evacuating people from vulnerable areas early Monday in the far western province.
"Efforts to protect life and property should be rushed to completion," the hurricane center warned.
Tropical storm warnings are in effect for Grand Cayman, while tropical storm watches are in place for Little Cayman and Cayman Brac.
Cayman Islands Premier Wayne Panton urged residents to get ready for the storm and to check in on neighbors.
He said that there was some uncertainty but that "history has taught us that we must prepare as best we can, and we must prepare for the worst and absolutely pray and hope for the best."