Immigration and Customs Enforcement on Friday pushed back against claims by some groups that a series of raids the agency said targeted criminals in several states were connected to President Donald Trump's executive orders.
David Marin, ICE's field office director for enforcement and removal operations in greater Los Angeles, said an enforcement sweep in California was in the planning stages "before the administration came out with their current executive orders."
The agency said more than 160 were arrested in the five-day operation in the Los Angeles area, which focused on "criminal aliens, illegal re-entrants, and immigration fugitives." It said that 200 people were arrested in the operations in Georgia and the Carolinas.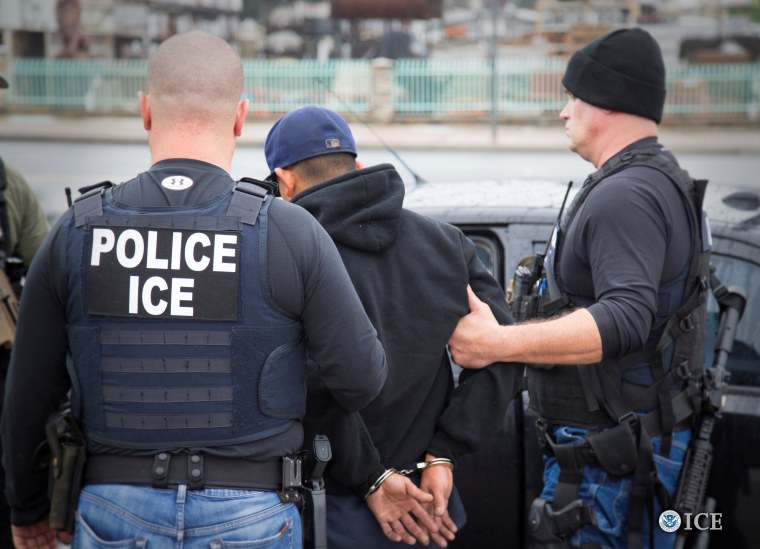 The president pro tem of California's state senate slammed ICE for what he said was a lack of transparency in the California operation, which come amid anxiety over Trump's immigration policies. On Thursday an ICE official called reports of 100 arrests on that day alone exaggerated. The agency released the 160 overall number Friday.
"I find it particularly galling that after misleading the media yesterday, ICE would today lecture the public about the dangers of 'false reporting,'" state Sen. Kevin de Leon, a Democrat, said in a statement. "If ICE is looking for the culprit to yesterday's panic they need only look in the mirror."
Immigration activists decried the raids. The immigration enforcement agency said that the "enforcement surge" was routine.
"The rash of recent reports about purported ICE checkpoints and random sweeps are false, dangerous, and irresponsible," ICE said in a statement.
Related: ICE Arrests Stir Fear in Immigrants Wary of Trump Orders
The agency conducted operations in Southern California in 2015 that resulted in 240 arrests, and in July it arrested more than 100 people, ICE has said. Of the 160 arrested in California this week, the agency said around 150 had criminal histories and that "many of the arrestees had prior felony convictions for serious or violent offenses."
News of the enforcement action in California came a day after an Arizona woman, who family members said was convicted after using a made-up Social Security number for work, was detained Wednesday and deported after being allowed to stay under Obama administration policies.
Protesters blocked the movement of a van containing Guadalupe García de Rayos, 36, from a Phoenix detention center. García de Rayos' husband and attorney Ray Ybarra Maldonado blamed the Trump administration for the deportation.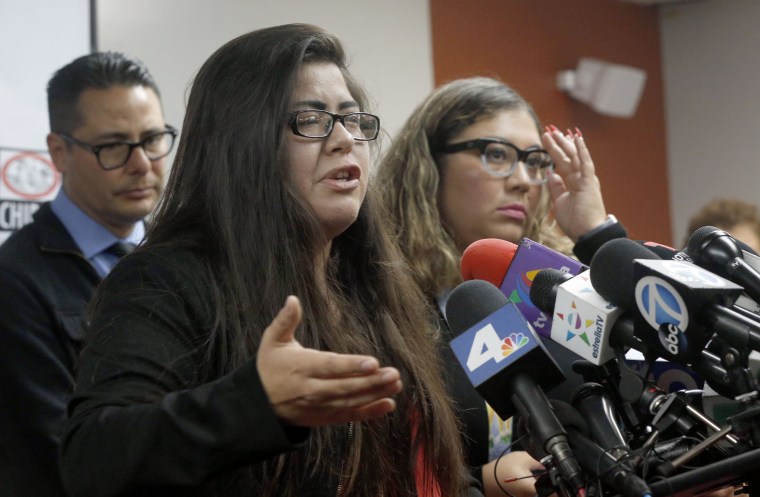 Trump has taken a hard line on illegal immigration, and early in his campaign said he would remove everyone in the country illegally. Trump in November seemed to soften that position, and said he would focus immediate efforts on those convicted of crimes, and estimated the number affected to be two to three million.
The president signed an executive order in late January directing the Department of Homeland Security to prioritize the removal of those with criminal convictions.
Related: Mexican President 'Rejects' Trump Orders, Vows to Protect Immigrants in U.S.
Los Angeles Mayor Eric Garcetti said he called ICE's regional deputy director Friday and "made it very clear that I want greater transparency about ongoing operations" and the status of those arrested.
"Angelenos should not have to fear raids that are disruptive to their peace of mind and bring unnecessary anxiety to our homes, schools, and workplaces," Garcetti said. "The Administration should take a just, humane, and sensible approach that does not cause pain for people who only want to live their lives and raise their families in the communities they call home."