Immigration and Customs and Enforcement agents have recently arrested over 1,300 people in a large gang-enforcement operation across the United States, officials said Thursday.
Twenty-one of the 1,378 people arrested were taken into custody on murder related charges, seven were arrested on rape or sexual assault charges, and 280 were arrested on immigration violations, ICE said.
ICE said in a statement Thursday that 1,095 of those arrested in the latest action were confirmed as gang members or affiliated with gangs. Of those arrested, 1,098 were arrested on criminal charges, the agency said.
"Gangs threaten the safety of our communities, not just in major metropolitan areas but in our suburbs and rural areas, too," Acting ICE Director Thomas Homan said in a statement.
The Department of Homeland Security said the six-week operation was the largest gang round-up ever conducted by DHS' office of investigations to date.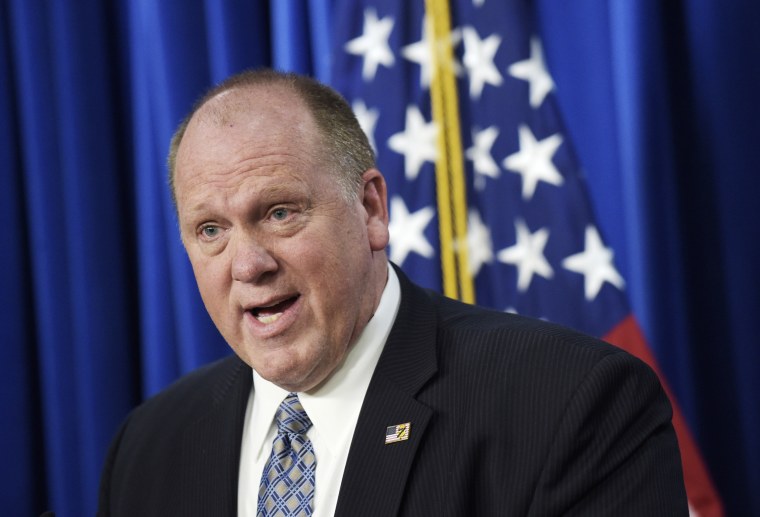 Of those arrested 933 were U.S. citizens and 445 were foreign nationals, authorities said.
The agency has been criticized for what opponents had feared were roundups of undocumented people during the administration of President Donald Trump, who had made illegal immigration a key issue of his campaign.
In February, ICE said enforcement actions then were planned before Trump's executive orders on illegal immigration.
Related: Cops Resist Texas Push to Join Immigration Crackdown
The agency also said three people arrested were in the past protected under the Deferred Action for Childhood Arrivals (DACA), an Obama-era program designed to allow those brought into the United States as children to remain in the country. People in the program are often referred to as "Dreamers" because of its relation to the failed DREAM act.
One of the three already had DACA status removed and two others were in the process, Derek Benner, deputy executive associate director of Homeland Security investigations, said at a news conference.
The agency faced questions from immigration rights activists after a Mexican man under DACA protection, 23-year-old Juan Manuel Montes, claimed through his attorneys last month that he was taken across the Mexican border by authorities and then was arrested and deported after he returned illegally.
In February another so-called "Dreamer," Daniel Ramirez Medina, was arrested as ICE agents served a warrant on his father. DHS said Ramirez admitted gang ties, but his lawyers strongly deny that claim.
Related: Texas Gov. Signs Law Banning 'Sanctuary Cities'
The ICE enforcement action concluded last weekend. ICE said that the arrests included 10 members of the gang MS-13 in Fairfax County, Virginia; An operation near San Diego in which 23 alleged gang members were arrested and 17 guns, meth, marijuana and $25,000 in cash was seized; and the arrests of two alleged gang members in San Diego in which cocaine, meth, heroin and four handguns were found.
"The goal at end of day is to arrest, prosecute, imprison, and deport and remove transnational gang members as well as to suppress violence and prosecute criminal enterprises," Benner said.
Ten of those arrested came across the border as unaccompanied minors, ICE said. Eight of those were alleged members of MS-13, Benner said. He said it is unknown when and where they became MS-13 members, but that gangs often target vulnerable minors in recruiting members.