A major winter storm plowed across the country Monday, delivering heavy snow, ice and temperatures so low they broke records in many places.
More than 140 million Americans stretching from Texas to Maine, were in the path of the historic storm as power outages — particularly in Texas where millions were without power — left people shivering in the dark.
Slick, icy roads and record snow fall in some states led to pileups, endangering more lives in a winter storm system that's claimed as many as 12 lives across the country in recent days.
In Lafayette, Louisiana, a 50-year-old man died after slipping and hitting his head on ice, the state Department of Health said Monday.
The storm was expected to travel up the Northeast through Tuesday, bringing heavy snow, ice and freezing temperatures, the National Weather Service said. Six inches to a foot of snow was forecast to stretch from the mid-Mississippi to the Ohio valleys, across the lower Great Lakes and into northern New England, according to the service.
It also warned about more power outages and significant travel disruptions across much of the southern Plains, as well as "bitterly cold air" that can result in "dangerous or life-threatening wind chills."
There were reports of ice pellets falling in Nashville, sleet and freezing rain in Alabama, a possible "snow-nado" in Texas and a confirmed tornado near Damascus, Georgia.
Emergency responders mobilized across the eastern third of the country as the city of Memphis reported 15 straight hours of snowfall by Monday afternoon, a total of more than 6 inches as snow continued to fall.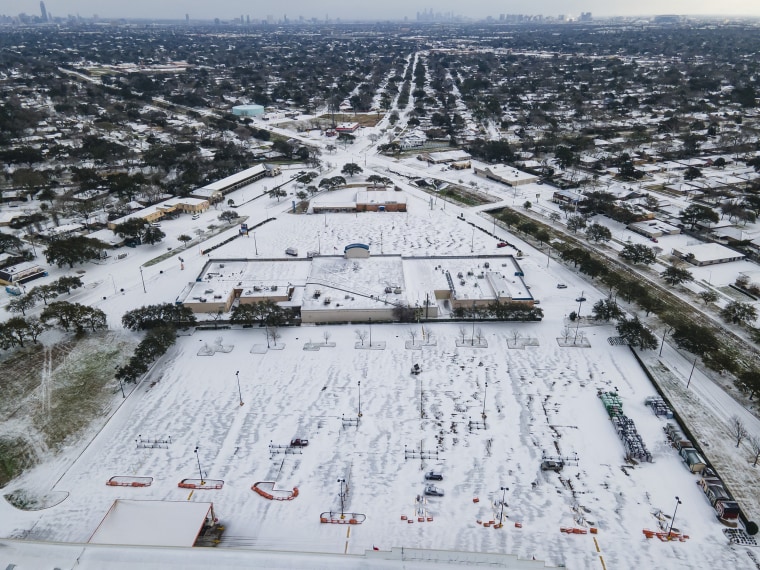 Southeastern states were also under a tornado watch, with twisters as well as damaging winds and large hail the size of golf balls likely in parts of the Florida panhandle and southern Alabama before 7 p.m. Monday.
Snow fell in east Texas, Arkansas, parts of Illinois, Kentucky, Indiana and Ohio on Monday morning, with wind chills reaching minus 16 degrees Fahrenheit in Dallas and minus 26 in Kansas City.
As the Plains continue to grapple with the Arctic chill, the National Weather Prediction Center said numerous record lows were established Monday, including minus 6 in Oklahoma City, where at least 6 inches of snow had fallen, and 5 degrees in Dallas.
At least parts of all 254 counties in Texas were under either a winter storm watch or a winter storm warning over the weekend.
The weather was affecting operations at airports across the area, with more than 760 flights canceled at the Dallas/Fort Worth International Airport amid a holiday weekend. On Monday, the airport said single-digit temperatures continued to affect its operations.
The first winter storm watch in a decade was issued for Brownsville, Texas. At 3,360 days, they had the longest streak of any National Weather Service office without one.
The Electric Reliability Council of Texas, which manages the flow of electric power in the state, was experiencing record-breaking electric demand due to the extreme cold temperatures that have gripped the state.
Houston was issued its first wind chill warning on record over the weekend.
As temperatures dropped Monday, Mayor Sylvester Turner warned that authorities were dealing with systemwide power outages across the state and that power could be out a lot longer than expected.
"For those without power, I know it is cold," Turner tweeted. "The mayor is in the same position but we will get through this together."
Houston police Chief Art Acevedo asked residents to keep use to a minimum to reduce the load on the electric grid, adding that several of Houston Police facilities were running on emergency generators.
Download the NBC News app for breaking news and politics
In a statement Sunday night, President Joe Biden declared an emergency in Texas and ordered federal assistance to aid state and local response efforts.
The extreme cold dips far into Texas with more than 60 daily record-low temperatures Monday and again Tuesday in the central U.S., NBC meteorologist Janessa Webb said.
"Records could be smashed by a couple of degrees, which is impressive for lows," she added. "There will be slow improvement in the cold Wednesday through Friday. The cold is really concentrated in the middle of the country, with the coasts being no more than 5-10 degrees below average."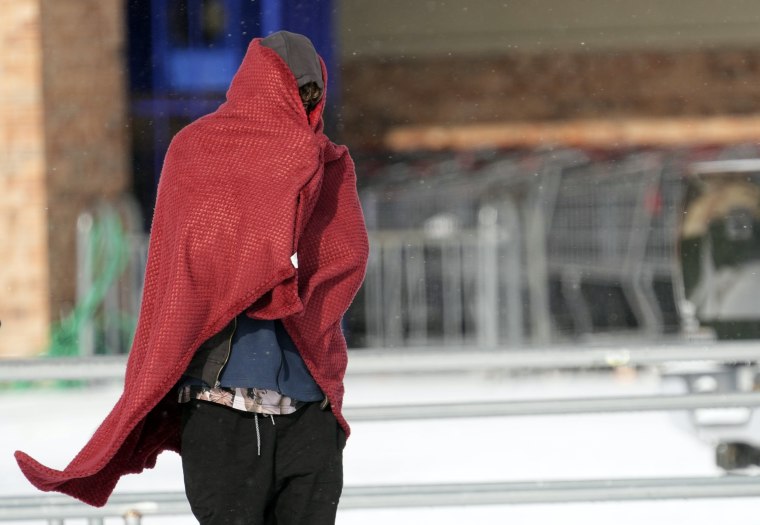 Dangerous icy conditions have developed in southern Louisiana, central Mississippi and northwest Alabama, forcing some counties in the state to shutter medical facilities, including clinics where Covid-19 vaccinations were being administered.
Heavier snow was expected to expand into the Midwest and the Great Lakes by Monday evening, including Chicago, most of Ohio and Indiana, Detroit and Buffalo.
The storm is expected to blow out to sea by Tuesday evening after dropping heavy snow in the Great Lakes and New England where freezing rain and icy conditions are expected.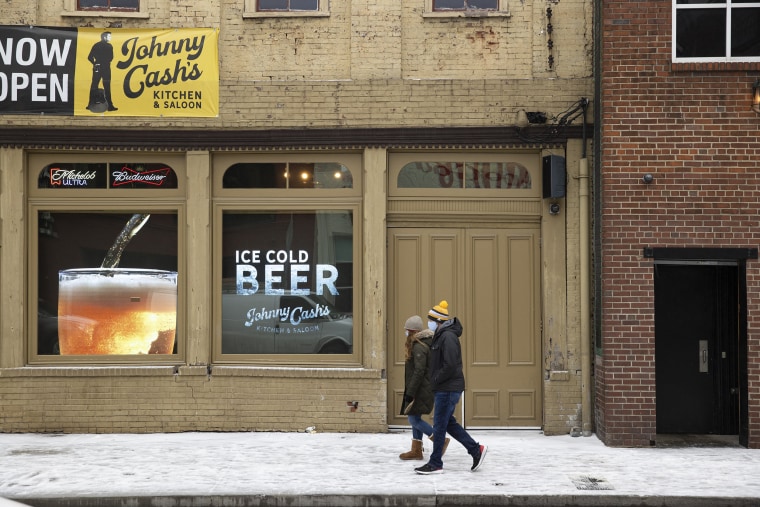 On Tuesday, record lows in the south will be challenged and potentially shattered, with Dallas forecast to come in at 6 degrees — the 1903 record currently stands at 12.
Oklahoma City's forecast low is minus 3, with the current record holding at 4 degrees, also since 1903.
The coast-to-coast storm will finally be moving offshore by Tuesday night, with some lingering snow in northern New England, but the icy air will stay in place and spread into the Northeast.