A man was killed and federal authorities reported "catastrophic" damage in parts of southeast Louisiana on Sunday night after Hurricane Ida crashed into the state as what the governor said was "one of the strongest storms to make landfall here in modern times."
All of New Orleans was without power, the city's electric utility said, threatening its sewage system.
The state Health Department said a 60-year-old man died in Ascension Parish after a tree fell on his home. The parish sheriff's office said deputies who were dispatched at 8:30 p.m. for a report that a person may have been injured in Prairieville, about 15 miles southeast of Baton Rouge, confirmed that a person was dead.
Citing local law enforcement, the National Weather Service office in New Orleans said over 200 people were in "imminent danger" in the town of Jean Lafitte and the unincorporated community of Lafitte, in Jefferson Parish, after a levee failed.
"Move to higher ground now!" the weather service said. "This is an extremely dangerous and life-threatening situation."
---
The latest on Hurricane Ida:
Hurricane Ida made landfall Sunday, the 16th anniversary of Hurricane Katrina, as a Category 4 storm near Port Fourchon, Louisiana. Gov. John Bel Edwards described it as "one of the strongest storms to make landfall here in modern times."
Ida weakened to a Category 1 storm with top sustained winds of 95 mph late Sunday. The National Hurricane Center reported "catastrophic damage" and warned of "extremely life-threatening" storm surges. Authorities said a 60-year-old man was found dead after a tree fell on his home. A levee failure was reported in Jefferson Parish, threatening 200 people, authorities said.
All flights were canceled at Louis Armstrong New Orleans International Airport. A little over 1 million homes and businesses were without power across the state; Entergy New Orleans, the city's main power utility, said all of Orleans Parish was without service.
Find more up-to-the-minute updates at our live blog.
---
At midnight, Ida had weakened from a Category 4 to a Category 1 storm, with sustained winds of 95 mph, but authorities said it would remain a hurricane overnight. The National Hurricane Center said tornadoes were expected into Monday from southeast Louisiana to the western Florida Panhandle.
Electric utilities reported that slightly more than 1 million homes and businesses were without power. Entergy New Orleans, the main power utility in New Orleans, with nearly 200,000 customers, said the entire city lost electricity early Sunday evening because of "catastrophic damage" to its transmission system. It said power wouldn't be restored Sunday night.
The city's sewer and water board said the power loss could affect a "very significant" number of its 84 sewer pumping stations. The board said that it had obtained backup generators for some but that "in order to prevent sewage backups, we have asked residents to limit water usage at home, thus decreasing the amount of wastewater we must remove."
The board said the city's water was safe to drink.
'This is going to be devastating'
Ida made landfall over Port Fourchon, Louisiana, at about 11:55 a.m. CT as the storm moved into the mouth of the Mississippi River, the National Hurricane Center said.
"This is going to be devastating — a devastating, a life-threatening storm," President Joe Biden told reporters after he was briefed by officials of the Federal Emergency Management Agency. "So please, all you folks in Mississippi and in Louisiana ... take precautions, listen, take it seriously."
Biden said he signed emergency declarations so Mississippi and Louisiana can use the "full resources and support of the federal government."
Louisiana Gov. John Bel Edwards told residents who didn't evacuate to keep loose mattresses within reach — in case powerful gusts ripped off home's roofs, which he said in a news conference was likely because "this is one of the strongest storms to make landfall here in modern times."
At landfall, the storm's winds were just short of 157 mph, the level considered a Category 5 hurricane on the Saffir-Simpson hurricane wind scale, which rates storms from 1 to 5 based on maximum sustained wind speed. Only four storms have made landfall in the continental U.S. as Category 5 hurricanes in the last century: the Labor Day Hurricane in 1935, Camille in 1969, Andrew in 1992 and Michael in 2018.
The storm began weakening as it started to move inland, where it was expected to track over parts of Louisiana and western Mississippi, but forecasters said it would still be a tropical storm well into Monday afternoon.
With rainfall projections topping 2 feet in some parts of southern Louisiana, Collin Arnold, director of the New Orleans Office of Homeland Security and Emergency Preparedness, warned residents that emergency services wouldn't be able to reach them until Monday.
St. Bernard Parish President Guy McInnis said: "We've really taken a pounding here in St. Bernard Parish. I haven't seen anything like this here, and I lived through Katrina."
The power was on in St. Bernard, and "the big concern is post-storm injuries or deaths," McInnis told MSNBC. "There's a lot of power lines down, a lot of trees down. We want our citizens to stay inside."
'Extremely life-threatening'
National Weather Service meteorologist Jennifer McNatt told NBC News, "Everybody in the path of Ida should be prepared for very heavy rainfall, very strong winds, life-threatening storm surge, along with the coast and isolated tornadoes, as well."
Download the NBC News app for breaking news and politics
With all Sunday flights canceled in New Orleans, tens of thousands of people fled by car, clogging highways.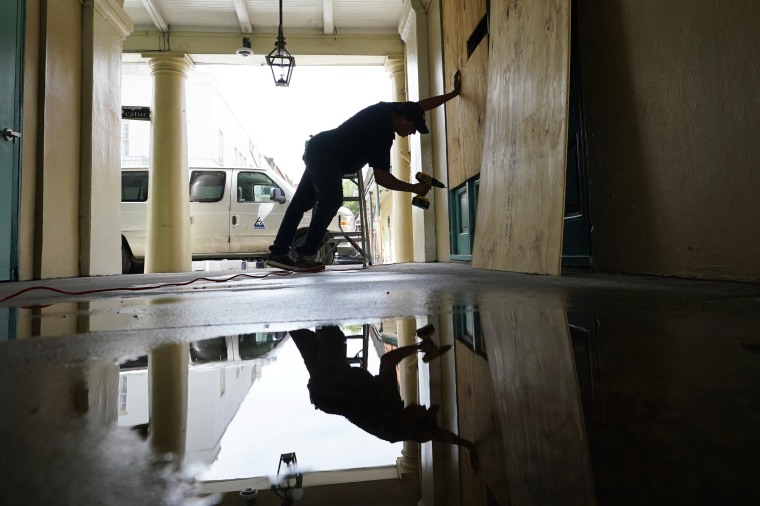 NBC affiliate WDSU of New Orleans published video of the roof's being blown off Lady of the Sea Hospital in Galliano in Lafourche Parish.
CEO Karen Collins confirmed in a statement that "our hospital has sustained significant damage" but said "all patients and staff are fine at this time without injury." All of the Lady of the Seas system's clinics and pharmacies were closed until Tuesday at the earliest, the hospital system said.
The hurricane knocked 22 barges loose in the Mississippi River near Chalmette in St. Bernard Parish. John Rahaim, the parish's director of homeland security and emergency management, told Nola.com, the website of the Times-Picayune and The New Orleans Advocate newspapers, that it wasn't clear where the barges had gone.
Officials in Jefferson Parish said a barge hit the Leo Kerner Bridge, a swing pony truss bridge over Bayou Barataria in Jean Lafitte. The bridge, which parish officials said they didn't believe was safe, was closed, the state Transportation Department said.
The 16th anniversary of Katrina
As New Orleans marks the 16th anniversary of Hurricane Katrina, those who remain braced for the worst, and New Orleans officials said they were confident that their levee systems would withstand the storm.
"We're very confident in a way that we have never, as a community, been before. It's a different time. It's a different place," said Ramsey Green, New Orleans' deputy chief administrative officer for infrastructure.
"And we've had 16 years to really protect our city from what occurred tragically on this date 16 years ago," he said.
Authorities in Plaquemines Parish, southeast of New Orleans, urged residents near White Ditch, a canal east of Stella, to "SEEK HIGHER GROUND IMMEDIATELY!!!!" on Facebook on Sunday night, saying the sheriff's office had received reports that water had overtopped the levee.
"EVACUATE," the parish government said. No other details were immediately available.
Covid-19 concerns
Cynthia Cashman, 68, who lives in the Riverbend section of New Orleans, was hunkering down in her second-floor apartment with her roommate and her 89-year-old mother. They decided to stay because of Covid-19 fears. Her mother was particularly fearful of catching Covid-19 if they fled to a state like Texas.
"She didn't want to evacuate," Cashman said. "We'd have to go to grocery stores and go out, and there's no mask mandates. I mean, it would be really unsafe. We're all vaccinated, but still."
Edwards, the governor, said Covid-19 "presents special challenges at our shelters, and I've mentioned this before, you don't want to conduct sheltering in large, open rooms any more than is absolutely necessary because of the transmission of Covid."
"But we will have no higher priority than to make sure our hospitals can remain in operation and functional," he said. "That's going to be a challenge, because we expect widespread power outages for some time."
Hospitals in New Orleans are in a "severe outbreak," with a seven-day average of 220 new infections, according to the city's Covid-19 dashboard.
Across Louisiana, more than 3,400 new cases had been confirmed as of Friday, according to data published by the state Health Department. At least 2,684 people were hospitalized with Covid-19 in the state.