The women's marches are over. The photos have been posted to social media, and the colorful signs stashed in the closet.
So what's next for the hundreds of thousands who demonstrated in the U.S. and around the world, advocating for the rights of women, minorities, immigrants, the LGBTQ community and other groups?
Four leaders in the civil rights and public health advocacy communities propose a road forward.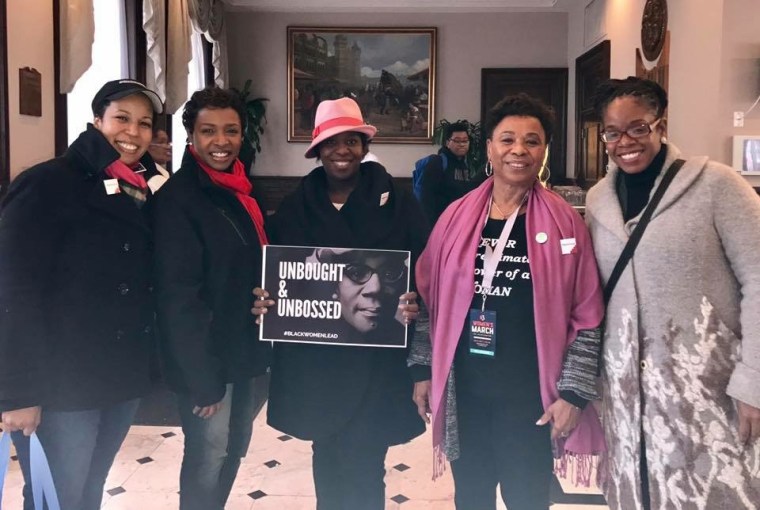 'Mobilize and Engage'
Glynda Carr, co-founder of New York-based Higher Heights, a national organization that seeks to harness black women's political power, said her participation at the Women's March in D.C. was both professional and personal.
Higher Heights was one of the march's official partners, and Carr said her organization "worked to encourage our members to participate in some capacity ... to ensure black women's voices were elevated."
"Personally, I'm not the type of person who historically marches," Carr admitted, but she said she felt compelled to participate this time around.
"As an African American woman, to be able to see the other African American women marching across generations, really brought me back to the 1913 Women's Suffrage March," she said, noting the march was the first official event attended by members of Delta Sigma Theta, a century-old sorority dedicated to the advancement of black women.
While Carr acknowledged the Women's March in D.C. and the many sister marches across the country and the world were "an opportunity to amplify voices in a very visual way," she said the "real work" must happen when attendees get back to their communities. She encouraged them to donate their voices, talents and financial resources to fight for causes they believe in.
"Higher Heights is marching forward, and we are going to mobilize and engage. Over the next couple of months, we'll be organizing a series of salon conversations about what we need to do to unleash black women's political power," she said, adding that black women are still "underserved and underrepresented" in the political realm.
"The other piece is continuing to grow and mobilize Black women's influences on elections," she said. "It's important that we acknowledge that democracy doesn't begin on election day, and there's much work to be done."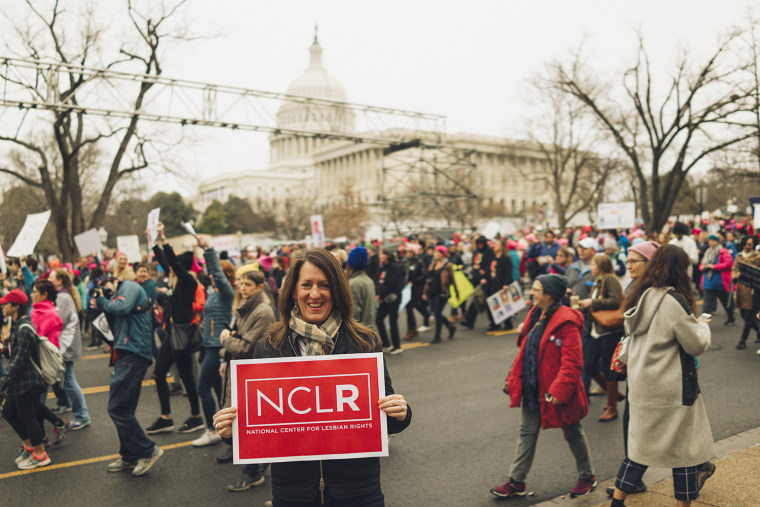 Create a 'Roadmap of Resistance'
Kate Kendell, executive director of San Francisco-based National Center for Lesbian Rights (NCLR), attended the Women's March in D.C. to, in part, witness the resistance first-hand.
"Since Trump's election, I've had dozens of conversations with people who are either terrified, distressed, angry or hopeless, and on every occasion I talked about the resistance I was witnessing, and what I was hearing around the country about how we were going to lock arms to protect the most vulnerable, and I just felt showing up at the march would be a manifestation of [that], and it was a moment both to walk the talk and see if what I believed was out there, in terms of resistance, was accurate."
While Kendell's organization is focused on fighting for LGBTQ rights, she said NCLR's purpose for having a presence at both the D.C. and Bay Area marches went beyond just LGBTQ issues.
Kendell said she hoped the momentum sparked by the marches is just the beginning of the "resistance."
"I hope and believe that everyone that participated in the march and all those who share the concerns and dedication of the marchers will wake up every single day and ask themselves what on that day will they do to resist," she said. "Today could be flooding Speaker Ryan's office with calls demanding they protect the Affordable Care Act. Next month it may mean for a lawyer getting trained to attend an ICE [U.S. Immigration and Customs Enforcement] hearing with a Muslim who is targeted or a DACA [Deferred Action for Childhood Arrivals] recipient who's targeted."
Kendell said her organization is already planning on how it can help build a "roadmap of resistance."
"We're looking at all sorts of ways we can use litigation to block some of the worst we expect this administration to attempt. In coalitions with organizations in all sorts of sectors, we want to help create that roadmap of resistance to engage all of our constituencies on how they can help, and we're going to deepen our work with state partners … even as we repel the most dangerous policies at the federal level."
'Take Back Our Country'
For Sung Yeon Choimorrow, interim director of D.C.-based National Asian Pacific American Women's Forum, her reasons for participating in the D.C. march were many.
"I feel like everything about me is at stake. I'm a woman, an immigrant, I'm a mother of a Korean-African American daughter, my husband is African American. Everything that is close and dear to me and that I am about has been either under attack or threatened, so there was no question about whether I was going to be participating," she said.
Choimorrow said the Women's March was also a high priority for her organization.
"It was a moment of uprising in our country, and as the only Asian American organization that focuses on progressive issues for women, girls and gender-nonconforming folks, it was important for us to help shape the narrative" she said. "We wanted to make it really clear that Asian Americans are part of this resistance movement, and we're not going to normalize this presidency."
While Choimorrow found the energy at the Women's March in D.C. to be "amazing," she described the event as a "mixed bag."
"There was not the same kind of drive and energy around issues that are really at the margins," she said, mentioning police brutality, Black Lives Matter and LGBTQ rights. "I felt the folks really at the margins weren't at the center, and when we center around the marginalized, we're all lifted up together."
Choimorrow stressed the weekend's marches were just "the beginning of a resistance" and not "the period at the end of the sentence."
"I really hope that every single person that participated across the country and the world is not going to go home and hang their pink hats up and retire their signs and roll up for the next four years," she said. "It's my hope that everyone who came out will embrace the issues that make life more challenging … I hope everyone can see those intersections and fight for justice beyond their own personal experiences, and see we're really not free until everyone is free."
"Stay politically engaged," she added. "Do what it takes to make our voices heard with our vote, our feet, our month … and take back our country."
Fight for 'Dignity and Justice'
Jessica González-Rojas, executive director of New York-based National Latina Institute for Reproductive Health, which co-sponsored the Women's March, said she headed to — and spoke at — the D.C. event because it was "an historic opportunity."
"So many people came out of this election just frightened and terrified and distraught, but the opportunity that came from feeling that was was that we have to do something, and I think that was an important sentiment to build upon," she said.
González-Rojas applauded the event for its diversity and intersectionality and said she hopes the unifying momentum continues.
"I hope that people don't stop at this march and people understand the urgency to remain engaged and continue to be part of a political system," she said.
Women's reproductive rights were among the main issues attendees at Saturday's many marches were advocating for, and González-Rojas said "among the most urgent issues" her organization will be fighting for going forward is the repeal of the "Global Gag Rule," a Reagan-era anti-abortion policy that Trump reinstated Monday.
Another measure she said her organization will be focused on going forward is DACA, which allows certain undocumented immigrants brought to the U.S. as children to receive deferred action from deportation and eligibility for a work permit.
While discussing her organization's work, which is dedicated to the rights of Latinas living in the U.S., González-Rojas said despite often being political "target," she wanted to underscore how "incredibly resilient and powerful" the Latina community is.
"We're often framed as victims, but we're actually agents of change," she said, "and at the forefront of fighting for dignity and justice."