Wildfires in at least three different areas of the Florida Panhandle, including one suspected to be caused by an "illegal burning," raged through the night Wednesday into Thursday morning, forcing the evacuation of over 1,000 homes.
High winds and dry conditions fed the blazes that burned dozens of buildings and scorched over 2,500 acres.
One of the blazes, the Five Mile Swamp Fire in Santa Rosa County, grew to almost 10 times its size on Wednesday night, burning more than 2,000 acres, the Florida Forest Service said in a statement. That fire, which began on Monday around Milton, Florida, just east of Pensacola, burned dozens of buildings and was only 20 percent contained on Wednesday evening.
The fire led to the shutdown of highways and the evacuation of over 1,000 homes as multiple crews, including 18 tractor units, worked to get it under control, according to NBC affiliate WPMI in Mobile, Alabama.
In nearby Walton County, Florida, a separate wildfire broke out on Wednesday, forcing the evacuation of 500 residents and burning 18 structures. Fifteen tractors were sent to the scene, the Florida Forest Service said early Thursday morning.
Walton County Sheriff Michael A. Adkins said early Thursday morning that the fire was expected to continue to burn throughout Thursday, and said it appears it was manmade.
"It boils down to an illegal burning," the sheriff said in a broadcast on social media, adding that he had been in contact with state agricultural law enforcement authorities and expected an arrest shortly.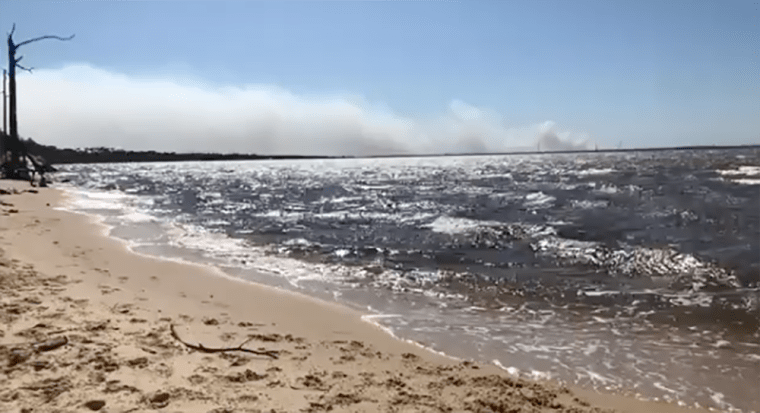 The South Walton Fire district said on Facebook that the fire in that county burned 575 acres and was 60 percent contained by around 2 a.m. Thursday, but the Florida Fire Service said in a tweet around the same time that the size and containment is "unknown."
Another, smaller fire of roughly 60 acres in Escambia County, at the state's northwestern edge, also burned on Wednesday, the Florida Forest Service said.
The blazes come amid dry weather that makes parts of Florida ripe for fires, with 50 percent of the state currently in a drought, according to the National Integrated Drought Information System.