A pastor in rural Illinois who has defied the state order against large gatherings during the coronavirus crisis says Gov. J.B. Pritzker is not going to stop him from preaching this Sunday.
"I will be in the pulpit preaching my heart out on Mother's Day," Stephen Cassell told NBC News.
But Cassell declined to specify whether his flock would be in the sanctuary of the Beloved Church in the tiny farm village of Lena like they were last Sunday. He said they got bomb and death threats after the church reopened for the first time since March 31. He said they held online services in the interim.
"I don't believe there is such a thing as an online church," Cassell said. "The definition of a church is a gathering. We had to forgo one of the core values of what we are."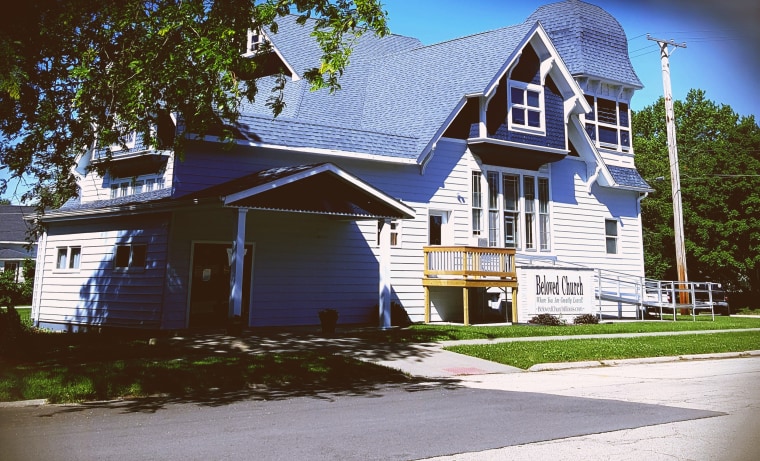 But Cassell suffered a setback last weekend when U.S. District Judge John Z. Lee rejected a bid for a temporary restraining order filed on behalf of the church by the Chicago-based Thomas More Society and upheld Pritzker's stay-at-home order as constitutional.
In his ruling, Lee noted that limiting gatherings to 10 people or going online are "imperfect substitutes for an in-person service where all eighty members of Beloved Church can stand together, side-by-side, to sing, pray, and engage in communal fellowship."
"Still, given the continuing threat posed by COVID-19, the Order preserves relatively robust avenues for praise, prayer and fellowship and passes constitutional muster," the judge wrote.
Lee also noted that Cassell's church held services on Facebook Live and via YouTube after it was hit with a cease-and-desist order on March 31 by the Stephenson County Department of Health. The judge urged the church to take comfort in Matthew 18:20.
"For where two or three come together in my name, there am I with them," the scripture says.
Cassell said the only reason they went online was to avoid fines and to hunt for a lawyer who will help them take this battle to the Supreme Court if necessary. He said their federal lawsuit prompted Pritzker to amend his April 30 order to declare churchgoing an essential activity, a fact Lee also noted in his ruling.
"How do you baptize somebody in water on Zoom?" he said.
Officers from the Lena Police Department were counting heads at the church last Sunday but did not intervene when the number exceeded the 10-person limit. And they will be back again this Sunday.
"The Lena Police Department will be documenting what is happening at the church, but there has been no determination about who would be enforcing the social distancing rules," said Lena Town Attorney Dominick Lanzito.
NBC News has reached out to Pritzker's office to see what steps they might take if Cassell again flouts the coronavirus order.
Cassell insisted he was not endangering his congregation. "Communicable diseases are older than our nation," he said.
Pressed to explain, Cassell said, "No. 1, we are trusting people with their personal liberty."
"Second, we provide a mask for every person who arrives at the church without one," he said. "Also, there is an organic social distancing that takes place in church. I will guarantee you that our church is safer than the gas station or the liquor store in town where 30 people are lined up and not wearing masks."
In addition, Cassell said, "there is plenty of room in our church for folks to spread around and be safe."
The church has two levels, with a balcony area overlooking the sanctuary and a multipurpose room where worshippers can follow the service on a TV screen.
This is not the only church-state legal battle that is being waged during the pandemic.
A Virginia church filed a federal lawsuit against Gov. Ralph Northam's social distancing order after its pastor was slapped with a summons for holding a 16-person service in early April. The Justice Department has filed court papers in support of the Lighthouse Fellowship Church in rural Chincoteague.
The best-known case involved a Florida mega-church whose pastor was arrested after he led a Sunday service at his sanctuary in defiance of a county stay-at-home coronavirus order. The pastor, Rodney Howard-Browne, threatened to sue but wound up caving after he was dropped by his insurance company.
It remains unclear who insured The River at Tampa Bay, but one of the biggest insurers of houses of worship in the U.S. is Church Mutual Insurance in Wisconsin.
"We have not cancelled or non-renewed any policyholder for failing to comply with social-distancing orders," company spokeswoman Jennifer Johnson said. "We have advised all our policy holders they should abide by the local rules and regulations."