The Illinois Supreme Court on Friday denied actor Jussie Smollett's attempts to thwart a felony court case against him, the second time he's been formally accused of lying about a Chicago hate crime he said took place early last year.
The clerk of the Illinois high court published a pair of terse notices, saying simply that Smollett's motions both to halt the case and to disqualify its special prosecutor have been denied. No explanations were given.
On Feb. 23, Smollett, known for his role as a gay musical prodigy on Fox's "Empire," pleaded not guilty to six counts filed Feb. 11 in a grand jury indictment.
Smollett is accused of alleged disorderly conduct for allegedly lying to police on Jan. 29, 2019, when he said two men using racist and homophobic slurs attacked him at 2 a.m. near his apartment in Chicago's Streeterville community.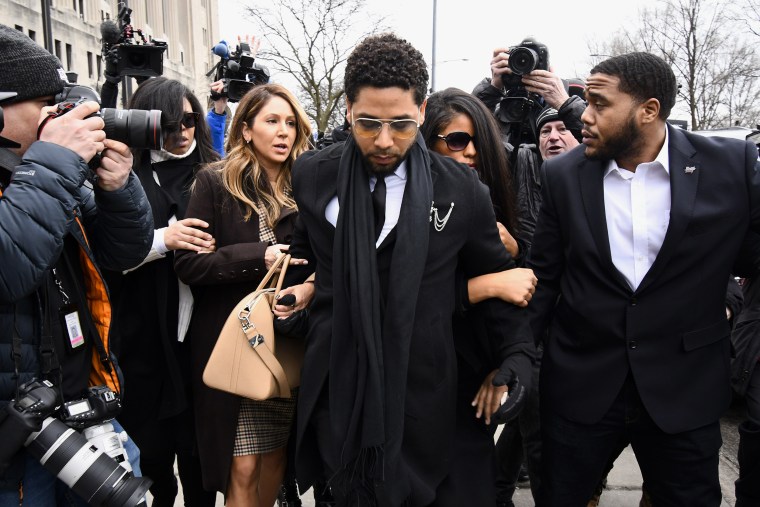 "Motions for supervisory orders are extraordinary remedies and not usually granted," William Quinlan, an attorney for Smollett, said in a statement. "We believed the unique circumstances of this case warranted filing the motion. We will now follow the standard appellate procedure."
Then-Chicago police Superintendent Eddie T. Johnson claimed last year that Smollett staged the attack to "promote his career."
But on March 26, 2019, Cook County State's Attorney Kim Foxx dismissed 16 felony counts of disorderly conduct against Smollett filed just a few weeks before. That case also claimed the actor made up the early morning attack.
The dismissal stunned many in the legal community, especially after Foxx initially recused herself from the case because she said she had contact with one of Smollett's family members about the case.
At the time, Smollett agreed to community service and to forfeit his $10,000 bond, paid after his arrest in February 2019. The Cook County State's Attorney's office said the dismissal "did not exonerate" him.
Last month, Smollett's legal team argued in an emergency motion that a Cook County judge's appointment of a special prosecutor in August was legally precarious, particularly after all that happened in 2019.
The actor, who is African American and gay, told police last year that his attackers wrapped a rope around his neck and poured a chemical, possibly bleach, over him.
Police said Smollett paid brothers Ola and Abel Osundairo, who have ties to "Empire," $3,500 to attack him.
He was written off the last season of "Empire" after doubts about his story surfaced.