There are only two kinds of people, the saying goes, the Irish and those who wish they were.
Shannon P. O'Malley, who is running to be a judge in suburban Chicago, seems to fit into the second category.
For, despite the name, O'Malley doesn't appear to be all that Irish.
O'Malley is a 55-year-old Chicago guy formerly named Phillip Spiwak who insists he is not trying to pull the wool over voters' eyes.
"I changed my name out of respect for my mentor and surrogate father, who passed away due to cancer," O'Malley told NBC News. "I lost my parents at a young age, and he helped me during difficult times."
But experts on Chicago's notoriously sketchy politics say O'Malley appears to following in the footsteps of other wannabe judges in the city and passing himself off as Irish ahead of next month's Democratic primary.
"It seems like a naked attempt to improve his electoral prospects," said State Sen. Don Harmon, a Democrat who represents Oak Park, Illinois — and is co-sponsor of a bill that was specifically designed to keep faux-O'Malleys off judicial ballots.
O'Malley, who is a lawyer, officially changed his name on Sept. 26, 2012, according to court records. The new law, which would have required O'Malley to have both his new and old names on the ballot, only applies to candidates who changed their name within three years of an election.
Adding another layer to the deception, Harmon said, is that "Shannon is a name that could be a man or a woman, and that is clearly part of the calculus here as well."
"Women do fare better on generic ballots," he added.
If it is a deception, it's one that has worked in the past.
"This is an actual strategy," said Dick Simpson, a former Chicago alderman and a University of Illinois-Chicago professor. "It is done frequently in judicial races in Chicagoland."
It has also become political lore in Chicago that a candidate with an Irish name — especially a female-sounding Irish name — can count on garnering at least 5 to 10 percent of the vote in judicial races — and that "can put a candidate over the top," Singer said.
So, since the 1980s, voters have been electing judges in Cook County with Irish names who aren't really Irish, he said.
"It is not good, but it is legal," Simpson said of the green strategy. "I don't know of it being common elsewhere in the country, but it's been true in Chicago for a while."
O'Malley, a married dad who lives in the Chicago suburb of Aurora, declined in a brief telephone interview with NBC News to say whether his mentor was a Shannon or an O'Malley or whether he has any Irish in him at all. "That's personal, you know," he said.
Nor would O'Malley answer when asked point-blank if he changed his name to something Irish and gender neutral to win a seat on Cook County's 13th judicial subcircuit, a six-year term with a $198,075 annual salary.
But this is not the first time O'Malley has run for judge.
In 2001, O'Malley ran unsuccessfully as Spiwak — and as a Republican — for judge in another Illinois county.
Spiwak, according to the Dictionary of American Family Names, is an Ashkenazi Jewish name from Eastern Europe.
"It had always been accepted as fact that an Irish name is a big advantage in Cook County, and the election results in the county's history certainly bear that out," said research analyst Albert Klumpp.
Klumpp would know. An expert on Cook County judicial elections, Klumpp crunched the numbers for a study that was published by DePaul University and titled, "Judicial Primary Elections in Cook County, Illinois: Fear the Irish Women!"
"In contested elections, a name like O'Malley could give a candidate an edge," Klumpp said. "The only thing is he's running as a Democrat in a subcircuit that is heavily Republican. If you're going through the trouble to change your name, you'd expect to get a big electoral payoff. He's running in an area that's never elected a Democrat."
The area in question includes the Chicago suburbs of Schaumburg, Palatine, Wheeling, Hanover and Barrington. O'Malley's practice is in Schaumburg.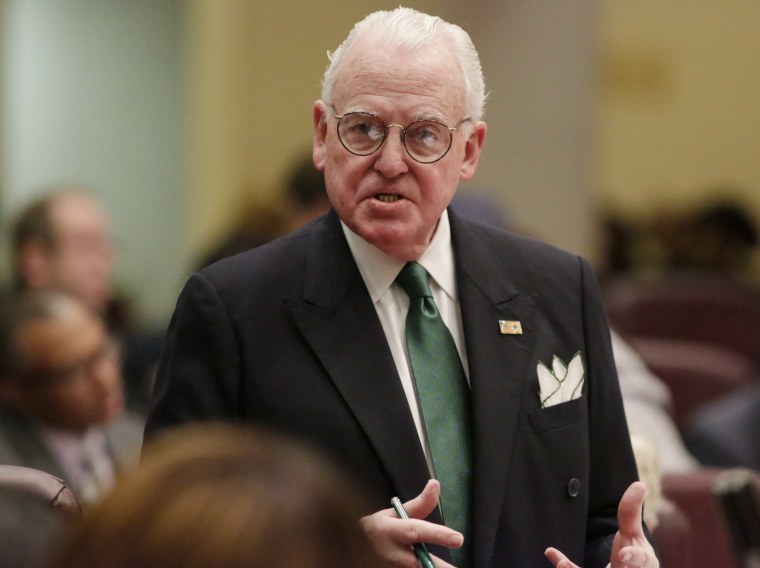 Why do Irish names give candidates an electoral advantage in metro Chicago — a part of the country where far more voters trace their ancestry back to Warsaw, Hamburg, Palermo and Africa than Killarney? That question has been debated for generations.
In 1989, an African-American politician, R. Eugene Pincham, groused — after an unsuccessful bid for Cook County Board President — that everybody votes for the Irish.
''The Polish-Americans vote for the Irish,'' he said. ''The German-Americans vote for the Irish. The Swedish-Americans vote for the Irish. The African-Americans vote for the Irish. And the Irish-Americans vote for the Irish. It's no wonder they win.''
And Alderman Ed Burke, whose grandparents were born in Ireland and who has been representing his corner of Chicago's southwest side since 1969, claimed to The New York Times in 1990 that the Irish are just better politicians.
''People know that the Irish are inherently skilled at politics and government,'' he said. ''So when voters see an Irish name on the ballot, they're comfortable with that."
Harmon said there may be something to the notion that Irish names are more likely to resonate with voters.
"I think they are more familiar to more people than maybe an Eastern European name, which might be harder for some voters to pronounce," he said.