The mayor of a southern Illinois city said his wife was among a group of people who violated the state's stay-at-home order to hang out at a local bar.
On Sunday morning, police in Alton, near the Missouri border, broke up a gathering at Hiram's Tavern that was "clearly disregarding the executive order and public pleas for compliance," the police department said in a news release.
Police did not say how many people were at the bar and did not name any of the violators. But Mayor Brant Walker said in a Facebook post Monday that his wife, Shannon Walker, was among those who got in trouble.
Full coverage of the coronavirus outbreak
"I was made aware that my wife was in attendance at this prohibited social gathering. I instructed the Police Chief to treat her as he would any citizen violating the 'Stay At Home' order and to ensure that she received no special treatment," the mayor wrote, saying he was embarrassed by the incident.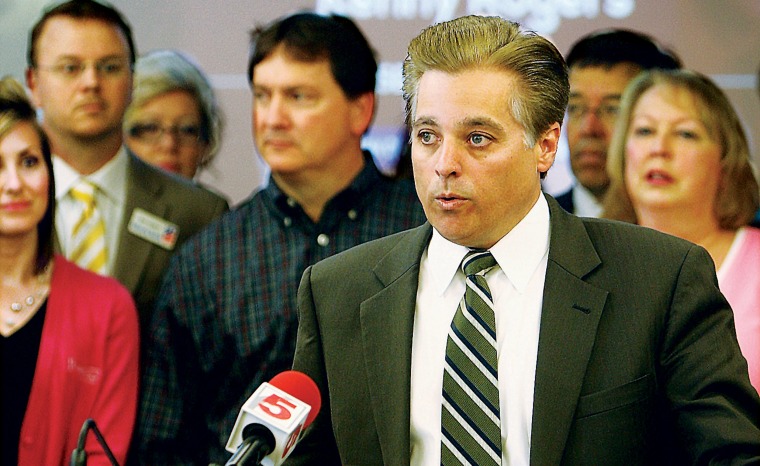 "My wife is an adult capable of making her own decisions, and in this instance she exhibited a stunning lack of judgment," he said. "She now faces the same consequences for her ill-advised decision as the other individuals who chose to violate the 'Stay at Home' order."
Walker said he told police Friday to begin more strictly enforcing the governor's order after he received reports that people in Madison County were continuing to gather. The mayor apologized for his wife's actions.
"My first and most important priority is the safety and well-being of the citizens of Alton. We are in the midst of a national public health crisis, and I will continue to do everything in my power to ensure that your health is protected, including enforcing the Governor's statewide 'Stay At Home' order," he said.
Police said they had received several complaints that Hiram's Tavern was continuing to operate on the weekends. Illinois Gov. J.B. Pritzker issued a stay-at-home order March 20 and said all nonessential businesses must cease.
Officers had previously investigated the bar but found no unauthorized activity. On Sunday, a group had gathered inside the bar "in an area outside public view," police said.
Officers issued criminal complaints for misdemeanor reckless conduct. Each person at the bar Sunday will be summoned to court later, police said.
Download the NBC News app for full coverage and alerts about the coronavirus outbreak
Two of the people, including owner Hiram Lewis, had warrants. Lewis, who had an arrest warrant stemming from a domestic battery incident, was arrested and taken to jail.
"If members of our community will not protect each other, and will be so brazen as to gather in public places, we will be forced to take action like we did this weekend without hesitation," Police Chief Jason Simmons said in a statement.
There are more than 12,200 confirmed cases of the coronavirus in Illinois, according to the state Public Health Department. Madison County has 52 cases.