Soon after tumbling off his small fishing boat 9 miles off the east coast of Florida last Wednesday, former Miami Dolphins fullback Rob Konrad figured he didn't have long to live. A lifelong boater, he'd taken enough safety classes to know that he had about two or three hours in frigid late-afternoon waters before hypothermia or cramping set in. He scanned the horizon and saw no other boats. So he looked at the sun, pointed himself west, and began to swim.
Konrad, who is 6 foot 3 and more than 250 pounds, had set out from Boca Raton alone to get his 31-foot Grady-White serviced about 30 miles north in Riviera Beach. On the way, he'd started to fish, but a sudden wave knocked him overboard, and his boat, on autopilot, motored out of reach, he said. He wasn't wearing a life vest. He had no way to send an SOS. "I didn't think I was going to be found," Konrad said Monday during his first public comments on the ordeal.
He swam. The sun went down. Sharks circled him and jellyfish stung him, he said. He thought about his wife and young daughters. He prayed for help. "After some time I just said, 'Look, I'm not dying tonight and I'm going to make it to shore,'" Konrad said. About 10 hours in, he came within 50 yards of a recreational fishing boat and later found himself under a Coast Guard helicopter, he said. No one noticed him. "I realized at that point I was on my own," he said, his voice choking with emotion.
Then he saw lights on the horizon. Later came the sound of waves crashing on the shore. At about 4:30 a.m., after 16 hours of nonstop swimming, he washed up in Palm Beach, his body shaking too much to walk, he said. He warmed himself in the sand, then staggered to a nearby house, where a police officer summoned help. Konrad was treated at a nearby hospital for hypothermia and dehydration, and still appeared weak at the news conference, where an assistant had to help him climb a short row of steps. "I ended up in a boater's nightmare," he said. "And I was lucky enough to survive."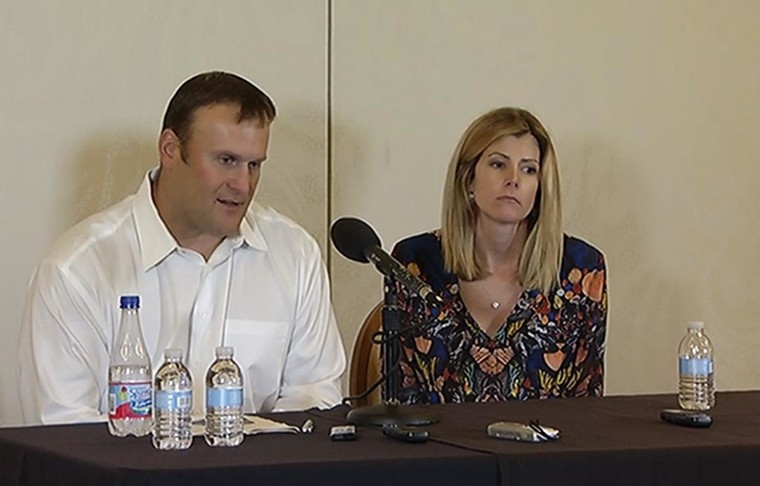 IN-DEPTH
— Jon Schuppe