A father-of-three in Washington state who called 911 simply to report a trespasser was "hand-delivered" by local police into the custody of federal immigration officials, his lawyer charged on Tuesday.
Wilson Rodriguez, 32, called police early last Thursday morning after he saw someone trespassing on his property and looking into his car and house in Tukwila, Washington, attorney Luis Cortes told NBC News.
"He became very nervous for the safety of himself and his kids and called police," Cortes said, adding that Rodriguez had had previous problems with attempted break-ins at his home.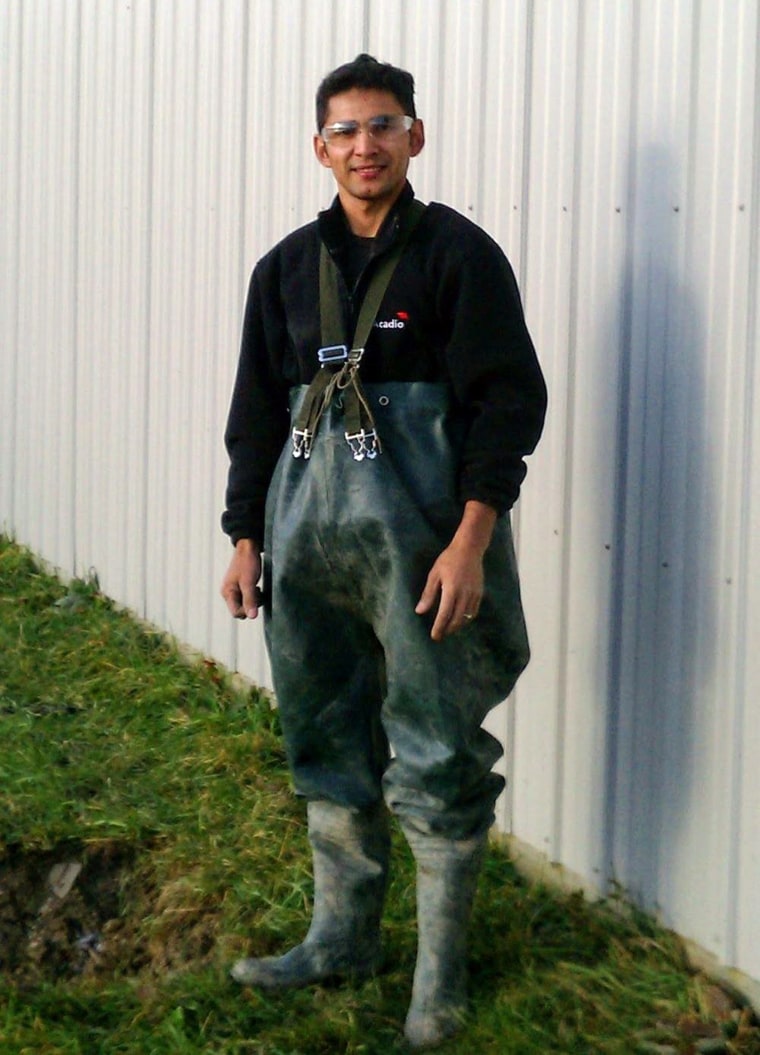 An hour later, officers from the Tukwila Police Department drove Rodriguez to a U.S. Immigration and Customs Enforcement field office, Cortes said, in a case that advocates believe could make both documented and undocumented immigrants hesitant to report crimes in the future.
"They hand delivered him right to their office and from there he was processed and taken to the Northwest Detention Center, one of the largest in the country," Cortes said. "He's being held there now without bond. ICE has refused to release him."
Cortes said Rodriguez is now facing deportation. He has no criminal record after coming to the United States in 2004 after fleeing violence in Honduras, he said.
Related: Another judge blocks Trump administration from ending DACA program
In an initial statement Thursday night, the TPD said officers responded to a report of a suspicious person and found someone trespassing on the reporting party's property.
The officers said they did not have probable cause to arrest the trespasser, according to Cortes.
The police statement said officers discovered "an outstanding warrant issued" by ICE when "during our normal process of verifying identities."
"Officers confirmed with the issuing agency that the warrant was valid and transferred the individual with the warrant" over to ICE, the statement said.
In a follow-up statement Saturday, the department said that the chief of police issued a directive that "going forward, officers will not be responsive to administrative warrants issued" by ICE, "nor will it collaborate with the agency."
The officers "believed that they were executing a valid order from a judge in the form of a criminal warrant," the statement said.
Related: Lawyers say Kansas professor was on plane being deported when judge granted temporary stay
"It was later determined that the warrant in question was administrative in nature and that it had been entered in the National Criminal Information Center (NCIC) database the same way a criminal warrant would have been entered," the statement added.
A ICE spokesperson said in a statement to NBC News on Wednesday evening that Rodriguez came into ICE custody on Feb. 8 "after a federal law enforcement database revealed he had an outstanding" warrant of deportation.
Rodriguez "has been an ICE fugitive since April 2005 when a federal immigration judge issued him a final order of removal, and he did not depart the U.S.," spokesperson Yasmeen Pitts O'Keefe said in the statement, adding that he will remain in ICE custody "pending deportation to Honduras."
Multiple messages left with the Tukwila Police Department were not returned Tuesday.
Immigration attorneys like Cortes and advocates say the problem with those ICE detainers is that they are not reviewed by a judge or neutral party.
"The principal is that you have a neutral decision maker that looks at the allegations and whether or not this person is actually in violation of the law," said Grace Huang, an advocate and policy director at the Asian Pacific Institute on Gender-Based Violence. The ICE detainers don't have "a neutral party looking to see whether ICE has established sufficient basis to detain someone," she said.
The police department said they verified with ICE that administrative deportation orders of removal "are in fact being entered into NCIC the same way criminal warrants would be and that we may be encountering more of these types of warrants in the future."
Cortes said the police statement "provides very little comfort" and called the incident shocking.
"This is the first time I've ever heard about a police officer volunteering to take someone directly to ICE," he said.
Stories like Rodriguez's could make victims of crimes, including victims of domestic violence and other violent crimes, less likely to trust and seek out law enforcement, Huang said.
Related: Senate tackles immigration, but House will be the biggest hurdle
Rodriguez was first detained in 2004 and after his release did not receive a notice for an upcoming court date, Cortes said. After he missed the court date, a judge ordered a deportation order in absentia, he said. Cortes said he is working to ask an immigration court to consider reopening his case.
Cortes said Honduras has become more violent since his client left. Rodriguez's brother was murdered by gang members and a close friend of his was killed "and chopped up into pieces," he said.
Rodriguez was slightly too old to qualify for Deferred Action for Childhood Arrivals (DACA), he said. The case is personal for Cortes — who is himself a DACA recipient.