A key pillar of President Barack Obama's legacy on immigration crumbled on Thursday, leaving little time for the president to rebuild in the waning days of his administration.
The near-fatal blow came out of a split Supreme Court decision on Thursday, which kept Obama's executive actions on immigration frozen in an ongoing legal battle, preventing the president from offering a lifeline to millions of undocumented immigrants.
The programs, known as DAPA and expanded DACA, were designed as the cornerstone of Obama's legacy on immigration. They emerged as a model for his would-be Democratic successors to build upon out on the campaign trail. Policy advocates hoped they would serve as a launching board for Congress to take on the broad issue of comprehensive immigration reform down the road.
Instead, Obama's pair of deportation relief plans are imperiled, and likely won't go into effect before he leaves office.
Related: Supreme Court Tie Dooms Obama Immigration Policy
Obama fiercely defended the programs to the public just hours after court's decision was announced, expressing his frustration over not just the court split, but also for Congress' refusal to pass comprehensive immigration reform.
"This doesn't just set the system back even further, it takes us further back from what our country aspires to be," Obama said during a press conference on Thursday.
It is a disheartening turn of events for a president who claimed legislative inaction compelled him to offer a temporary fix to the country's festering immigration problem.
Obama unveiled DAPA and the expanded DACA in November 2014, just months after immigration reform sputtered to a halt in Congress. Together the actions would benefit more than 4 million undocumented immigrants, offering temporary work authorization and a shield from deportation.
The programs were a dramatic policy course correction for Obama, who has a complicated record on immigration. While his proposed executive actions would have had a seismic impact for millions of undocumented immigrants, he has also deported more people than any other president in U.S. history.
DAPA was a particularly meaningful executive action for the immigrant community since it was anchored to the promise of keeping families together. Undocumented parents, many of who have lived in the U.S. for years, even decades, could suddenly provide for their families and legally find work. Their U.S.-born children would no longer have to fear that their family would be deported.
But the programs became tied up in a tense legal battle almost immediately after the president unveiled them to the public. Twenty-six Republican-led states swiftly took the feds to court over the actions, questioning the president's authority in taking such sweeping initiative. A Texas judge put a temporary injunction to prevent the programs from launching, a decision that was later affirmed by an appeals court and will now remain in place after Thursday's Supreme Court split.
This is not the end of the road for Obama's executive actions. However the circumstances and timing don't bode well for the current administration.
The full case is still alive in the lower courts and waiting to be litigated, though it's highly unlikely that these lower courts would reverse their previous stance on the execution actions. That leaves almost no chance that Obama would see his landmark programs implemented before he leaves office.
Obama emphasized on Thursday that his previous action benefiting undocumented immigrants brought to the U.S. as children, the original DACA that was enacted in 2012, remains unscathed by the Supreme Court's split decision.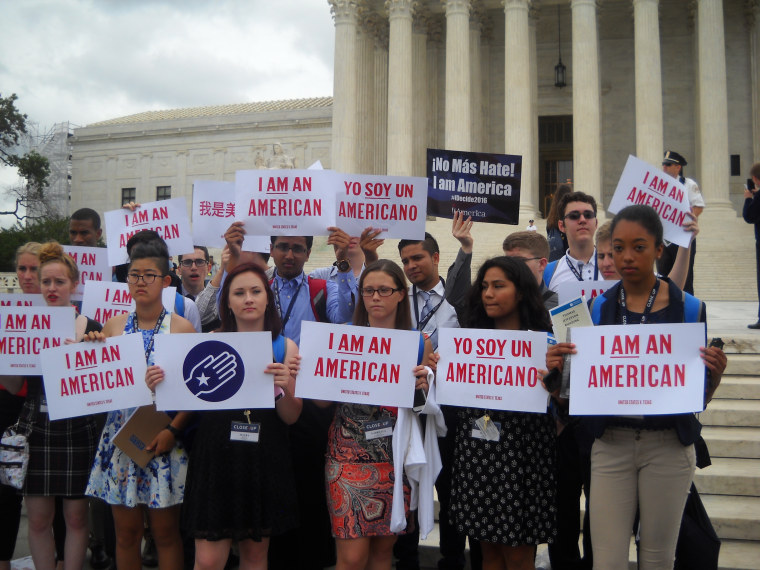 The decision would also not affect the administration's enforcement priorities, which placed undocumented criminals and recent border-crossers as priority for deportation. Families, particularly those who would have qualified for DAPA, would not be removed from their homes.
With pieces of Obama's immigration actions still intact, this leaves an opening for his successor to stitch together the rest. Presumptive Democratic presidential nominee Hillary Clinton indicated on Thursday that if elected in November, that's exactly what she'd do.
The reason the court was split was because the bench is still short a member months after Justice Antonin Scalia's death. The full legal challenge to the president's executive actions could reach the Supreme Court again. And by that time, if a Democrat-appointed justice is on the bench, the odds stack in Obama's favor that his executive actions could finally move forward.
In other words, there's a chance that the legacy that Obama hoped for could still carry on. It's just out of his hands.