The telephone rang just past 3 o'clock on an April morning, piercing the silence of the darkened Long Island home where James McGlone and his wife slept. When he picked up the phone, McGlone was drowsy and disoriented, but the voice on the line made his stomach drop, jolting him awake.
The late-night caller said McGlone's nephew was in legal trouble and needed immediate financial assistance. He'd been in a car accident that had caused the other driver — a pregnant woman — to lose her baby. Thinking his nephew's future was on the line, McGlone didn't hesitate to send the cash.
"If he was in trouble, we were going to try to do what we can," McGlone said. "And it's a weakness. I guess we just weren't thinking clearly."
Across the nation, crimes of fraud targeting senior citizens are on the rise, and many of the attempts have become more advanced through the use of new technologies. In 2019, the Federal Trade Commission, or FTC, reported that imposter scams, which involve impersonating a person or an entity, were the most common type of fraud in the United States. Reports have almost doubled since 2016, according to the FTC, reaching a high this year of more than 512,000.
Older people and retirees are particularly at risk — they're often explicitly targeted and tend to be swindled out of much higher amounts than other age groups. Almost $149 million was reported in imposter scam losses by those over the age of 60 this year, FTC data show. With little or no way to work to earn back their money, victims are often left with few options after having been conned out of their life savings.
That is exactly what happened to McGlone. After reaching out to his nephew directly, he soon learned that there had been no accident, no victim, no danger at all. Instead, he had sent $22,000 — nearly all of his life savings — to someone running what's known as a grandpa or grandma scam.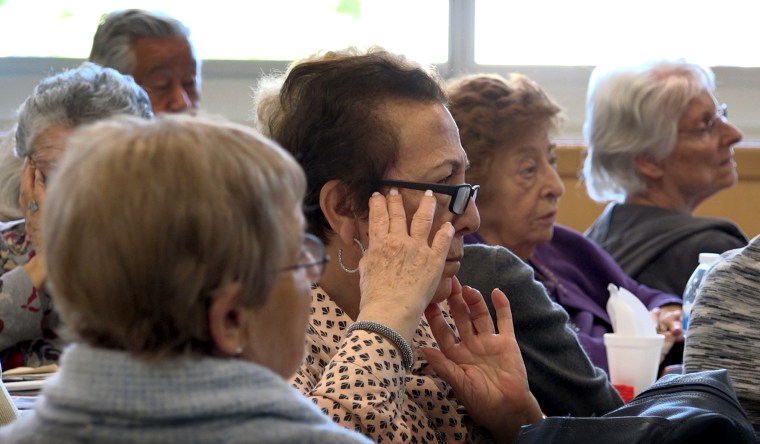 Although he filed a police report that week, authorities have yet to catch the culprit or recover any of McGlone's money.
"They're retired, you know. They lost everything," said Sharon McGlone, McGlone's daughter, who set up a GoFundMe page for her parents. "And so they're still struggling with paying the bills and everything."
A global problem
In June, the Justice Department announced creation of the Transnational Elder Fraud Strike Force, responsible for "investigating and prosecuting individuals and entities associated with foreign-based fraud schemes that disproportionately affect American seniors." The team is a coordinated effort of the FBI, the Justice Department, the Secret Service and numerous other organizations.
But finding offenders is no easy task. They operate in organized groups and have developed sophisticated ways to avoid being caught.
"Historically, this type of crime was sort of small groups operating and using the limited skill sets that they have," said Matt O'Neill, a Secret Service agent who manages the Global Investigative Operations Center. "Those days are over, because cybercrime is a service now."
In the past few years, fraudsters have started to use "money mules" used to trafficking money overseas, according to the Justice Department.
Money mules come in several categories. Most often, they are knowing co-conspirators who have been recruited to collect and send money or they are unwitting victims who have been tricked into moving money under false pretenses, according to the Secret Service. Unwitting mules can fall prey to con artists posing as businesses that hire people to work from home, or they're told that they've won the lottery and just need to send the fees to receive their winnings.
In early December, the Justice Department and Europol, the European Union law enforcement agency, announced a "landmark" international effort that halted a major network of fraudsters. From September to November, 600 money mules were stopped, compared to 400 in a similar effort last year. Multiple law enforcement agencies were involved, including members of the Transnational Elder Fraud Strike Force.
"There were law enforcement authorities in 31 countries that stepped up to crack down on money mule schemes, which is pretty significant," O'Neill said. "You don't see that all that often, which goes to the heart of the problem: that it is a worldwide problem."
Older victims, newer tech
In America, older people are hit particularly hard. In family or friend imposter scams targeting seniors over 80, like McGlone, the median amount lost this year has been $6,500.
Associate Deputy Attorney General Antoinette T. Bacon said one reason older people are targeted is "that's where the money is."
Retirees like McGlone tend to have much more put away than younger people, Bacon said.
"I think a second is they're not as technologically savvy as millennials or generations who grew up with computers," Bacon said, citing social isolation and loneliness as reasons seniors are more susceptible to engaging with scammers.
Such criminals are constantly evolving their tactics.
Lorraine Cortés-Vázquez, commissioner of New York City's Department for the Aging, said, "We have to almost keep ahead of the curve on these technologies and these approaches that they're using so that we can educate the public on them."
Cash scams, like the one that targeted McGlone, have been replaced with less traceable forms of extortion. In recent months, gift cards have taken over as a popular form of payment, the New York attorney general's office said. Scammers request that the serial numbers on the back to be sent to them, allowing for the money to be transferred without a trace.
Fraudsters are also using sophisticated increasingly technology. Robocalls have exploded because they require less time, effort and money, said Lois Greisman, associate director of the FTC's division of marketing practices. Spoofing technology has rendered caller ID untrustworthy, while malware opens a slew of options to criminals.
Dangers in popups and webcams
Merri Berg, 70, a retiree living in Federal Way, Washington, was the target of one such tech support scam. While she was playing an online game, a screen popped up telling her to call Apple immediately or risk being blocked.
"I get the number and I get an agent who sounds like an Apple agent," Berg said. "I mean, he's asking me all the right questions."
Posing as a customer service agent, he instructed her to drive to a store and buy an Apple gift card.
"I went down there, and I ended up taking a picture of the back of that card, which has the number on it, for $200 and sending it to him," Berg said. When the scammer called back and asked for $500 more to fix a new problem, she realized that it had all been a trick.
But such grifters can use malware for much more than faking popup windows.
"Being able to remotely and maliciously access webcams is part of the toolkit of hackers who are looking to scam people," said Sandy Silverberg, president of the technology consulting firm TEConsult. According to Silverberg, hackers do it using software called a remote access trojan, commonly called a RAT, which can accidentally be installed through infected email links and internet downloads. Once in, the programs can also remotely access and control your computer.
Silverberg was a consultant to FirstLight, a home care company in New York, when one of the company's clients was spied on through her webcam. The scammer had tried to use details about the interior of the client's home to convince her that he was her nephew. FirstLight owner David Martin knew his client didn't have a nephew and reached out to Silverberg.
Silverberg told Martin that his client was likely being spied on through her laptop camera.
"He actually told me now that they're spying on her and this is very common with the elderly," Martin said. "It's growing."
Martin's solution was low-tech: He made it a policy to give all his clients webcam covers.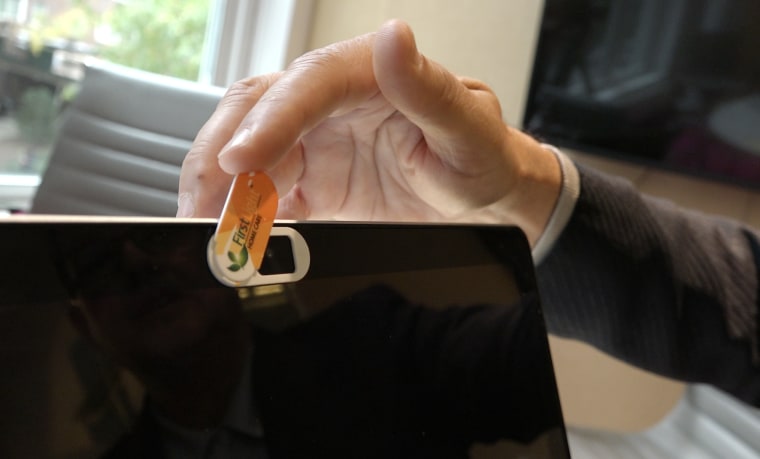 According to the FBI, fraudsters can use malware to gain full access to computers, including webcams.
Scammers will then extort victims, saying, "I collected all your private data and I recorded you pleasuring yourself, or doing something terrible, or whatever it is, through your webcam," FBI Special Agent Mike Braconi said. "And you pay the X amount of Bitcoin."
Catching the con
For the authorities, it's like whack-a-mole trying to catch the criminals swindling billions from the nation's elderly.
"We're making a concerted effort to go after the networks to try to take down the networks, and not in a piecemeal approach," O'Neill said of the Secret Service's tactics. "Because what we've found is if we just take one individual out, somebody else will fill in that role. We have seen a change in the bad actor operations knowing how we are targeting them, which is good, because it continues to make them uncomfortable."
According to Bacon, sometimes the only hope of financial recourse lies in the fraudster's being caught and charged. But even when they are, in many cases, "the money is long gone," Bacon said.
Timely reporting is the crucial first step. However, only 1 in 44 victims even files a report, according to the New York attorney general's office.
"Law enforcement is definitely still losing the fight, because the problem is the speed in which it needs to be brought to the attention of law enforcement has to be no later than 72 hours," O'Neill said. "But typically, to have any success, it's within the first 24 hours."
But shame frequently stops victims from reporting at all.
For McGlone, the ordeal resulted in serious financial loss, and it also damaged the faith he had in himself.
"I'm embarrassed to talk about it," he said. "I'm sure it upsets my family, as well."
Bacon said one of the major challenges her agency faces is that older victims are reluctant to report the crimes out of fear of losing their autonomy.
"They are afraid that their children are going to take away the car keys, take away the checkbook, move them in," Bacon said. "They're also concerned because they're a proud generation and don't want to be a burden to their family."