A former Indiana fertility doctor who is accused of using his own sperm to impregnate at least eight of his patients is facing felony charges.
Dr. Donald J. Cline, 77, was charged in in Marion Superior Court Friday with two felony counts of obstruction of justice, according to court documents. He appeared in court Monday and was released on the condition that he return for a court date on Oct. 17, the documents said.
He pleaded not guilty to both charges, according to a statementprovided to NBC News by his attorney.
Suspicions of Cline's unprofessional conduct arose in 2014 when an Indiana woman took a DNA test with the at-home saliva-based genome test service 23andMe, according to a probable cause affidavit filed Friday.
Related: 23andMe Relaunches Consumer DNA Testing Service
The woman, surprised to find that she was related to eight other users on the website, reached out to a local news station, which connected the relatives, ordered subsequent DNA tests and confirmed the eight were siblings, the affidavit said. Investigations by the news station also revealed that the mothers of the siblings had all been artificially inseminated at Cline's clinic in the span of eight years beginning in the 1970s, the document stated.
None of the siblings are identified in court documents.
When first contacted, Cline, who said he retired in 2009, claimed that he had only used donated sperm from dental and medical students, the affidavit said.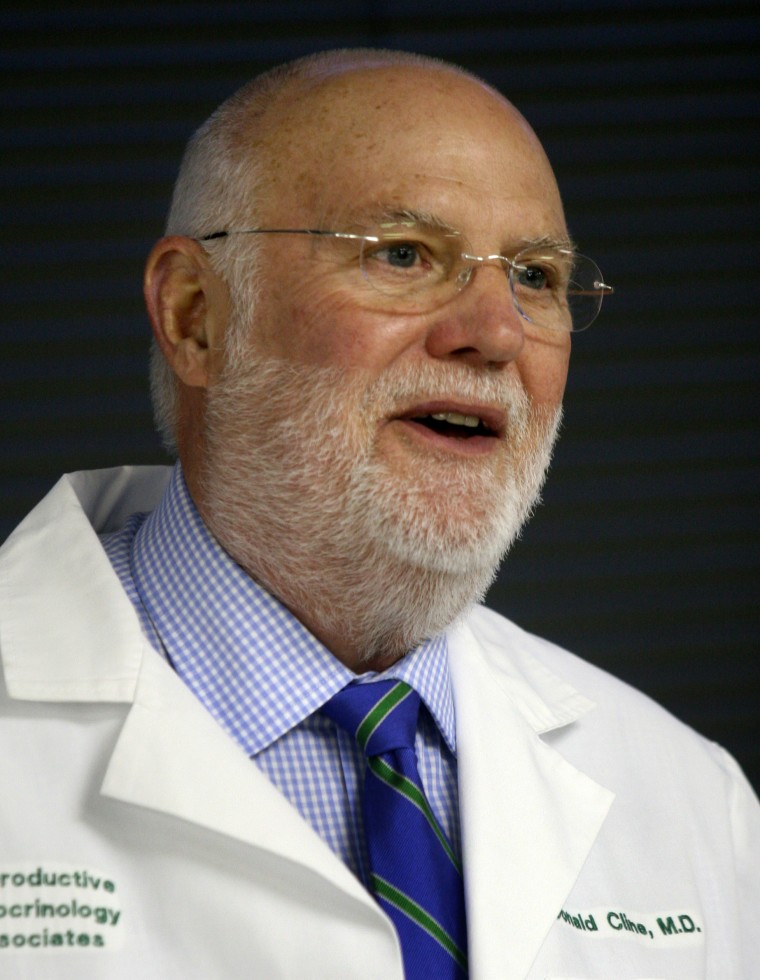 But the siblings didn't buy his story, in part because a medical student would not have been allowed to donate sperm more than three times and because of the unlikelihood that he would have been available to do so over an eight year span, the document said.
Four of the siblings filed complaints with the Indiana Attorney General's Office in hopes of finding more answers. Cline was asked to provide signed and legally binding written responses to the complaints, which he agreed to.
"I can emphatically say that at no time did I ever use my own sample for insemination," Cline wrote in response to the complaints, accusing those who filed them of slander and libel, according to the affidavit.
His attorney noted that the charges brought Monday "arise solely from his written response to inquiries from the Indiana Attorney General's office and nothing more. He is not accused of hiding documents, influencing witnesses or otherwise not cooperating with the AG's investigation." The statement added that they would not comment further since the case is ongoing.
During an in-person meeting with one of his accusers early this year, Cline admitted to donating his own sperm at his clinic. Cline said he hadn't done it more than eight times, according to the affidavit. He later told a reporter that he had used his own sperm nine or 10 times.
Related: Study: Fertility treatments may raise risk of ovarian cancer
Three months later, he sat down with six of the siblings and amended his story again. He said he had used his own sperm at his clinic about 50 times, according to the affidavit.
Cline said during that meeting that he "felt he was helping woman because they really wanted a baby" and "felt pressured to use his own sperm because he didn't always have fresh sperm," the affidavit said.
Cline told the siblings that he knew what he did was wrong, adding that "if he would have known that DNA (testing) would have come this far and this would have come out, he would not have done it," according to the affidavit.
Cline's alleged admissions were brought to the attention of an Indiana prosecutor who obtained a search warrant for Cline's DNA in July of this year, the affidavit said.
Three of the accusing siblings were also swabbed, and Cline was paternally matched to two of them with probabilities of 99.9997 percent and 99.998 percent,
It's unclear whether Cline was matched paternally to the third sibling or why the five other accusing siblings weren't tested.
The two matches, however, led to the felony charges accusing Cline of presenting false documents with the intent of misleading authorities during an official investigation, according to Marion Superior Criminal Court charging documents.