A deputy constable in Indiana has been fired after he was seen in a viral video confronting two black men in a store parking lot for "acting suspicious."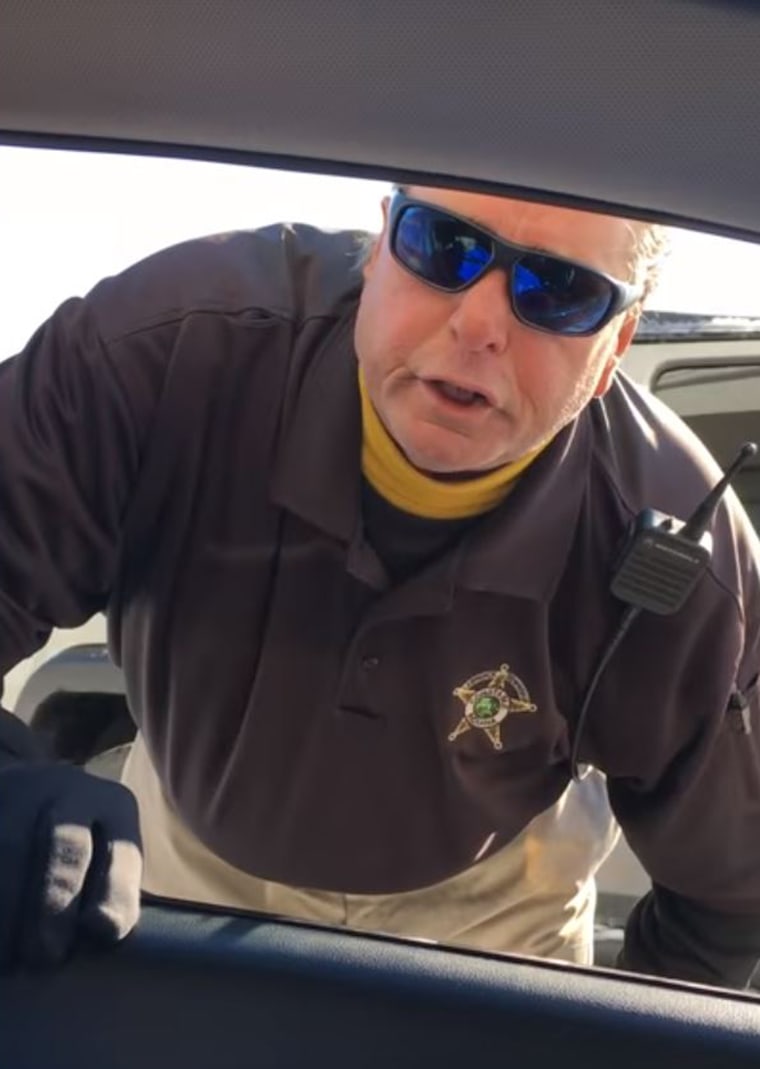 In the video posted to YouTube on Nov. 13, the description says the two men first noticed the officer watching them while they were at a Nordstrom Rack store in the Castleton neighborhood of Indianapolis.
"He watched us buy everything, and then followed us to the car," the YouTube video description says.
According to the description of the 17-minute video posted a day after the incident, which has been viewed more than 300,000 times as of Tuesday morning, the men started filming when they began to exit the parking lot and the officer screamed he was going to run their plates.
"So, we circled back to ask him why he was being invasive and abusing his authority!" the description says.
The men repeatedly ask the officer, identified as Lawrence Township Deputy Constable Daryl Jones by NBC affiliate WTHR in Indianapolis, why he approached them in the parking lot and why he wanted to see their driver's licenses. They also request multiple times that he call his supervisor.
NBC News attempted to reach the two men confronted by Jones in the video, identified by local news stations as Aaron Blackwell and Durell Cunningham, at numbers listed for them but did not immediately hear back.
Jones was off duty and working security for the Nordstrom Rack store. The store told NBC News on Tuesday that he no longer works there.
"I'm not calling the supervisor," Jones says, to which one of the men says: "You're not pulling me over neither."
"What do you need my I.D. for, sir?" one of the men asks Jones.
"Because you want to run your mouth," he responds.
After one of the men tells Jones he didn't have the right to run the vehicle's license plates, Jones shouts: "I got my rights to do anything I want to do, I'm a police officer."
"That doesn't mean anything," one of the men can be heard saying. Jones then threatens to tow their car and arrest them if they do not present their driver's licenses.
"I don't mind showing you my driver's license, but what is your reason for asking," one of the men says.
"Because you're acting suspicious," the off-duty constable responds.
The pair said they were clear about their complaint without being angry and were stern during the confrontation because they believed they did nothing wrong and did not act suspiciously.
After Jones calls for backup, an officer from the Indianapolis Metro Police Department responds and speaks with Jones near the car. Jones then returns to the driver's side of the vehicle and tells the men they are free to go. He walks off as they again request his name.
The responding officer speaks with the two men who questioned why Jones ran their plates without just cause. The officer tells the pair: "Not necessarily. We can run plates for any reason or no reason at all. What he does have to have is he has to have what's called reasonable suspicion in order to make a stop. He has to have some sort of reasonable suspicion that a crime has been committed."
Lawrence Township Chief Constable Terry Burns told NBC News on Tuesday he fired the constable in the video within two hours of viewing it. He also said Jones had been in the role for about 20 years. Jones could not immediately be reached for comment.