The Environmental Protection Agency has detected particulate matter from smoke in the air near an ongoing plastics fire in Indiana, officials said Wednesday, raising fears that cancer-causing toxins could be spreading through the area.
Smoke from fires is always expected to send tiny particles into the air as it spreads, but it could take several more days or even weeks for laboratory tests to determine which particular compounds are polluting Richmond and the surrounding communities, according to the EPA.
The agency said in a statement Wednesday that it has "started collecting debris samples in the surrounding community to determine whether asbestos-containing materials may have left the site."
"Asbestos-containing materials may be present due to the age of the building. EPA reminds residents to leave any debris alone and not touch it until EPA sample results are back. Do not mow over the debris," the statement said.
Richmond is a city of around 35,700 about 70 miles east of Indianapolis. The warehouse where the fire started contained large amounts of shredded and bulk recycled plastic, according to city officials.
Jason Sewell, an on-scene coordinator for the EPA, said at a news conference Wednesday that the agency is testing for various toxins, including styrene and benzene.
Asked whether any of the chemicals that could be spreading are carcinogenic, Sewell said: "Many of them are."
He urged residents to steer clear of any debris that lands on their property.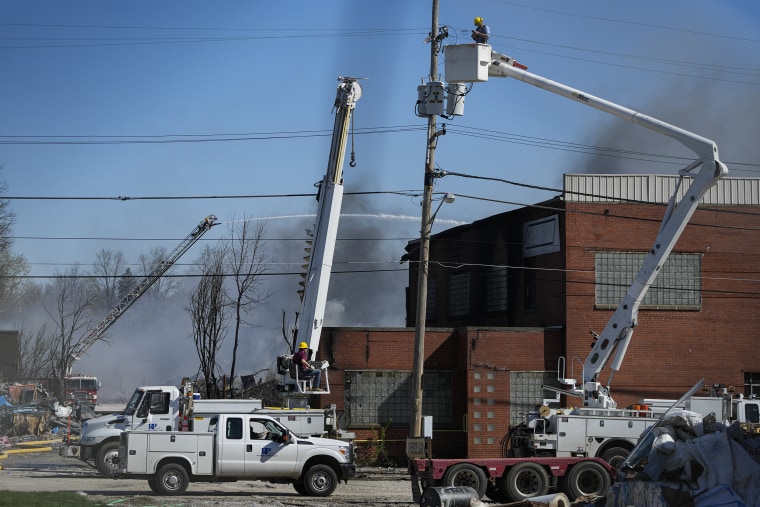 "Based on the age of the building, it's possible there could be asbestos-containing materials and some debris that would have left the site," he said. "So we understand people are finding debris. Some of the pictures look like they could be melted plastic. Some of the pictures looked like they could be roofing material."
Up to 2,000 residents have been displaced from their homes, according to the state Department of Homeland Security.
Schools will remain closed for the second day in a row Thursday, and the large-scale fire could last into Saturday, Richmond Fire Chief Tim Brown told MSNBC.
The first calls came at 2:40 p.m. ET Tuesday, officials said. Firefighters had to contend with high winds and intense flames but kept the blaze away from nearby homes.
"Yesterday our access was very hampered by the rubbish and the piles of plastic that were surrounding the complex," Brown said at a news conference. "The issue was unsafe building and unsafe grounds."
Richmond Mayor Dave Snow told reporters that the recycling plant's owner had previously been cited and ordered to clean up the property but had ignored the order.
"We have been through several steps since then to order this particular business owner to clean up this property because we were aware that what was operating here was a fire hazard," Snow said, adding, "That business owner is fully responsible for all of this."
The plant owner, My Way Trading, has not yet commented publicly on the fire.