DELPHI, Ind. — Police on Monday announced the arrest of a suspect in the 2017 killings of two teenage girls in a case that had puzzled the community and online crime sleuths for years. 
Richard M. Allen, 50, of Delphi, was arrested on two counts of murder in the February 2017 deaths of Abigail "Abby" Williams, 13, and Liberty "Libby" German, 14, Indiana State Police Superintendent Doug Carter announced Monday.
"Today is not a day to celebrate," Carter said, adding that the arrest is "a major step in leading to a conclusion in this long-term and complex investigation."
Abby and Libby vanished as they were hiking in their hometown, Delphi, about 60 miles northwest of Indianapolis.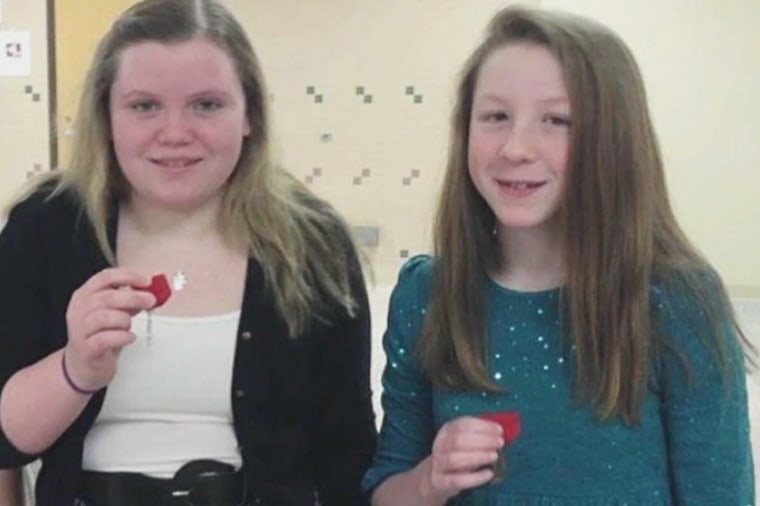 They were dropped off at an abandoned rail bridge on Feb. 13, 2017, to walk around and hang out, police said. But when it was time to be picked up from the area, they never showed.
Their bodies were found the next day in woods area near the Delphi Historic Trail, a half-mile upstream from the bridge.
Then, last Wednesday, last week, detectives with the Delphi Double Homicide Task Force took Allen into custody, and he was formally charged with two counts of murder Friday, Indiana State Police said in a statement.
He is being held without bond in the White County Jail. 
Asked by phone Monday afternoon whether Allen's arrest brought any joy or relief, Abby's mother, Anna Williams, said: "Not really."
"It doesn't feel the way we thought it was going to," she said. "I didn't really know how we would feel. But it just didn't feel the way that I thought we thought it would."
Charging documents sealed
Carter said limited details about the arrest will be released to protect the integrity of the case and the investigation. Officials did not explain what evidence led them to arrest Allen.
He said the probable cause affidavit and the charging documents have been temporarily sealed, because "this investigation is far from complete."
"Since the murders of Abby and Libby 2,086 days ago, the daily investigative team has worked tirelessly and is certainly worthy of mention today," Carter said Monday.
Officials said at the news conference that Allen had his initial hearing and entered a preliminary not guilty plea. A pretrial date is set for Jan. 13, and a trial date is scheduled for March 20. 
"Per the court order we cannot talk about the evidence in the probable cause or the charging information," Carroll County Prosecutor Nicholas McLeland said. "Right now is not that day. Today is about Abby and Libby, focusing on them."
McLeland did not answer questions about how long Allen has been a suspect. 
Carter said: "Nothing will happen between now and the second or third week of November. And then the judge will have to decide in the coming weeks and months what and when he decides to unseal those."
Allen was a CVS employee who didn't charge Libby's family for photo processing
After the news conference, Libby's grandparents German told reporters that Allen worked at a local CVS store where he processed photos for Libby's family.
Libby's grandmother Becky Patty nodded when she was asked about reports that Allen had processed photos for the family at the store and did not charge them for it. "That is accurate," she said, without going into further detail. 
CVS acknowledged that Allen was an employee in a statement Monday, saying: "We are shocked and saddened to learn that one of our store employees was arrested as a suspect in these crimes. We stand ready to cooperate with the police investigation in any way we can.
"As members of the Carroll County community, we remain devastated by these murders and our hearts go out to the German and Williams families."
Libby's grandfather Mike Patty said that when the family heard the charges read out, "it was kind of bittersweet."
"I just know that there's another job, another hill for us to climb ahead of us. But we're up for the challenge, and we're gonna keep after it. We're not gonna stop," he said.
Asked whether he had any words for the suspect, Patty said: "No. I'll save that for when I see him face to face."
Carter said in an interview that it was "emotional" to break the news of the arrest to the victims' families.
"They're wonderful people that are credibly stoic. I'm not going to pretend to understand what it's like to lose a child, because I don't," he said. "They know there's a long way to go, and this just turns the page. So there's more to do. There's more for them to process, more for them to endure."
Asked whether he believes another suspect might be out there, he said, "We're going to work until there's nothing left for us to do."
Yearslong investigation
Police worked to find the girls' killer for years. They have said the assailant may have had close connections to Delphi, a city of about 3,000 people. 
Carter said in 2019 he believed the attacker was "hiding in plain sight."
Police previously released two sketches of a suspect.
They also released grainy photos of a person walking on an old railroad bridge the girls visited on their hiking trip with audio of a male saying "down the hill" taken from Liberty's cellphone. 
The photo appeared to depict a white male wearing blue jeans, a blue coat or jacket and a hoodie, who police said was believed to be a suspect.
Police stopped short of identifying that man on the cellphone video as Allen on Monday.
"It's part of the investigative process that we can't go into and confirm or deny that that's actually the case," state police Sgt. Jeremy Piers said.
Kathy Park reported from Delphi, Indiana, and Marlene Lenthang and David K. Li from New York City.