Last year as governor of Indiana, GOP vice presidential candidate Mike Pence signed into law the controversial Religious Freedom Restoration Act which many experts said ostensibly denied rights to the LGBT community.
The law was tweaked to help prevent discriminatory practices by businesses — but is now being used to help minorities gain religious freedom protections.
The Indiana American Civil Liberties Union cited the law, among others, when it filed a lawsuit last week against the Boone County Sheriff's office over their refusal to serve halal food to a Muslim inmate. Halal refers to Islamic dietary rules, which includes not eating pork.
The inmate, Thomas Gannon, said he was served pork and other meat that is not halal repeatedly, even after telling jail staff the food was not in accordance with his religion. Ken Falk, legal director for the Indiana ACLU, said if Thomas did not eat the food the jail served, his only option would be to buy food with whatever money he had from the jail's commissary.
"That violates his religious freedom," Falk said.
The state law is shaking its previous bad rep and being used for what religious freedom laws are typically used for — helping religious minorities, said Richard Garnett, a professor of law at Notre Dame Law School.
"In recent months it's becoming the case that people are associating (religious freedom) laws with divisive social issues like same sex marriage and abortion," he said. But typical "cases involve individuals who are vulnerable members of a religious community who have been burdened, like an Amish family or a Muslim inmate."
Related: Despite Anti-LGBT Record, Pence Doesn't Scare All Gay GOPers
Last year, when Pence, who is now on the Republican ballot with Donald Trump, signed Indiana's "religious freedom" law it immediately became a hot button national issue. Advocates said the law supports their right to practice religion freely.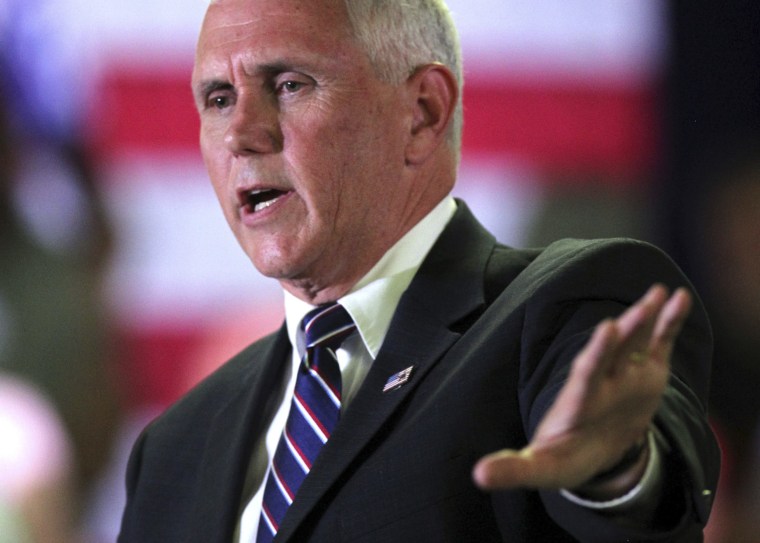 Former Republican presidential nominee and Texas Senator Ted Cruz said the law was "giving voice to millions of courageous conservatives across this country who are deeply concerned about the ongoing attacks upon our personal liberties."
But the law also received backlash by opponents who said it was merely a ruse to discriminate against the LGBT community. The Indiana law would make it easier for individuals to use religion to legally justify discrimination or refusal of service.
Related: Religious Freedom Restoration Act: What You Need to Know
Democratic presidential candidate Hilary Clinton tweeted, "Sad this new Indiana law can happen in America today. We shouldn't discriminate against ppl bc of who they love."
"The law came as part of a larger attempt by people who felt under assault by growing legal protections of same sex couples," said Robert Katz, a professor of law at Indiana University's Robert H. McKinney School of Law. "It wasn't needed to begin with," he said.
One week later, after intense national criticism, Pence amended the law explicitly preventing businesses from denying service based on "race, color, religion, ancestry, age, national origin, disability, sex, sexual orientation, gender identity or United States military service."
With this, the Indiana state law came closer to the federal religious law and similar laws in other states.
"There will be some who think this legislation goes too far and some who think it does not go far enough, but as governor I must always put the interest of our state first and ask myself every day, 'What is best for Indiana'," Pence said, shortly after signing the amendment.
After Pence's "fix" the law became largely disarmed from doing what many critics said was its original discriminatory intent.
Related: Religious Freedom Controversy: Indiana Legislators Announce Changes to Law
In fact, the opposite happened, the law has since become an extra tool to fight against religious discrimination, Katz said.
"Once amended to prevent discrimination, the story was over and (the law) went back to being a run of the mill law," he said.
The law has been used sparingly since its inception last year, appearing in relatively few cases, Katz said.
Related: Who Is Mike Pence?
Last year, the ACLU used the law to fight a state law banning sex offenders from attending religious services in churches that house or are near schools— saying the ban violates their right to practice religion.
In another pending case, a new religion called the Church of Cannabis is using the law to justify its consumption of marijuana, which is illegal in the Hoosier state.
"I'd be surprised if that argument went anywhere," said David Orentlicher, a professor of law at Indiana University Robert H. McKinney School of Law. There have been many times the use of drugs challenged under religion and the government has balanced it, he said.
What people tend to forget is that the statute is not a "broad exemption or a get out of jail free card," he said. Even though there is an exemption for religious freedom under the law, it doesn't mean the state will grant it, he said.
"There is still a well-drawn balance between religious freedom and public interest."